Measuring the Impact of Stoops' First Class
In late November of 2012 Mark Stoops was named head coach of the Kentucky Wildcats and took on the unenviable task of rebuilding the desolated UK roster. With just over two months until national signing day the first time head coach went to work. In the end Stoops signed 17 new recruit and 7 prior Joker Phillips commitments. With that first class now heading into their fourth year it's time for a little retrospective on the hits and misses of the first Stoops batch:
Moved On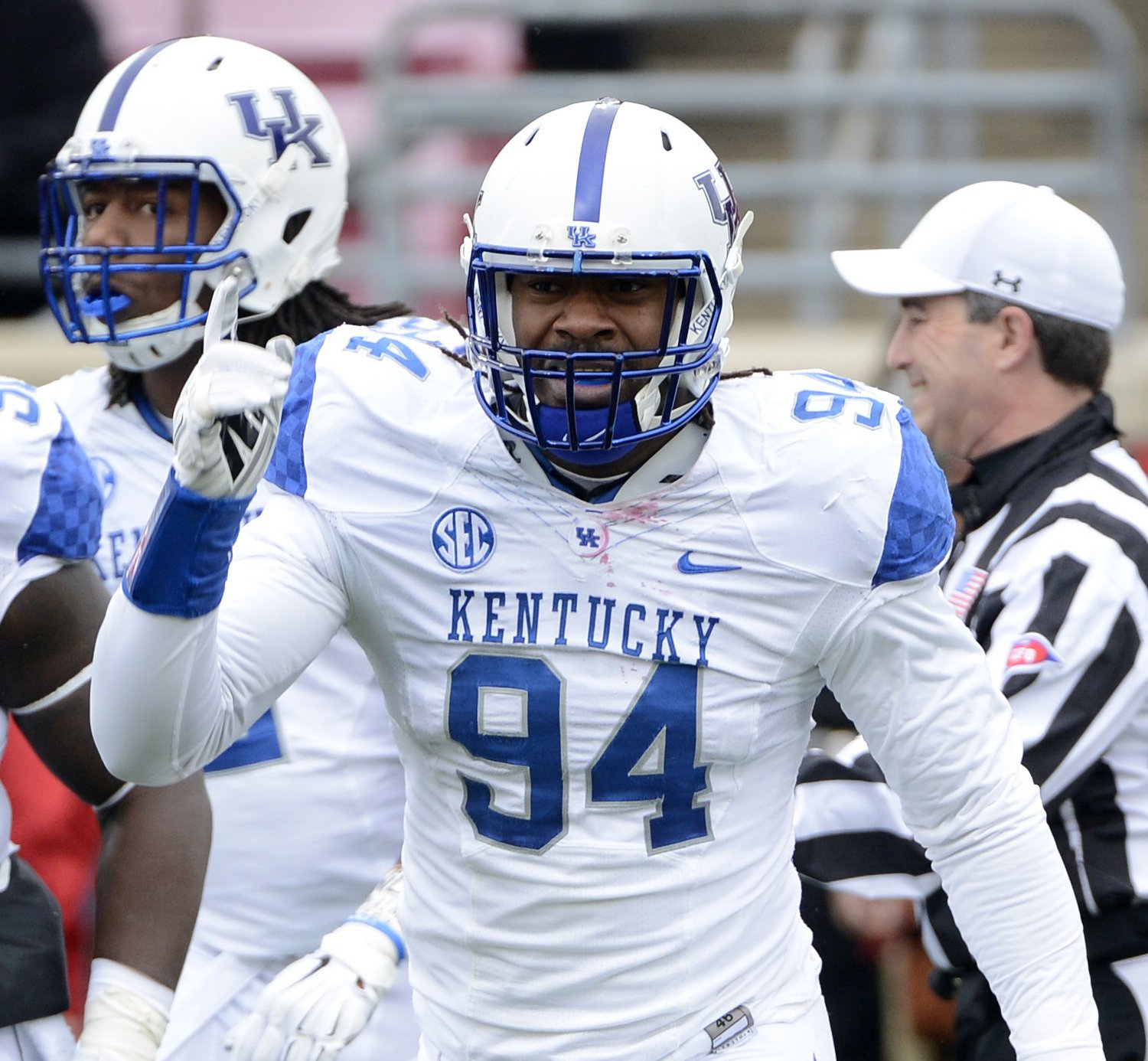 Za'Darius Smith
- Drafted in the fourth round by
the Baltimore Ravens
Javess Blue
- Signed with the Green Bay Packers,
missed season due to injury
.
Nate Willis-
Finished in 2014
Steven Borden
- Finished in 2014
Melvin Lewis
- Finished in 2015
Jason Hatcher
- Dismissed in
February following an arrest.
Jaleel Hytchye-
Transferred
to Georgia State
.
Khalid Thomas-
Dismissed in 2013 following a
violation of team rules
.
Reese Phillips
-
Transferred
to FCS.
Justin Day
- Did not qualify Za'Darius has been arguably the most successful recruit that Mark Stoops has brought to campus as the first player the coach brought in to be making a major impact on Sundays. Jason Hatcher, the prized steal of the class, never played up to his potential and had a very public fall from grace earlier this year. Losing 20% of the class to transfer or dismissal is a high rate of attrition but overall much lower than the classes of Joker Phillips.
The Returners
Seniors
Ryan Timmons- WR Jeff Badet- WR Alex Montgomery- WR Marcus McWilson - S Jojo Kemp- RB Blake McClain- CB Tanner Fink- TE Alvonte Bell- Spent two years at Junior College. The 2016 Kentucky football senior class may not leave with an impressive list of accomplishments but the group has laid the ground work for future success. Badet has had some highlight reel touchdowns in his career but hasn't made the plays against top tier opponents. Timmons has been plagued by key drops at big moments. Montogmery has been decimated by injury for his entire career. Despite the inconsistency, the three wideouts have made contributions the past three seasons and could be
key for the upcoming season
.
Redshirt Juniors
Nick Haynes-
G
Regie Meant- DT Kyle Meadows- OT Ramsey Meyers- G Jacob Hyde- FB Austin MacGinnis- K The redshirt group of the class also has several key members for the upcoming season with the highlight being 16-game starter Kyle Meadows and the boss of boot Austin MacGinnis. The 2013 class may lack the star playmaking appeal of the 2014 and 2015 classes but on short notice Stoops pulled together a solid core that has made major returns on the rebuilding job. Hopefully, they'lll be rewarded by making a bowl game for their four years of hard work.