Meet the Rookies: Twin Questions with Destin Wade and Keaten Wade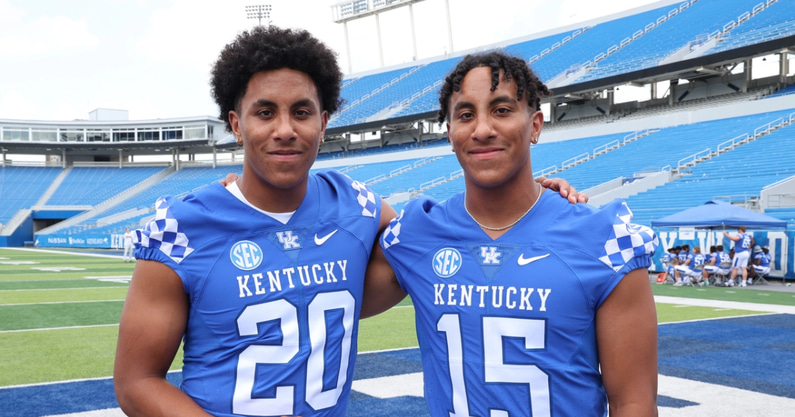 Over the last week Kentucky Sports Radio has introduced you to the youngest members of Mark Stoops' 2022 Kentucky football team. For the finale of the Meet the Rookies series we have a two-fer for the BBN starring Destin Wade and Keaten Wade.
The Tennessee twins play different positions, yet people still mistake one twin for the other. "Even sometimes my parents get us confused," said Destin.
Destin Wade will play quarterback for the Wildcats after he was named Mr. Football in Tennessee's 6A class, the largest classification of high school football in the Volunteer state. As a senior he rushed for 2,308 yards and 30 touchdowns while throwing for 1,436 yards and 18 scores. Keaten Wade was an All-American outside linebacker. Just like his brother, he filled up the stat sheet totaling 84 tackles, eight sacks, 26 tackles for loss, two interceptions and five forced fumbles. They played in three state championship games, winning in Class 5A as juniors, and completed their prep career with a 40-5 record.
A pair of outstanding athletes, they are bringing a workman's mentality to Lexington. That does not mean they're above a prank every now and then. During high school practices they sometimes caught their coaches off guard by switching jerseys. Hear more from the competitive twins from Tennessee.
Previous Editions of Meet the Rookies: Barion Brown, Alex Afari, Jordan Anthony, Kobi Albert, Kiyaunta Goodwin