Kentucky transfer target Mekhi Blackmon is headed to USC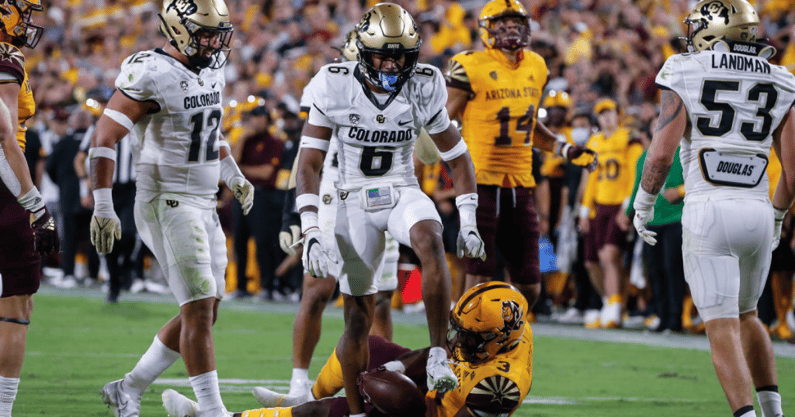 Take another transfer target off the Kentucky recruiting board. On Wednesday, Colorado cornerback Mekhi Blackmon announced that he'll be staying in the Pac-12 and playing his super senior season for Lincoln Riley at USC.
That appears to be another missed target for the Wildcats in the transfer portal.
Blackmon is set to join fellow Colorado transfer — and another Kentucky target — Brenden Rice out in Los Angeles. Both former Buffaloes are buying the vision Riley is selling at his new gig. The Trojans have now added nine players from the portal since the coaching change and are expected to add Oklahoma quarterback Caleb Williams as well.
For Mekhi Blackmon, it's a return to his home state as the East Palo Alto, Calif., native enrolls at USC after leaving for junior college and then Colorado. While in Boulder, Blackmon played in eight games last season emerging as a starter recording 41 tackles with five pass breakups/interceptions.
Shortly after Ameer Speed committed to Michigan State, Kentucky will have to find another target in the portal at cornerback.
Portal cornerbacks are going fast
A good coverage cornerback is hard to find in college football. When teams get them, the players usually play a lot and don't go anywhere. Therefore, when options emerge in the portal, teams jump at the chance to land some of these prospects.
We've seen that play out in this year's transfer cycle.
Mekhi Blackmon was scooped up quickly by USC. UCLA transfer Jay Shaw wasn't in the portal for a week before landing at Wisconsin. Speed did not take long to move to Michigan State. LSU transfer Dwight McGlothern committed to Arkansas almost instantly.
Teams need cornerbacks and are moving quickly on prospects. However, the transfer portal is an everlasting thing.
On Thursday, Oklahoma State cornerback Jarrick Bernard-Converse entered the transfer portal. The Shreveport (La.) Evangel Christian Academy product was a first-team All-Big 12 selection in 2021. More options will continue to emerge, but competition will be stiff for cornerbacks.
Kentucky needs to address this position before the 2022 season arrives. However, the Wildcats must remain steadfast with their evaluation process and make sure the next addition is an upgrade and a player that can play starter's snaps on the perimeter.
There is a lot of offseason remaining, but Kentucky's biggest holes on the roster currently remained mostly unfilled in the transfer portal.