Memorial Coliseum renovations will force four UK teams to relocate for 2023-24 season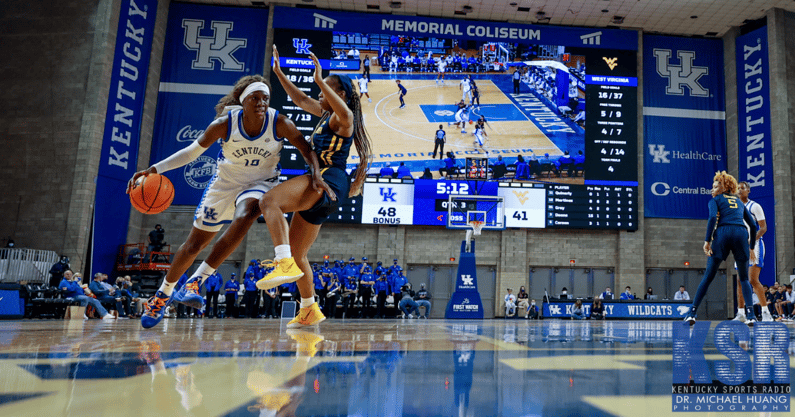 If John Calipari's plea for a new practice facility did anything, it reminded everyone that another venue is in dire need of repair: Memorial Coliseum. The 72-year-old facility houses four UK teams (women's basketball, volleyball, gymnastics, and STUNT), is used for several non-athletic events, and still doesn't have air conditioning. Not for long, at least.
In an interview with the Herald-Leader, UK athletics director Mitch Barnhart said renovations to Memorial Coliseum are finally coming next year, including air conditioning, the construction of an event space, and improvements to all seats. The drawback is the work will force the four teams that use the space to find temporary homes for the 2023-24 school year.
"We think we'll be out of (Memorial Coliseum) for one competitive year," Barnhart told the Herald-Leader. "That's what we think. We're trying to finalize those plans. We've got a whole crew of people trying to figure out how that all comes together. It's complicated."
Women's basketball plays a few games at Rupp Arena each year, while gymnastics hosts its opening meet of the season, Excite Night, there as well. Volleyball and STUNT host all their home events at Memorial Coliseum. Moving all of those games and meets to Rupp would get pricey. Last month during a press conference at Kroger Field, Barnhart said UK's rent at Rupp is almost $2 million per year.
Barnhart: Memorial Coliseum "needs a lot of work"
In 2018, a giant new LED video board and ribbon board were installed at Memorial Coliseum. Last year, the volleyball team got a new Taraflex playing surface following their national championship. In February, Barnhart noted that UK underwent feasibility and design planning for further renovations and the scope of the project was much larger and more expensive than anticipated. He reiterated that in his conversation with the Herald-Leader today.
"It's a complicated deal. You've got the roof, restrooms … it's a facility that just needs a lot of work," Barnhart said. "It's not been easy, and then you got into the COVID time-space, and that set us back … and then the supply chain changed. Having to get our arms around all of those pieces to be able to walk forward has been a really big challenge."
The renovations clearly need to happen, but finding a temporary home for women's basketball, volleyball, gymnastics, and STUNT is a daunting task as well. Anyone got a gym they're not using (with AC, preferably)?