Miami Coach a Little Whiny, Somewhat Dramatic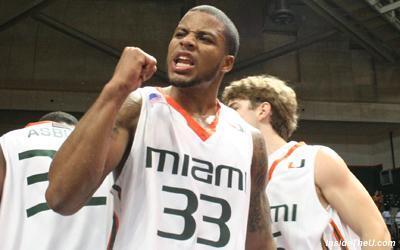 He's gonna punch us!
As the punishment for Miami's Jack McClinton remains neither seen nor heard, his coach, Frank Haith, has taken to being overly dramatic with regards to the situation. From John Clay's blog (via
The Palm Beach Post
):
"What's disappointing is that in most situations like this, you know the next day," UM coach Haith said. "Jack's in limbo. My program is in limbo." Really? Your program is in limbo? If the ACC decides to suspend McClinton for one game, coach Haith, I can assure you that your program will survive. Hey, I have an idea, why don't you, I don't know, practice like you normally do? I just saved your program! Haith added (about Crater, the slapee): "He was totally in the game to rev Jack up."
Totally.
I suspect that coach Haith will be submitting this sob story to
Seventeen's
"Why Me" section. In said submission, Haith will refer to OSU's guard as "Crater-face." No doubt. Tomlin, keep us posted. As for the actual suspension, no one knows at this point. Well, someone probably knows, but they ain't talking. Miami Waiting for Word on McClinton (
Clay's Blog
)