Michigan and Ohio State Publicly Push Back on Big Ten Football Cancellation
[caption id="attachment_300500" align="alignnone" width="1440"]
Michigan Athletics
[/caption] The Big Ten is barreling toward a fall without football and the conference's two most popular teams are not letting that happen without a fight. Monday morning multiple reports stated that Big Ten presidents elected by a vote of 12-2 to cancel football this fall, with Nebraska and Iowa as the lone exceptions. A Big Ten spokesperson said hours later, "no vote has been held by our presidents and chancellors," but believe what you will. Before the conference officially drops the news, Michigan head coach Jim Harbaugh released a statement in support of playing. Instead of basing his beliefs upon his urge to lose another game to Ohio State, Harbaugh argues that the facts accumulated since the program returned to campus illustrate a setting where football can be safely played.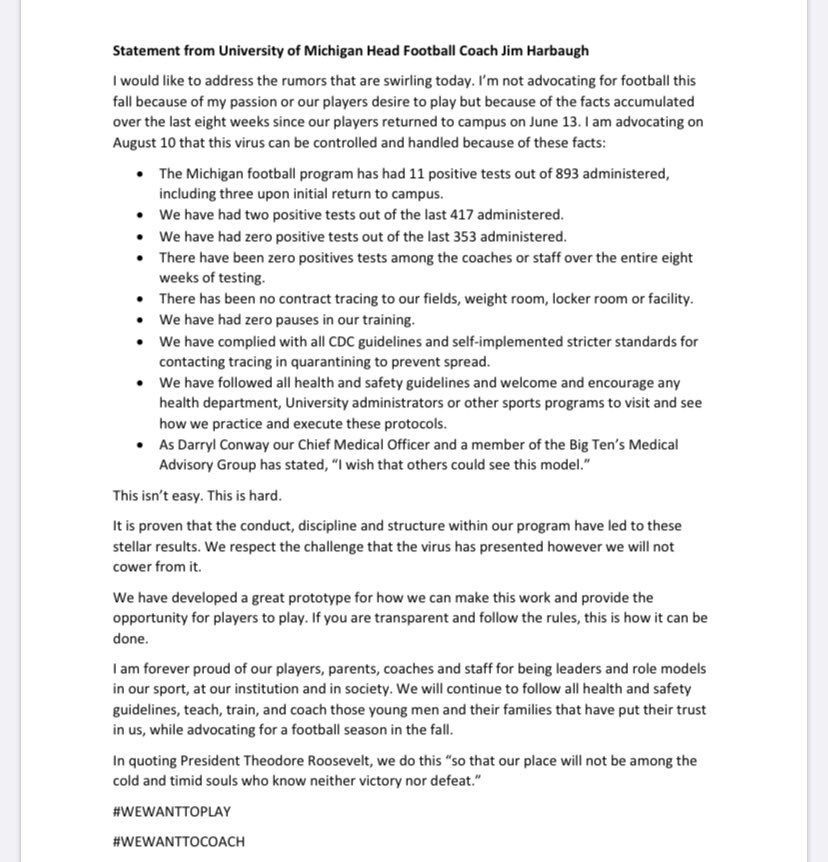 Shortly after Harbaugh issued the press release, Michigan and Ohio State's verified football social media accounts began Retweeting statements in support off playing football this fall, effectively defying their presidents' reported votes of no confidence. This is just a small sample of the dozens of messages shared on accounts that have a combined 1.2 million followers.
Saving the 2020 college football season might be the first and last time Michigan and Ohio State agree on something.