Michigan State transfer Tre'Von Morgan working out at tight end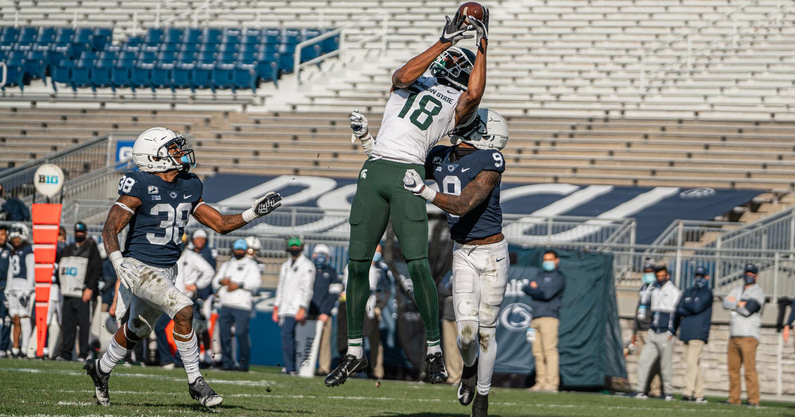 Kentucky is shaking things up during the bye week. After seven physical football games, injuries have taken a toll on the team, forcing Tre'Von Morgan to try a new position.
KSR's Matt Jones reports that the former Michigan State wide receiver has been working out with the tight ends during practice this week. Kentucky is experimenting with the move after Izayah Cummings suffered an injury in the second half of the loss at Georgia. Like Morgan, Cummings only recently made the switch from wide receiver to tight end.
The timetable for Cummings' return is currently unknown, although sources have told KSR that it "shouldn't be too long" until he's able to get back onto the field. Even if he's absent for just a few weeks, Liam Coen loves to play with three tight ends, particularly in short yardage situations. True freshman and former four-star prospect Jordan Dingle is available, but if there's another injury Vince Marrow needs someone ready. That's where Morgan enters the equation.
Morgan is Built to Play Tight End
Tre'Von Morgan looks like he fits in better with UK's tight ends than the wide receivers. Standing 6-feet 6-inches tall and weighing around 220 pounds, Morgan has the body type of a tight end. He also showed at Washington Massillon High School that he has the tools to play the position.
"He was a great blocker, a great downfield blocker. I know that's weird to say about a receiver when the first thing you mention is blocking, but that's something that they really stress at Massillon. You can't get on the field if you can't block," said Chris Easterling, a UK grad that covered Morgan in high school for the Massillon Independent.
"Tre really, really was a great blocker and he was a tough kid."
Initially recruited to play wide receiver, Coen has shifted away from size on the outside and put more of an emphasis on speed. A move to tight end was probably in the cards long-term for Morgan. After Morgan missed most of the preseason with a hamstring injury, making the move to Marrow's room now helps all parties involved.