Mike Edwards named NFC Defensive Player of the Week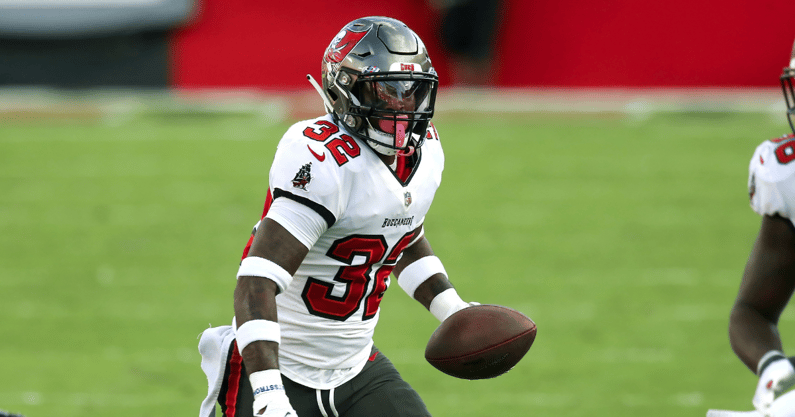 Former Kentucky star Mike Edwards is this week's NFC Defensive Player of the Week following a two-pick-six performance in Tampa Bay's victory over Atlanta on Sunday.
Edwards made history by becoming the first player since 1992 to record two pick-sixes in the fourth quarter of a game. Robert Massey of the Phoenix Cardinals was the last to do so on October 4, 1992. The former Kentucky standout was also the first player with two pick-sixes in a single game since 2012.
This is the first major award of Edwards' career.
The Buccaneers entered the fourth quarter with a three-point lead, with Tom Brady throwing a 13-yard touchdown pass to Chris Godwin to extend the lead to 10 points with nine minutes to go. In a crucial drive for the Tampa defense, Edwards jumped a pass for a 35-yard pick-six just three plays later to extend the team's lead to 17.
Just four minutes later, Edwards blitzed the edges alongside cornerback Carlton Davis, with the latter tipping Atlanta quarterback Matt Ryan's pass into the air. The former Kentucky star snagged the ball and again returned it 15 yards into the end zone to secure the 48-25 victory.
Edwards is just the third player in Buccaneers history to have two pick-sixes in a game, with Dwight Smith doing it in Super Bowl XXXVII and Ronde Barber doing so in 2006.
Over the course of his three-year NFL career, Edwards has picked up 64 total tackles (45 solo), 14 pass deflections, four interceptions, two fumble recoveries, and one sack.
During his time at Kentucky, Edwards never missed a game in his four-year career, playing in 51 games with 44 consecutive starts. In that span, the former Wildcat totaled 318 career tackles to become just the 19th player in school history with 300 or more tackles. He also ranks second in UK history in tackles among defensive backs, behind only Darryl Bishop (348 from 1971-73). Edwards was a three-time All-SEC member in 2016, 2017 and 2018.
The former Wildcat was drafted No. 99 overall in the third round by the Buccaneers in 2019.