Misleading results in Blue-White Games under John Calipari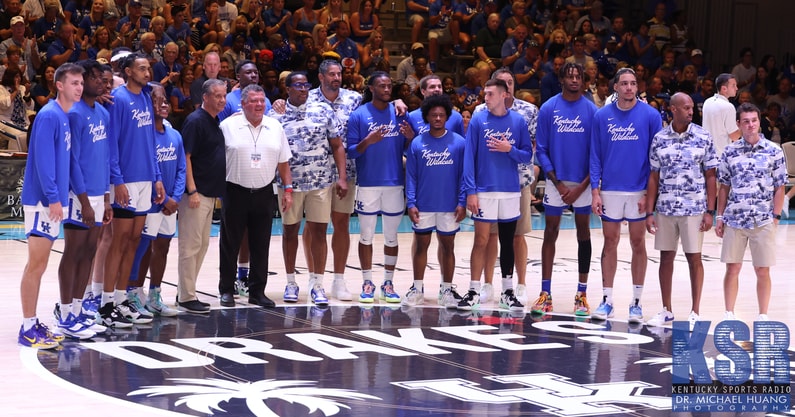 Kentucky basketball's annual Blue-White Game is typically the first look at the upcoming team in an organized setting — the Big Blue Madness scrimmage doesn't count. This year, though, we got an in-depth look at the 2022-23 Wildcats in the Bahamas, a four-game exhibition tour against pro and collegiate talent.
That doesn't mean this evening's Blue-White Game in Pikeville won't give fans a deeper, closer look at the upcoming group two months later and just a few weeks before regular season play begins. It's also an opportunity for a plethora of misleading headlines and stats that typically come with this event, an annual tradition at this point.
What does that mean exactly? Well, standout play from the annual intrasquad scrimmage hasn't always translated to elite production during the regular season. Sometimes, certainly, but not always.
Let's run through some of the best examples during John Calipari's time in Lexington (along with a few that have turned Blue-White success into real production throughout the season).
2009
Coach Cal's first Blue-White scrimmage saw some bizarre results, headlined by Darnell Dodson leading the team in scoring with 26 points. As for other standouts, John Wall looked the part (as expected) with 25 points, as did DeMarcus Cousins with a near-double-double. A then-record 14,060 fans showed up for the event.
Darnell Dodson – 26 points
John Wall – 25 points, 11 assists
Patrick Patterson – 24 points
DeMarcus Cousins – 16 points, 9 rebounds
Eric Bledsoe – 14 points, nine assists
2010
It was a breakout performance for five-star freshman Brandon Knight, who set a then-record of 37 points alongside fellow standout newcomer Terrence Jones, who added 29 points. Josh Harrellson also added 26 rebounds.
Brandon Knight – 37 points
Terrence Jones – 29 points
Josh Harrellson – 26 rebounds
2011
It was an all-around effort to open Kentucky's championship season, led by Terrence Jones with a record 52 points and 16 rebounds. It was a performance that led John Calipari to calling the sophomore forward the best player in college basketball. "Terrence Jones right now, I'll tell you, if there's a better player in the country, I've got to see him," Calipari said. "Maybe that guy's in our gym. I don't know. But if there is somebody better than Terrence, I've got to see it."
That guy was in Kentucky's gym: Anthony Davis, who finished with 27 points and 13 rebounds.
Terrence Jones – 52 points, 16 rebounds
Doron Lamb – 31 points
Anthony Davis – 27 points, 13 rebounds, four blocks

Darius Miller – 24 points

Michael Kidd-Gilchrist – 21 points, 10 rebounds, seven assists
Marquis Teague – 19 points
Kyle Wiltjer – 17 points (five 3-pointers)
2012
In the first letdown season of the Calipari era, Archie Goodwin led the way with 32 points in the Blue-White Game, with Kyle Wiltjer adding a near double-double. Jon Hood also finished with a surprising 17 points.
Archie Goodwin – 32 points (22 FGA)
Kyle Wiltjer – 28 points, nine rebounds
Alex Poythress – 25 points
Ryan Harrow – 20 points, six assists
Jon Hood – 17 points
2013
The Blue-White Game is where 40-0 hype started for the 2013-14 squad, where Derek Willis took home MVP honors with 21 points and eight rebounds. James Young added 25, with Julius Randle putting up a smooth 21 points and eight rebounds.
James Young – 25 points
Derek Willis – 21 points (5-6 3PT), eight rebounds
Julius Randle – 21 points, eight rebounds
Aaron Harrison – 19 points (3-4 3PT)
Dakari Johnson – 16 points, 11 rebounds
2014
The most competitive Blue-White Game of the Calipari era resulted in a historic season, the start of the platoons. Devin Booker was the star of the show, while the Harrison twins combined for 34 points. Karl-Anthony Towns also added a double-double of his own. Even Brian Long got in on the action, going for three points on 1-1 from deep.
Devin Booker – 22 points (9-11 FG)

Karl-Anthony Towns – 20 points, 13 rebounds
Dakari Johnson – 13 points, 14 rebounds
2015
It was a breakout performance for Skal Labissiere in 2015, who finished with a team-leading 18 points in a double-double effort, followed by three players with 17 points each. Attendance of 15,007 was the second-highest in Blue-White history.
Skal Labissiere – 18 points, 11 rebounds
Alex Poythress – 17 points (3-4 3PT)
Jamal Murray – 17 points
Charles Matthews – 17 points
Isaiah Briscoe – 16 points
Derek Willis – 14 points
Tyler Ulis – 10 points, 15 assists
Marcus Lee – 10 points
2016
A bizarre effort in 2016, as Isaiah Briscoe led the way with 39 points and 10 assists, though Malik Monk and De'Aaron Fox combined for 57 points. Mychal Mulder added 18 points while Sacha Killeya-Jones outscored Bam Adebayo. A new Blue-White record was set with 16,089 fans in Rupp Arena.
Isaiah Briscoe – 39 points (14-30 FG), 10 assists
Mychal Mulder – 18 points (4-5 3PT)
2017
The name of the game in 2017 was cramps, as four players cramped up throughout the game. Kevin Knox and PJ Washington combined for 43 points while Quade Green added 18 points and seven dimes. Nick Richards also broke Tai Wynyard's nose and Sacha Killeya-Jones was 2-11 from the field with seven fouls. Oh yeah, Jonny David and Dillon Pulliam also added 3-pointers.
2018
It was a star effort for Tyler Herro in 2018, with The Bucket leading the way with 34 points on efficient shooting. PJ Washington and EJ Montgomery added 20-plus, while Nick Richards had a double-double. Quade Green also led the team in shot attempts with 19.
Tyler Herro – 34 points (12-16 FG)
PJ Washington – 23 points, four rebounds
EJ Montgomery – 21 points, eight rebounds
Nick Richards – 16 points, 16 rebounds
2019
Nate Sestina was the talk of the game in 2019, with the Bucknell transfer scoring 22 in his unofficial Kentucky debut. UK also got 20-11 double-double efforts out of Nick Richards and Keion Brooks Jr. Oh yeah, and the Wildcats' star trio of guards were sensational.
Immanuel Quickley – 25 points, seven rebounds, six assists
Nate Sestina – 22 points, four rebounds
Tyrese Maxey – 17 points, five rebounds, five assists
Ashton Hagans – 14 points, 6 rebounds and three assists
Nick Richards – 20 points, 11 rebounds
Keion Brooks Jr. – 20 points, 11 rebounds
2020
The 2020 Blue-White Game was not played due to COVID-19. Instead, a pre-recorded Big Blue Madness unofficially opened the season before regular season play began.
The Wildcats would finish the year 9-16 overall and miss the NCAA Tournament.
2021
Oscar Tshiebwe's 20-rebound-per-game promise was upheld to start the year, with the big fella finishing with 25 points and 21 rebounds in the scrimmage. TyTy Washington was also a clear standout, putting up 24 and 10, while Daimion Collins, Lance Ware and Keion Brooks Jr. also going for 20-plus.
Oscar Tshiebwe – 25 points, 21 rebounds
TyTy Washington – 24 points, 10 assists
Daimion Collins – 22 points, seven rebounds, three blocks
Lance Ware – 20 points, 10 rebounds
Keion Brooks Jr. – 20 points, seven rebounds
Bryce Hopkins – 18 points, nine rebounds
Who will be this year's standouts?