Explosive plays have been kryptonite for Mississippi State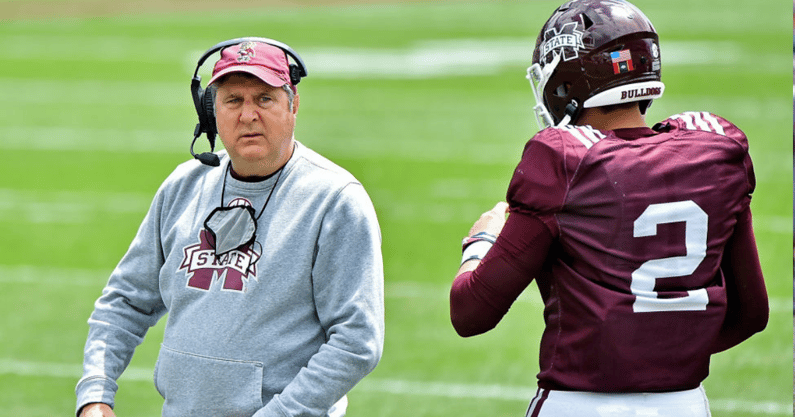 From a down-by-down basis, it is hard to be much better than what Mississippi State has put on the field in 2021.
Mike Leach's program is powered by an offense that ranks No. 8 nationally in success rate led by quarterback Will Rogers. On defense, coordinator Zach Arnett's 3-3-5 scheme ranks 14th nationally in success rate per CFB Graphs.
The Bulldogs win on a play-by-play basis, but the haymakers have not been delivered by the offense and the defense has been far too glitchy in the 4-3 start.
Lack of vertical passing
No one throws the ball more than Mississippi State. Sophomore Will Rogers leads college football in passing attempts (397) as the Bulldogs have the highest pass play rate in college football.
Despite the heavy volume, Mike Leach's second offense in Starkville has been all dink-and-dunk.
Mississippi State has produced just seven pass plays of 30-plus yards this season and that ranks 101st nationally. The offense has yet to complete a pass that has reached the 50-yard threshold.
The lack of big-play pop has put a ton of pressure on a young offense.
Mississippi State does a great job of staying ahead of the chains thanks to a 50.88 percent passing success rate from Rogers and a 58.51 percent rushing success rate from their top two tailbacks on 94 attempts. However, the lack of chunk plays forces the Bulldogs to go on long drives.
The offense must be great at converting third downs and finishing drives in the red zone. Mississippi State is 20th nationally in third down offense (46.94%) but is not great in the red zone with a 64.29 percent touchdown rate.
The Bulldogs are a ball-control offense that moves with efficiency, but the lack of home runs can make it difficult for this offense to score.
Explosive touchdowns
Mississippi State enters Week 9 ranking 11th in the SEC in yards per play allowed (5.61). However, that number does not tell the full story.
The Bulldogs have been efficiency masters under defensive coordinator Zach Arnett. Mississippi State consistently wins on a down-by-down basis allowing just a 38.46 percent rushing success rate and 37.96 percent passing success rate. The Bulldogs force plenty of second or third and longs. Meanwhile, the defense has allowed just 13 red zone possessions in seven games. Only Georgia has been stingier.
Arnett has put a ferocious unit together, but Mississippi State's errors have turned into some game-changing plays.
The Bulldogs allowed three touchdowns of 20-plus yards as Louisiana Tech nearly pulled an upset as a 20.5 point underdog. LSU scored three touchdowns of 40-plus yards in a narrow 28-25 win at Davis Wade Stadium. Alabama had four touchdowns of 20-plus yards in a 49-9 blowout victory.
Arnett's defense can dominate a game and then give up a game-changing play in the blink of an eye.
Can Kentucky take advantage?
Mississippi State has been one of the best run defenses in college football. The Bulldogs are determined to stop the ground attack first and are only giving up 92.86 rushing yards per game. Opponents have abandoned the rushing attack early and only Alabama has recorded more than 30 carries in a single game.
However, Kentucky is a different animal than some of the other foes.
The Wildcats have one of the best rushing attacks in college football. Only Georgia has truly been able to slow it down. Outside of a weird game plan against Chattanooga, the Wildcats have been committed to the run. The offense has gone over the 300-yard threshold twice in SEC play.
The more success Kentucky has running the football, the more opportunities there will be for explosive plays if the chains can consistently move. However, hitting on a play or two over the top at any point with the vertical passing game would certainly help matters. That has not happened since the first three weeks of the season.
On defense, Kentucky hangs its hat on big-play prevention. The Wildcats are second in the country with just three completions of 30-plus yards allowed. That will make things difficult for Mississippi State.
If Kentucky can create some home runs on offense, Mike Leach's offense will be forced to be surgical on offense going against a defense that is very comfortable playing bend but don't break.
The big-play component figures to be the winning recipe for Kentucky to finally secure a victory in Starkville.