Mitch Barnhart (again) separates casual fans regarding alcohol policy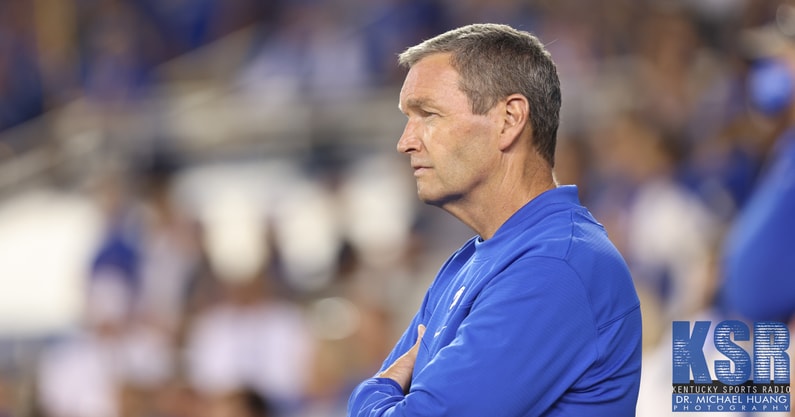 University of Kentucky Athletics Director Mitch Barnhart says drinking alcohol at sporting events on campus is a choice left up to fans. It's simple, really. If you want to have a beer or cocktail, that's great — just don't be a casual game attendee.
You see, it's part of the "fan experience" decision you choose to make when buying tickets, he says. Alcohol is readily available for those in luxury suites paying a premium. If you want it, pull out your checkbook and get to drinking.
For the other tens of thousands of fans in the stands? Suck it up (sober up?) buttercup.
In a sitdown interview with The Lane Report, a statewide business magazine in Kentucky, Barnhart said he hears the complaints regarding his outdated alcohol policy. What those fans don't understand is that there are fans on the other side of the aisle in his ear thanking him for making UK Athletics events family-friendly, obviously impossible with alcohol sales.
"That comes up often. I am a part of a university decision-making process. It's important to make sure we examine all sides equally," Barnhart told The Lane Report. "Some are very vocal about their desire to have alcohol sales. Less vocal are the folks—many, many of whom stop me to say, 'We hope you don't sell alcohol because we won't feel comfortable bringing our family to games.' You try to find what serves everyone best."
To find what serves everyone best, he's leaving it up to fans. If you want alcohol, just pay for the most expensive seats in the house. Easy peasy.
It simply comes down to the fan experience you wish to have while conversations continue regarding any potential changes down the road at an "institutional level."
"There are people who say you have clubs where alcohol is available and for people who desire to have a drink, that is the place they are able to purchase an opportunity to do that," he said. "There is a separation for those who don't want that as part of the fan experience. It will continue to be a conversation at an institutional level and we'll continue to think our way through it."
In 2019, the SEC lifted its ban on alcohol sales in general seating areas of athletic events. Since then, Kentucky is one of just three schools remaining in the conference —  Auburn and Georgia being the others — to continue that ban. Alabama was previously included in that group, but changed its rule this past football season.
When asked about his mindset on the matter back in August, Barnhart said he liked the atmosphere Kroger Field has to offer as-is.
"We've got a great atmosphere where we are," said Barnhart. "That's a short conversation today. I knew that somewhere along the way we'd get to it on my other 94 notes here. We're where we are. We're sort of in the same situation we've been in. We've got a great atmosphere."
When the rule change was made by the SEC in 2019, Barnhart said it wouldn't be a yearly conversation for the program, but it would be monitored moving forward. At that point, he simply "wasn't ready" to make that call for Kentucky.
"I'm not making a yearly decision on this thing. That's not where we want to be," Barnhart said in August of 2019. "…I'm not stubborn, but I'm not going to make one-off decisions. … I'm not saying we've got it right. I hope we've got it right, and we'll monitor and see where it goes.
"… It's not to say never, it's to say I'm going to spend some more time on it. I know it's an important one and we'll continue to look at it. For this year, we weren't ready this year and I wasn't ready. If that's the case, then that's where I am."
Three years later, Barnhart is still not ready. And he clearly won't be anytime soon. Or ever.