Mitch Barnhart 'is confident' that John Calipari will get Kentucky's roster in good shape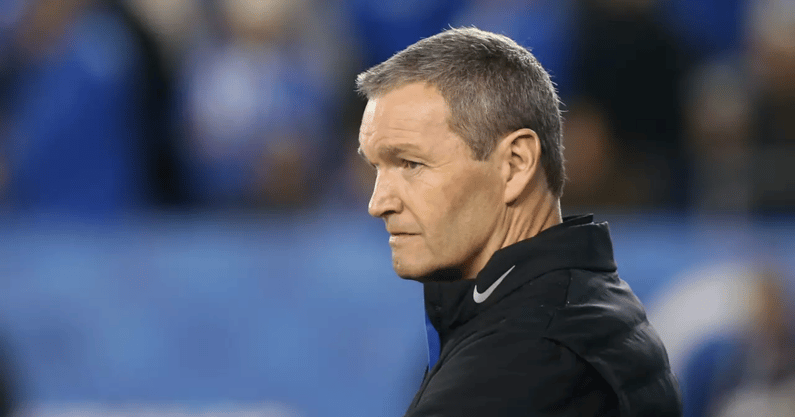 June has arrived, and the Kentucky basketball roster still has a lot of unknowns. Following Thursday's NBA Draft deadline, John Calipari did not get any of his players testing the waters committed to playing for Kentucky in 2023-24. That has many in the Big Blue Nation concerned.
Kentucky athletics director Mitch Barnhart spoke with Cats Pause's Darrell Bird at SEC Spring Meetings in Destin to talk about the current state of Kentucky's roster-building. The long-time administrator in Lexington knows things are not great right now but has faith that Cal will put together a roster that can go compete at the highest level.
"We've had a lot of times when our roster has been fluid and he's really good at figuring how to put together rosters," Barnhart told Bird. "We have five newcomers coming in, some folks coming back and then we'll fill in around that. He is really good at that."
"People say, 'Are you concerned?' I get concerned about every sport every year. I absolutely see exactly what's going on. We're in conversation a lot and I know the pulse of what he has going on with his team. I feel confident. He's a great basketball coach who will find a way to put a team on the court that competes at a really high level."
Kentucky has five top 50 high school prospects signed. There is a great chance that four of them — DJ Wagner, Robert Dillingham, Justin Edwards, and Aaron Bradshaw — will have spots in the starting lineup. Adou Thiero and Ugonna Onyenso are returning to school for their sophomore seasons and will be joined by Reed Sheppard. However, that's all that is on the roster now that Chris Livingston and Oscar Tshiebwe are staying in the draft while Antonio Reeves takes a step back to decide where he wants to spend his final season in college basketball. Barnhart believes that there are a lot of factors when it comes to players making offseason decisions, but he still believes in Calipari's ability to lead this historic program.
"Have we been where we wanted to be the last couple of years? Obviously, we want to make runs at championships. That's what he wants and he is trying to put together a team that has the ability to do that," Barnhart said. "I'm confident that when we get to the starting line, we'll have a roster that certainly has the ability to achieve at a high level."
John Calipari has the support of the Kentucky administration. Now it's time to see what players he can find to supplement a roster that will be heavily reliant on diaper dandy talent.
Discuss This Article
Comments have moved.
Join the conversation and talk about this article and all things Kentucky Sports in the new KSR Message Board.
KSBoard