Monday Huddle: Latest intel from Kentucky's final fall camp scrimmage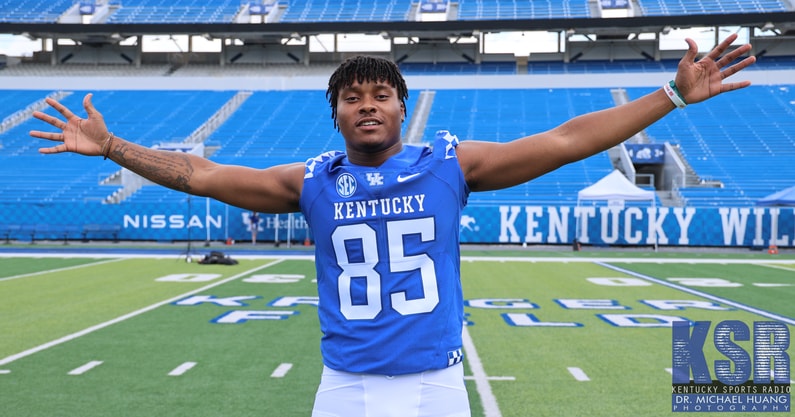 For all intents and purposes, Kentucky's fall camp ended on Saturday afternoon. At Kroger Field, the Wildcats held their second and final intrasquad scrimmage of fall camp as the season is now less than two weeks away.
There will be a couple more camp practices this week, but game prep for Miami (Ohio) will begin shortly. We will spend all of next week at KSR getting ready for that matchup as the No. 20 ranked Wildcats look to get off to a great start in one of the most anticipated seasons in Kentucky program history.
But first, we must look back on Saturday. KSR's Monday Huddle has returned to recap what we learned during the final scrimmage as the two-deep depth chart is being finalized at the Joe Craft Football Training Facility. The offense has made some real progress over the last week.
First Down: Jordan Dingle is standing out in loaded tight end room
In the class of 2021, Bowling Green (Ky.) High tight end Jordan Dingle remained one of the top targets on Kentucky's board throughout the recruiting process. The top-500 prospect was seen as a Purdue lean at one point while also receiving legitimate interest from Ohio State, Northwestern, and South Carolina.
Kentucky remained persistent in this recruitment as Vince Marrow was able to close strong and land a commitment from Dingle in November. The in-state product arrived to Lexington as a well-rounded prospect who had a bright future.
As a true freshman, Dingle was able to preserve his redshirt by playing in just four games, but in that action, the rookie made two impressive catches and flashed potential as a blocker. In year two, the redshirt freshman is putting everything together.
Sources tell KSR that the young tight end made some splash plays in the latest scrimmage and looked like the second-best player on offense behind Will Levis. Dingle has catch-creation skills, run after catch ability, and provides value in the run game as a blocker.
"He had another good day today. He really did," Mark Stoops said on Saturday about the young tight end. "He had a couple (of) nice grabs out there. He's just a complete tight end. He's got a good feel for it, he's got a big catch radius, and he makes competitive catches. He's done a lot of good things."
Due to the depth of this position, Kentucky will be in 12 personnel a lot this year. That means a pair of tight ends will start. Redshirt senior Brenden Bates will likely serve as Kentucky's in-line option, but a second tight end is needed to play off the ball and provide versatility.
Jordan Dingle should be considered the favorite to fill that role. The redshirt freshman is a two-way player that is emerging as one of the top options in the passing game.
"Jordan Dingle's done a really good job," said Levis.
Second Down: Class of 2021 will have big role on Kentucky's offensive line
Kentucky entered fall camp with two significant questions to answer at both tackle spots. Jeremy Flax has seized the right tackle position. Deondre Buford has been unable to take on control of the left tackle spot.
Sources tell KSR that David Wohlabaugh Jr. got most of the work at left tackle with the ones on Saturday. Buford played right tackle with the twos, and Kiyaunta Goodwin was at left tackle. Offensive line coach Zach Yenser is still cross-training his unit and looking for answers.
"We'll continue to work that," Stoops said about the left tackle spot. "We're working three guys over there and we'll see where that goes."
Buford, Goodwin, and Wohlabaugh are the three players in the running for the starting job. The latter appears to be in the driver's seat as fall camp reaches an end.
The offensive line has not had a smooth camp to this point. There have been some growing pains learning the new scheme while Flax, Tashawn Manning, and Kenneth Horsey have all missed time. The starting left guard was again absent from the scrimmage on Saturday.
Jager Burton joined Wohlabaugh with the ones as the former top-150 recruit has had a strong fall camp and will be a rotation player this year giving both Horsey and Manning a quality backup. The Wildcats could start a pair of redshirt freshman early on the Big Blue Wall if Horsey is unable to go in Week 1.
The left tackle position remains a big concern for the offense and something we won't really know about until the real games are played. As of now, Kentucky is hopeful that Wohlabaugh can be a surprising development.
"Some guys have surprised some people and stepped up and made good plays for us and have shown that they can be reliable up there," Levis said about the offensive line.
Kentucky has a strong middle, but offensive tackle remains a concern for the offense.
Third Down: Will Levis shines
On Friday afternoon, reports surfaced that star tailback Chris Rodriguez Jr. will likely not be available for the first 3-4 games of the season. Kentucky will be without its All-SEC tailback for the first month of the season. That puts some early pressure on redshirt senior quarterback Will Levis.
The NFL Draft prospect had a busy offseason as the Penn State transfer was constantly creating news whether from the mock draft community or different NIL activities. The second-year starter at Kentucky is a lightning rod for many as there appear to be serious doubters along with big-time believers.
Kentucky might not be able to hide behind a running game early in the season as a new offensive line gels without RB1. New offensive coordinator Rich Scangarello will need Levis to be a true difference-make early.
It sounds like that happened at the scrimmage.
Sources tell KSR that Levis made some big boy NFL throws into some tight windows and did a very good job distributing the football to all three levels of the passing game. After being extremely WR1 heavy with Wan'Dale Robinson last season, Kentucky needs to have a strength in numbers passing attack this season, but Levis is the engine. It's sounding like the quarterback is progressing as the coaching staff would like.
Levis has flashed strong control of the offense to this point as the quarterback has worked very hard at improving his decision-making. Kentucky needs their QB1 to be a big-time player immediately. There is a lot of confidence at the Joe Craft Football Training Facility that he can be that player.
"He really looked good today," Stoops told the media about Levis. "I thought he threw some really good balls. Some really tough passes. Even the ones we missed, I felt like we were fractions off."
Kentucky has a lot of moving parts on offense with now three expected transfer starters and four freshmen that could be in the opening day lineup. Levis has to be the leader and playmaker for the group. No. 7 has to play at a high level early for Kentucky to win games.
The week ahead at KSR
Football time in the Bluegrass is so close that we can almost taste it. KSR is going to be here to provide all of the preseason content you need to get ready for another college football season.
On Monday night, Nick Roush and yours truly will be jumping on the KSR YouTube channel to air the season win total episode for 11 Personnel. Join us on Monday night for one of the best podcasts of the year. There will also be a Depth Chart Podcast with Freddie Maggard coming your way soon.
For those in need of some more gambling content so you have some skin in the game for Saturday's small but entertaining college football slate, our weekly gambling show "Pick 3" will appear on YouTube as Drew Franklin, Roush, and myself will give out our best bets for the weekend.
We will also have practice reports throughout the week and other in-depth coverage of Kentucky football. Football is coming. Welcome to the most wonderful time of the year.