Monday Huddle: Gut Check Week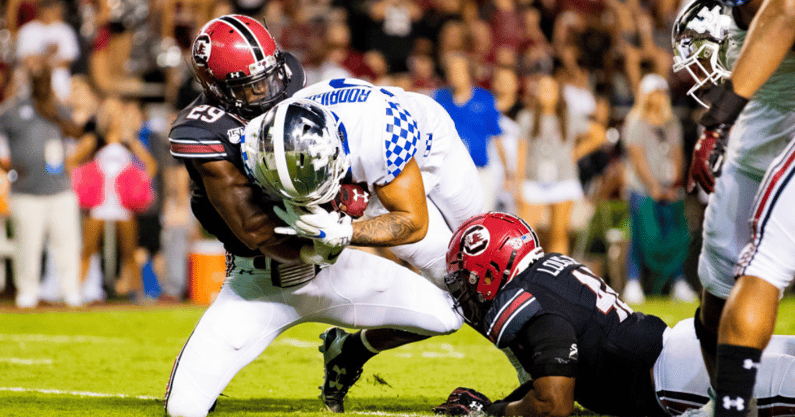 Kentucky let a golden opportunity slip through its fingers on Saturday afternoon in Oxford. But the good thing about football is that there is always another opportunity awaiting you the next week.
The Wildcats have six consecutive SEC games on deck before hosting Louisville in the Governor's Cup to end the season. There is still a lot to play for, but many are disappointed following the result against Ole Miss when Kentucky spoiled numerous chances to go win the game in the fourth quarter.
However, there is no time to sulk. Kentucky will host South Carolina and Mississippi State in consecutive weeks as the Wildcats must get off the mat quickly.
KSR's Monday Huddle is here to set the table for another very important football week as Kentucky faces a team that they've had a lot of success with during the Mark Stoops era.
First Down: An uncomfortable spot
As Kentucky has seen its football program rise under Mark Stoops, it has led to some bigger stages. As the wins kept piling up, the Wildcats slowly started to earn some respect in the public sphere. The Cats have been rewarded for good seasons, and that has turned into rankings during the season.
Kentucky has now been ranked at some point in four of the last five seasons. You don't get there without winning games, but occasionally a loss or two will occur for every ranked team.
In the past, Kentucky has not handled bouncing back from those moments well.
After losing the de-facto SEC East title game to Georgia in November, UK dropped an egg at Neyland Stadium and was blitzed by a bad Tennessee team as a five-point road favorite in 2018.
In 2020, Kentucky dropped the season-opener against Auburn and returned home to lose to Ole Miss in overtime. The next year, the Cats dropped consecutive games to Mississippi State and Tennessee after losing another important game versus Georgia.
Since 2017, Kentucky is 6-14-1 against the spread (ATS) with nine outright losses in games after a defeat. The Cats aren't always the best at getting off the mat and have dropped more than a few clunkers in this same spot.
Despite entering the matchup with South Carolina owning an 8-1 ATS mark in the series since Stoops took over, this is an obvious place where the program has not performed well. Kentucky must find a way to buck that trend and take care of business on Saturday night.
Second Down: Can the ground game level up?
For the first time all season, Kentucky appeared to have a consistent rushing attack against Ole Miss. The Wildcats did not light the world on fire, but were able to collect a season-high 140 non-sack yards on 34 attempts as the Wildcats flashed some life on the ground.
Now we need to see this group take the next step as the offense is back to full strength with the return of Chris Rodriguez.
The redshirt senior put up 72 yards on 19 attempts on Saturday averaging 3.8 yards per rush, but the north/south runner gave the offense some efficiency (47.4% success rate) and created something out of nothing on a handful of runs.
Kentucky must now keep building with this rushing attack.
The rushing efficiency is only going to improve here moving forward, but the Cats must find some more ways to create explosive plays in the rushing game. Despite having a 47.1 rushing success rate as a team against Ole Miss, the offense was not able to have a huge rushing day thanks to only producing three rushes over 10-plus yards. On the season, Kentucky ranks No. 123 overall in 10-plus yard rushes (12). Offensive coordinator Rich Scangarello must figure out a way to create more explosives on the ground.
On Saturday, Kentucky will face a South Carolina defense that ranks No. 97 nationally in yards per rush (4.44) and No. 88 in 10-plus yard rushes (25). Last season, the Cats rushed for 230 non-sack yards on 5.2 yards per attempt against Carolina in a 16-10 road win. Arkansas, Georgia, and Georgia State have each rushed for over 200 yards against this South Carolina defense.
Kentucky's ground attack now needs to take the next step. We've seen some minimal improvements, but that now needs to get ramped up with Rodriguez back in the lineup.
Saturday will be a big test.
Third Down: Bounce back opportunity for Will Levis
Will Levis posted nearly a 50 percent passing success rate on Saturday and averaged 9.2 yards per attempt on 24 throws against Ole Miss, but the redshirt senior likely played his worst game since last October against Mississippi State.
The NFL Draft prospect put the ball on the turf twice in the fourth quarter to spoil a pair of Kentucky scoring opportunities. Before the last fumble, Levis snapped the ball too early before Barion Brown could get set in the slot negating a touchdown pass to Dane Key. On top of that, QB1 took a bad safety in the second quarter and really had a tough day on Saturday.
Now we need to see Kentucky's best offensive player bounce back against South Carolina.
Levis flashed a lot of resiliency last season bouncing back strong after some bad performances, and Kentucky must see some more resolve. The quarterback is taking a lot of hits (19 sacks) and that is leading to some worries. We've seen Levis start to become a little panicked in the pocket, and the quarterback suffered an ankle and finger injury (non-throwing hand) in the loss to Ole Miss.
Kentucky has to do a better job of protecting Levis, but the Cats are going to find it hard to win football games when No. 7 has a pair of fourth quarter turnovers that took points off the board in a three-point game.
All eyes will be on Will Levis Saturday night to see if the star quarterback can play a more efficient game on Saturday.
The week ahead at KSR
We've got another jam-packed football week ahead of us as Kentucky had to wait until Week 6 for its SEC home opener. A little bit of the air was let out of the balloon in the tough loss to Ole Miss, but the atmosphere should be lively on Saturday night after the Keeneland double dip as the Cats look to record another win against South Carolina.
KSR will have full coverage of Mark Stoops' press conference on Monday and provide any injury news if it becomes available. There will be practice reports throughout the week and new podcast episodes from The KSR Football Podcast on Monday and 11 Personnel on Wednesday. Pick 3 will then go live on Thursday as KSR's gambling trio provides some more locks.
Kentucky must get off the mat and has two critical home games before the bye week arrives. The story of the 2022 season could be told on what the Cats do over these next two homes games. We've reached a very important point of the schedule.