Creepy clowns in Eastern Kentucky's Monday Morning Wakeup
You've probably heard about the creepy clown sightings across the Carolinas and Georgia the past few weeks. People dressed as clowns have been spotted chasing children at bus stops, committing vandalism, or, for the most part, just lurking in the dark trying to lure children into wooded areas. I'm sad to report that the phenomena has hit the Bluegrass.
Last night, a clown was spotted in London, Kentucky
, standing under a sign for the Hal Rodgers Parkway: On Friday, another Facebook user said he spotted this clown an hour from Lexington: Like many, I already find clowns creepy (watching "It" as a kid didn't help), so I really don't find this craze funny. This should probably go without saying, but if you see a person dressed as a clown, do not chase it into the woods, especially at night. With that in mind, let's turn our eyes to this week's agenda...
UK is currently a 2-point favorite over South Carolina
According to Vegas Insider, the game opened as a pick'em, but Kentucky is currently a 2-point favorite over the Gamecocks. Considering home teams get a 3-point bump, that doesn't mean a whole lot, but there's no denying that Saturday's game is not only a matchup of the SEC cellar dwellers, it's yet again the most important of Mark Stoops' career. If you've heard that last part before, then, well, welcome to year four of the Mark Stoops era.
Stoops will address the media at noon
From Drew Barker's injury and the new quarterback controversy to shakeups at running back and what the hell is happening with the defense, there's a lot for Mark Stoops to go over when he addresses the media at noon. After going down on the first series, Barker was taken to the hospital with a back injury. Stoops said Barker got an MRI on Saturday night, so check back in a few hours for the latest on his condition. Even if he's 100% healthy, people will be clamoring for Stephen Johnson, who turned in an incredible performance under pressure and had the offense moving more smoothly than ever before. Our questions may be answered once the depth chart drops in a few hours.
PJ Washington and Tremont Waters wrapped up visits
[caption id="" align="alignnone" width="401"]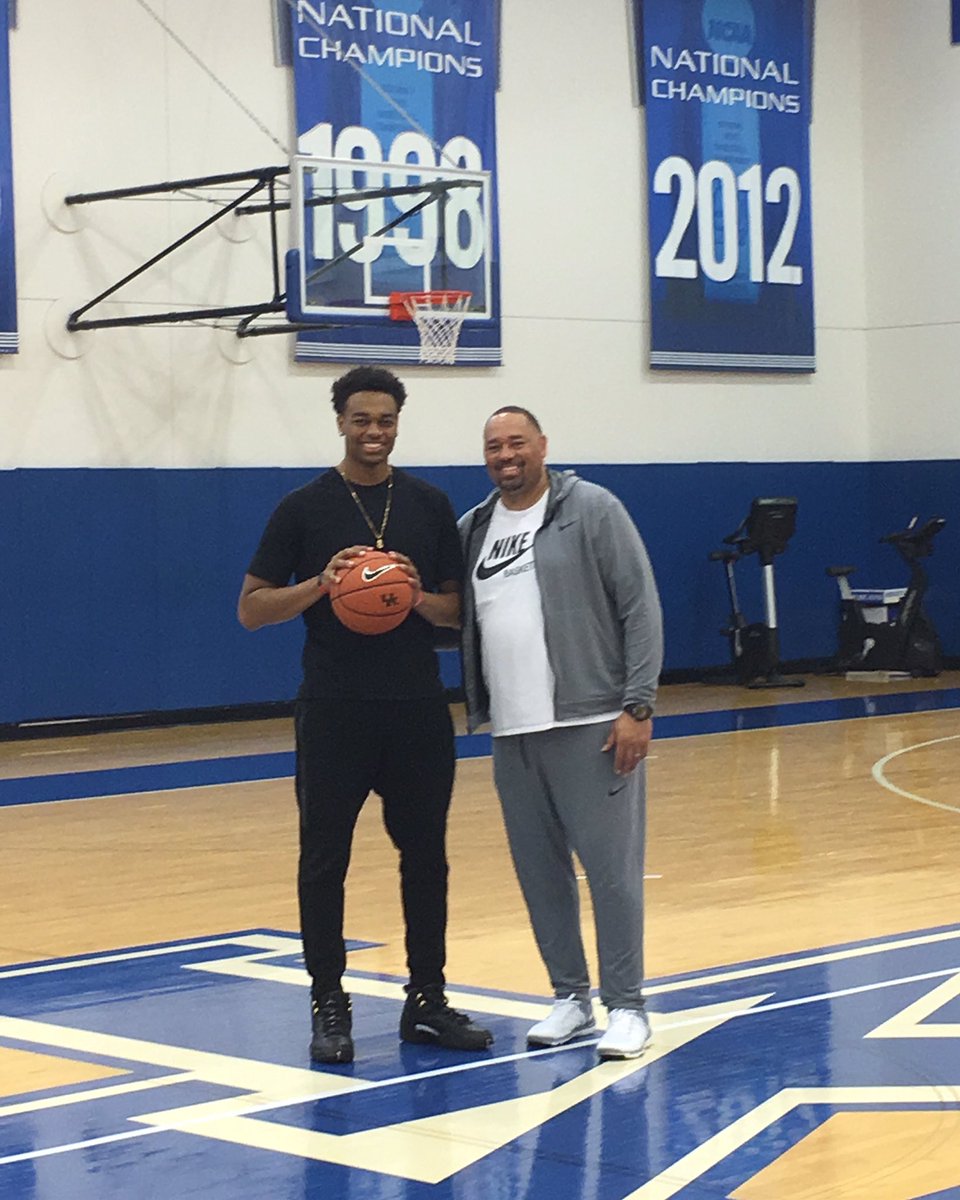 @pjwashington_25
[/caption] Five-star power forward PJ Washington and four-star point guard Tremont Waters visited campus this weekend. Washington sent out the picture above from the Joe Craft Center, and while Waters didn't tweet a picture, De'Aaron Fox did snap this shot of him yesterday:
Hopefully that means he had a good time.
Did you miss Freddie Maggard on the UK Radio Network broadcast?
Our beloved Freddie was in the booth this weekend to fill in for Jeff Piecoro, and if you chose to listen to the TV broadcast instead of the radio broadcast, you can catch up on his big moment thanks to our friends at UKBasketballLive: https://youtu.be/741_aMGqIuU
Avery Williamson went down with an injury yesterday
Williamson had six tackles before leaving the Titans' 16-15 win over the Lions with a back injury. Thankfully, Williamson told reporters afterwards that it was just a strain and he should be fine moving forward. Here's a recap of how some of the other NFL Cats did this weekend:
Wesley Woodyard, Titans: Three tackles
Jacob Tamme, Falcons: 5 catches, 75 yards, 1 touchdown
Randall Cobb, Packers: 5 catches, 42 yards
Za'Darius Smith, Ravens: 2 tackles
Winston Guy, Colts: One tackle (left the game with an ankle injury)
Danny Trevathan and the Bears play the Eagles tonight on Monday Night Football.
The clip your favorite former Cats couldn't stop laughing at last night
about to blow a blood vessel cringing😫😬 pic.twitter.com/byaK9YRW0O

– kofi (@ManLikeKofii) September 18, 2016
Last night, this preview of TLC's new show "Love At First Kiss" made the rounds on Twitter, and Willie Cauley-Stein, Alex Poythress, Andrew Harrison, and Trey Lyles couldn't get enough of it: https://twitter.com/THEwillieCS15/status/777715417481515012 https://twitter.com/TreyMambaLyles/status/777736281883234304 https://twitter.com/AlexTheGreat22/status/777735225518465024 Yeah, that's hard to watch. You know what won't be hard to listen to? KSR in an hour. See you then.