Monday Night News and Views
Tonight hasn't been what tonight was supposed to be. Wisconsin and Duke are battling for Kentucky's championship right now and Big Blue Nation is still having a tough time getting over the fact we're not there. Yesterday we woke up in disbelief, today we tried to move on and get back to the regular grind. I've put it behind me, but I know there are many of you who need much more time to recover. This feeling will pass, eventually, though it may take a long, long time for some of you. Hang in there. Life goes on. As for this game that UK isn't playing in, I know many of you refused to watch, while some are big time Wisconsin fans for the night. I'm in that second group, 1,000 percent behind the Badgers as this second half winds down because I can't think of many things worse than Duke winning the title.
UPDATE: 
Duke won. But enough about that, let's talk about Kentucky things...  
John Calipari is going to the Hall of Fame.
It was formally announced today that John Calipari will be a member of the Naismith Basketball Hall of Fame's 2015 class. He joins Louie Dampier (a fellow Wildcat), Dikembe Mutombo, Dick Bavetta, Spencer Haywood, George Raveling and five others to make up the 11-member Class of 2015 to be honored later this year in at the Enshrinement Ceremonies in Springfield, Massachusetts. When asked how he handled the news,  Cal admitted he had to pull his car over when he received the call from Jerry Colangelo, the chairman of the Hall's board. "Look, I gotta call you back," he told Colangelo. Cal is very deserving of the induction, but not in his own eyes. He said in his press conference in Indianapolis he feels "phony" because he doesn't see himself as great as the coaches that have gone in before him:
"When you tell me, 'Well, your numbers indicate and what you've done and how you've done it,' I go, 'Wow, I'm not thinking in those terms.' I'm just thinking, I came from Moon Township. I did not play at a private school. I did not play for one of the great coaches in the history of the game. I was a Division II basketball player. Was lucky to get the Massachusetts job. No one wanted it, which is the only reason I got it. And now I'm sitting at this table. What? What just happened? How did this happen?"
Well, I will tell you how this happened, Cal. You're a three-time Naismith Coach of the Year, you've been to six --
not four, haters, SIX
-- Final Fours, and you have one title to your name and flirted with a couple others. That'll do it.
Five Cats will likely enter the NBA Draft, possibly seven.
Cal predicts a minimum of five players will declare for the draft, ending their time at UK, and that number could potentially be as high as seven once all of the decisions are made. The five expected to go are Karl Towns, Willie Cauley-Stein, the Harrison twins and Trey Lyles, according to Cal, while Devin Booker and Dakari Johnson will take a little longer to decide. Cal briefly met with all of his NBA hopefuls at the team hotel Sunday morning, prior to the players' return to Lexington. He plans to meet with them again tomorrow and, if any of them are solid on going, he will encourage them to go ahead and announce the news. That means we can expect to hear from at least a couple of them as early as tomorrow.
Tyler Ulis will return for his sophomore season. 
One player who will definitely be back for another season is Tyler Ulis, though he's ranked higher than Andrew Harrison on most draft boards. Calipari announced Ulis' return today, telling reporters next year's team will be built around the sophomore point guard. Cal sent Ulis a message saying, "I'm going to build a team. Get your guys and let's do this again. Let's rerun this." Yes. Let's.
Alex Poythress will listen to NBA talk but expects to be back.
Poythress' unfortunate injury will keep him in Lexington for another season, unless an NBA organization shows him some unexpected and serious interest. He and Cal will still take time to gather the necessary information and then come to a decision, one that will almost certainly be a return to Kentucky, considering he is ranked No. 84 on ESPN's Top 100 and completely absent from DraftExpress.com's 100-list.
Read some of the players' messages from social media:
Trey Lyles:
"Definitely didn't end the way that I or a lot of people wanted, but I had one of the greatest times of my life!"
Karl Towns:
"Thank you to the one and only #BBN for making our journey this year so special. Without you, none of this is possible. #loveyou #BBN"
Marcus Lee:
"It's been a great journey with these boys I call my family. #WeAreUK #BROTHERS #BBN I know they will always have my back like I do theirs."
E.J. Floreal:
"Wanna thank all the fans that greeted us when we got back sorry we couldn't bring home #9 Ur support is much appreciated #BBN best fan base"
Monday was Major League Baseball's Opening Day.
Or what I like to call the beginning of the worst 181 day stretch in sports.
Alabama announced the hiring of Avery Johnson.
Johnson agreed to a deal worth close to $18 million over six years. It is his first coaching gig since he was fired by the New Jersey Nets in 2012 and his first ever at the college ranks.
Nate Silver: "Coach Cal blew it."
Over at FiveThirtyEight.com, Nate Silver simulated the final six minutes of the game 100,000 times and Kentucky won 81.9 percent of the time. But in the real game, Kentucky slowed things down when it should've pushed the tempo, and the outcome favored Wisconsin. "Kentucky also almost certainly made its offense less efficient by slowing the pace down," Silver writes. "Rather than looking for good shooting opportunities in the first half of the shot clock, it tried to rush shots near the end of possessions. (Wisconsin's defense, to reiterate, had something to do with that. But Kentucky hadn't had much trouble finding shots earlier in the game, shooting 60 percent in the first half.)" Read more:
"Coach Cal blew it"
For at least a moment, UK was in the NCAA title game.
Thanks to a scoreboard error during halftime... [caption id="" align="alignnone" width="600"]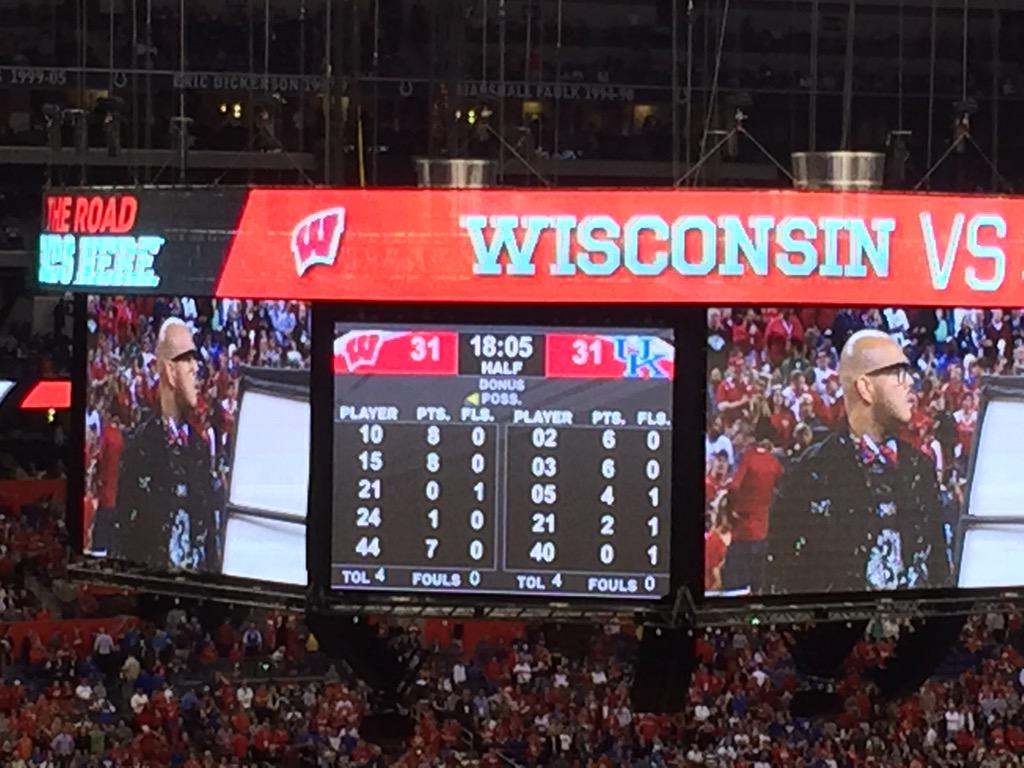 @RonnieRamos
[/caption] What a tease.