Monday's Top 10: Big Blue Madness, UK Football looking up, and Karl Towns being awesome
[caption id="attachment_209083" align="alignnone" width="1200"]
Photo by UK Athletics
[/caption] I don't know about you guys, but life improved considerably for me over the last five days. When I left Nashville Thursday morning for a UK Basketball mega weekend, I was excited about the upcoming season, but when I got back home yesterday morning, I was absolutely giddy. Between Media Day on Thursday, Big Blue Madness on Friday, the Timberwolves/Heat game on Saturday night, and friend and family time in between, I got very little sleep, but left the Bluegrass energized and ready to roll for this season. With the Mississippi State game on Saturday and bowl dreams still in reach, this is also a huge week for football, so let's break everything going on down into today's top ten.
1. Big Blue Madness was a success
Can we be real for a minute? I generally think Big Blue Madness is pretty overrated. Over the years, the event has grown and grown, morphing into a national recruiting rally for John Calipari; however, this year's event was better than most. Maybe it was because of the new scoreboard, the blue carpet entrance, Michael Buffer, or the generations of players joining Calipari on stage, but Madness was bigger and better than usual. Kudos to Nathan Schwake and the UK staff for putting on a top-notch event, the impact of which is still to come (more on that in a second). Before we move on, I need to see Matthew Mitchell's dance one more time, because it pretty much sums up my mood this morning: https://youtu.be/fCljOxhYrxw
2.  What impact did it have on recruiting?
Six of the best recruits in the 2017 class were in attendance on Friday night: Mohamed Bamba, Kevin Knox, PJ Washington, Nick Richards, Trae Young and Quade Green. Several members of the 2018 class were also there, including Romeo Langford. Feedback from their visits are still trickling in, but so far, it seems overwhelmingly positive. Trae Young, the top target in the class, was reduced to emojis: https://twitter.com/TheTraeYoung/status/787098823764152320 Quade Green, another top point guard in the class, included Kentucky in his final five, which he released last night, and PJ Washington has the Cats in his final four alongside Arizona, UNLV, and Washington. I'll have more on recruiting as the day goes on.
3.  The new team is lots of fun
It's hard to tell much from Kentucky's ten-minute scrimmage during Madness, but I know one thing for certain: this team is A LOT of fun. Like Madness, Thursday's Media Day was better than most because this group's energy is infectious. There are still some players who hate talking to the media (cough, Briscoe, cough), but the freshmen are embracing the spotlight so far, talking candidly and confidently about the team's chemistry and talent, all while having fun. Last year's team was good, don't get me wrong, but I left the Joe Craft Center feeling ridiculously upbeat and ready for what's on the horizon.
4.  But can they shoot?
From last week's televised practice to now, shooting has become the primary concern for this squad in the eyes of the media. Personally, I think those concerns are a bit premature and probably based on the fact that Isaiah Briscoe and De'Aaron Fox -- two of the primary ball handlers -- aren't known for their shooting. Malik Monk may not be Jamal Murray in terms of shooting, but he showed us in the McDonald's All-American 3-Point Contest that he can light it up from the outside, and we all know what Derek Willis is capable of. Again, tough to tell much from a practice and a ten-minute scrimmage, so I'll be paying special attention to shooting during the Blue/White game on Friday night.
5.  SEC Basketball Media Day, Blue/White game, and Women's Clinic coming up this week
The first exhibition game is still a few weeks away, but there are three major basketball events this week: SEC Basketball Media Day on Wednesday, the Blue/White game on Friday, and the Women's Clinic on Sunday. I'll be at attendance at all three (they were kind enough to move SEC Basketball Media Day to Nashville this year, hoorah!), so stay tuned for plenty of basketball news to go along with football. Speaking of...
6.  UK Football is suddenly looking up
This weekend, Vandy beat Georgia in Athens, Missouri got pummeled by Florida, and Mississippi State lost at BYU. Because the SEC East is a dumpster fire, Kentucky is tied for second in the division with Tennessee. Some fans scoffed at Kentucky's win over Vanderbilt last week, but man, that win sure looks better now, doesn't it? Despite the horrible start to the season, Mark Stoops and the Cats are still in control of their own destiny, thanks in part to several teams who are much more vulnerable than first thought.
7.  We'll hear from Mark Stoops at noon
Kentucky's quest for six continues Saturday with the Mississippi State game, which looks infinitely more winnable than it did at the start of the season. Dan Mullen's squad only has two wins so far this season, one in conference play (South Carolina) and is currently a three-point favorite. Hopefully, the bye week was kind to the handful of Cats suffering from injuries. We'll hear more from Stoops at noon.
8.  This Kentucky fan did some scouting on Friday night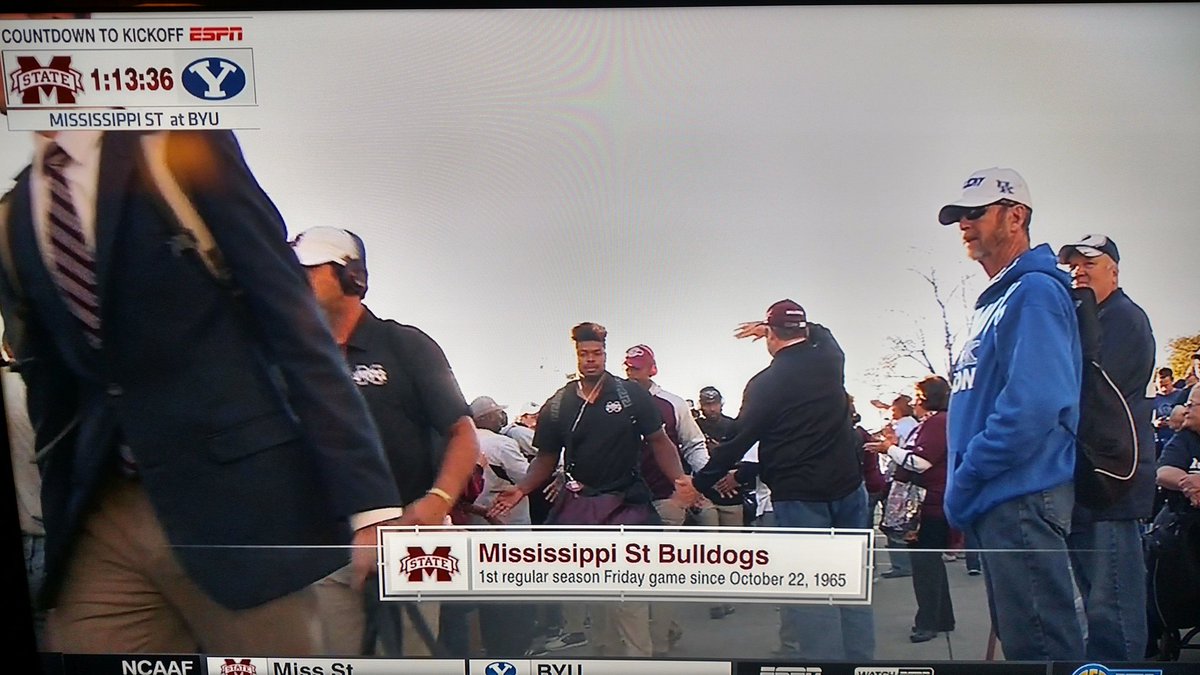 Clearly, Kentucky already has the mental edge in Saturday's matchup due to this man's stoic stare down.
9.  SEC Nation coming to town
The SEC Network's Tim Tebow, Marcus Spears, Paul Finebaum, Laura Rutledge, and Maria Taylor will be in town on Saturday to host "SEC Nation" live from the lawn outside the William T. Young Library from 10 a.m. to noon. Start a day of tailgating right by making a clever sign and representing the BBN well. It's been a roller coaster season so far, but right now, Kentucky still has a chance to make a run at a bowl, so let's cling on to this optimism while we can.
10. Karl Towns is still the greatest human being on Earth
[caption id="attachment_209078" align="alignnone" width="561"]
Shoutout to @drdusto for the picture on the left. Without it, I don't think anyone would believe me when I say it happened.[/caption] In a weekend full of great basketball moments, the biggest highlight for me may have been seeing Karl Towns play in the Timberwolves/Heat game at the Yum Center Saturday night. The crowd wasn't great for the game (I hate that it was at the same time as the Kings/Wizards game at Rupp) and I was exhausted, but it was all worth it when Karl came over to the press seats towards the end of the game and gave me a hug. We've been pals since the Bahamas trip, and the fact that he made the effort to not only wave or say hello, but give me a hug and talk for a while after the game speaks volumes about Karl's character and means the world to me. This is nothing new; we've all known Karl is special since the moment he committed to Kentucky back in 2012, but I would be remiss if I didn't say once again that, as good as Karl is as basketball, he is even better in life. Here he is with some other fans Saturday night:
Radio from Ryan's colonoscopy in an hour. (Now there's a segue I never thought I'd make...)