Monday's Top 10: It's A Total UK Takeover
Good morning, friends, and what a way to start the week. At midnight, UK's takeover of the SEC Network began, meaning if you want to spend your day doing nothing but watching UK sports, it's totally possible. In fact, I bet your boss would totally understand. With that in mind, let's hop right in to the top 10.
1. Stop what you're doing and program that DVR
It's all UK all day on the SEC Network, so if you've been looking to catch up on some of the biggest games of the year, program the DVR to record the following:
8:30-10 a.m.

 — Gymnastics vs. Alabama, Feb. 10, 2017

10-10:30 a.m.

 — Big Blue Review

10:30-11 a.m.

 — The Kentucky Experience: Wildcat Roundtable

11 a.m.-12:30 p.m.

 — Women's basketball vs. Mississippi State, Feb. 23, 2017

12:30-2:30 p.m.

 — Softball vs. Florida, April 15, 2017

2:30-4:30 p.m.

 — Softball vs. Texas A&M, April 29, 2017

4:30-5 p.m.

 — Big Blue Review

5-5:30 p.m.

 — The Kentucky Experience: Wildcat Roundtable

5:30-7:30 p.m.

 — Baseball vs. North Carolina State, June 5, 2017

7:30-8 p.m.

 — Never Been Done Before: Kentucky Baseball 2017

8-10 p.m.

 — Football at Louisville, Nov. 26, 2016

10 p.m.-midnight

 — One and Not Done
2. Just in case you can't wait until 8 p.m. for football highlights
Don't feel bad for needing a fix. I pretty much watch this every morning.
3. It's UK Takeover Week on KSR as well
Normally, I reserve show news and guest host announcements for the end of the wakeup post, but today's show is so big it's up at #3. Deputy Director of Athletics DeWayne Peevy will host today's show alongside Ryan Lemond, and I'm sure he's going to bring on some special guests that the rest of us could only dream of having in our Rolodex (contact list for you young folk). DeWayne's hosting gig is just an appetizer for UK's takeover of KSR this week. Here's the entire schedule:
July 17: DeWayne Peevy
July 18: Nick Mingione
July 19: Tim Couch
July 20: Matthew Mitchell
July 21: UK Football coaches
4. Matt was spotted at the Tour De France
https://www.instagram.com/p/BWnfaRnFCGw/?taken-by=kysportsradio
Where in the world is Matt Jones? Yesterday, he did a short Periscope from the Tour de France with an adorable old French man who didn't speak any English. Today, I believe our fearless leader is headed towards Switzerland. Between all of my coworker's vacations, I've got five straight dayshifts staring at me this week, so he better bring me a Toblerone.
5. Meanwhile, Tom Izzo was spotted eating popcorn off the floor
Michigan St. Head basketball coach Tom Izzo dropping popcorn on floor then eating it. #5SecondRule @ahammsportsgeek @World_Wide_Wob pic.twitter.com/Ca6VtXulTd

— Tyler Cupp (@TCuppRadio) July 14, 2017
Does the five second rule apply here? With most foods, I might say yes, but he's got more kernels in that box and who the heck knows what's happened in that hallway, so let it be, Tom. Let it be.
6. Immanuel Quickley will visit UK on September 16
Kentucky remains in the driver's seat for the five-star point guard, who set the dates for official visits last night. Per Evan Daniels, Quickley will visit Kentucky the weekend of September 16, the last of his four official visits. This keeps him on track to announce his decision before the start of his senior season in late September. Speaking of…
7. Did you hear he's a potential package deal with Zion Williamson?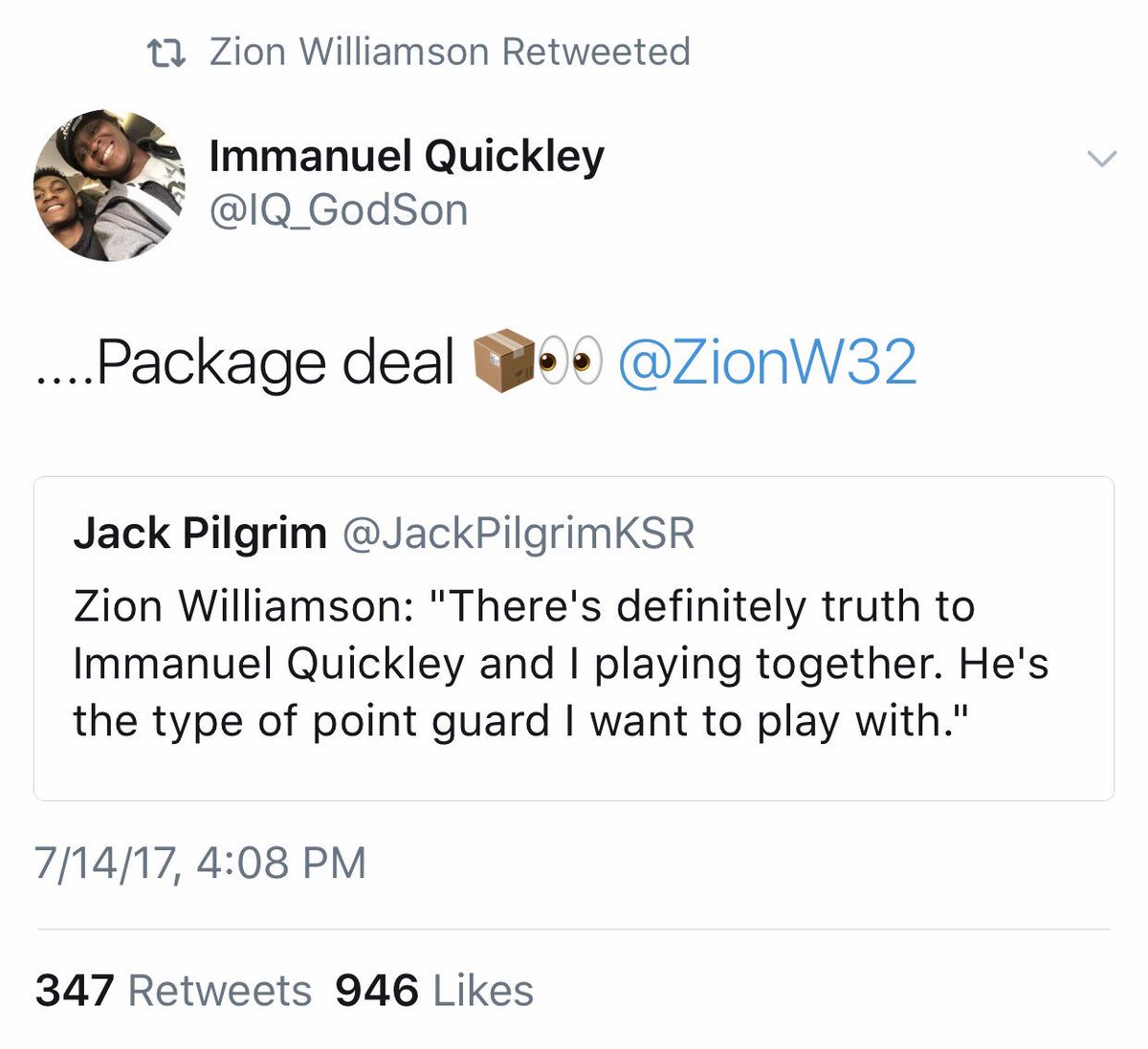 The biggest news out of the adidas Gauntlet Finale was the possibility of Quickley teaming up with Zion Williamson at the next level. That's excellent news for Kentucky because the Cats are currently the favorite for both. For more on Williamson, check out Jack Pilgrim's in-depth profile from yesterday.
8. Jerry Bird passed away yesterday
UK lost two greats this weekend. On Saturday, UK Football legend Babe Parilli passed away at the age of 87, and yesterday, former UK Basketball player Jerry Bird passed away at the age of 83. Bird played at UK from 1954-56, helping the Cats to two SEC titles and the 1954 Helms Athletic Foundation title. He was inducted into the UK Athletics Hall of Fame in 2005 as a part of the hall of fame's charter class and his No. 22 jersey is retired in the Rupp Arena rafters.
After his basketball career in the NBA was over, Bird returned to his hometown of Corbin and worked for American Greeting Card until retirement. A memorial service in his honor is planned for Saturday at 12:30 p.m. at Central Baptist Church in Corbin. It is open to the public.
9. What did we think of the season premiere of "Game of Thrones"?
No spoilers, but I was very pleased with the exception of one horrible cameo. I thought GofT was above such things. Nick Roush and TJ Walker are currently taping a new episode of "Kentucky Thrones Radio," so look for that on the KSR podcast feed later today.
10. DeWayne Peevy and friends one hour from now
Call in and congratulate him on his son's 9U team winning the State Championship yesterday: Ice cream on Uncle Matt, kiddos.