Mud's Saturday News and Views
I've seen 3 movies so far this summer, and I can say without a doubt that 
"Mud"
has been far and away the best. In a society where we are saturated by previews (I was certain the Great Gatsby was going to come out 13 months ago...the 9th time I saw the preview), it's hard to walk into a movie theatre without some notion of the story you are about to see unfold on the big screen. Sometimes previews today even reveal all of the best parts of the movie. I find this to be especially true of comedies. They've started showing all of the best parts in the previews, and then the rest of the movie fails to live up to the 5-6 funny parts you've already seen. 
Mud
was the first movie in a long time that I can remember walking into the theatre and knowing absolutely nothing about what I was about to see. I didn't know who was in the movie. I didn't know the plot. I didn't know any of the twists and turns. It was all a big mystery. And it was awesome. ... And not just the element of surprise either. The movie was great. Matthew McConaughey and Reese Witherspoon are the two names that stick out when looking at the cast, but the two young boys, Ellis and Neck Bone (yes, the character is named Neck Bone...and yes, he lives up to the name), completely steal the show. Without giving away too much, the movie revolves around the friendship of two young boys who live as neighbors on a river in Arkansas. The two set out to obtain an abandoned boat from a tree on a small island off the river. What they find is a shirtless Matthew McConaughey (some things never change). The two boys strike an unlikely friendship of sorts with McConaughey, and a young and naiive Ellis is willing to go to great lengths because he believes, or perhaps desperately wants to believe in the idea of love. The characters are funny, which combines well with a sometimes depressing and tangled story woven between the moments of humor. If you are looking for a good summer movie, go see 
Mud. 
You won't be disappointed. And if you are, go watch one of the Fast and Furious movies or something.  
And now let's take a look at some of the news from today, and throw in a few views...
-----
 A couple of important decisions and announcements regarding the future of the SEC were revealed today. All of the SEC news from the day was good for Kentucky. Perhaps the best news?
The 8 game, 6-1-1 conference schedule is here to stay... at least through 2016. Following the 2015 season, the SEC will re-evaluate the decision and likely join most of other BCS conferences in having 9 conference games on the schedule.
During the first few years of the Mark Stoops era, as Kentucky tries to make major strides with a new system and coach, the 8 game SEC schedule is ideal. Hopefully by the time the 9th game is added, Kentucky will be in a better and more competitive position within the conference. For now, thanks Mike Slive.
-----
 The other po$itive new$ from the day regarding the $EC was that
the conference distributed $289.4 million to the schools
, which divided 14 ways translates to $20.7 million per school. Don't forget that the SEC Network hasn't kicked in yet either.
-----
 As John Calipari has foreshadowed in many ways, the NCAA could be looking to make some big changes in the future-- or they might face a potential exodus of schools. I think we are still quite a few years away from such big moves, but things might be getting set into motion.
SEC Commissioner Mike Slive said today that he would be in favor of a $4,000 yearly stipend for all scholarship athletes.
With the SEC on board, that now makes 5 of the major conferences supporting the idea. The winds of change could be blowing, folks.
-----
Speaking of things that might make John Calipari happy that aren't Orange Leaf, inspirational books and being thrifty...
Mike DeCourcy of the Sporting News has Kentucky tabbed as his pre-season #1 ranked team.
DeCourcy labels Calipari's #1 rated recruiting class as having an "overwhelming influx of young talent."
-----
Joining Kentucky in the Top 10 were many of the usual suspects in men's college basketball today: Michigan State, Louisville, Duke, Arizona, Kansas, Michigan, Syracuse, North Carolina and Oklahoma State. Of the top 10, 9 of those schools are what I would call men's basketball's current "blue bloods." Whereas last year's depleted landscape in college basketball left the door open for some different names to pop on the scene, this year looks to be a return to greatness for many of the tradition-rich programs. As exciting as it is to have bracket busters and surprising stories throughout the season,
college basketball is at it's absolute best when schools like Kentucky, North Carolina, Duke and Kansas are all at their best. This will be one of those years.
Brace yourselves.
-----
In Anti-SEC news,
Ohio State's President Gordon Gee issued a personal apology to Bret Bielema
. Bielema tweeted out the following picture as proof: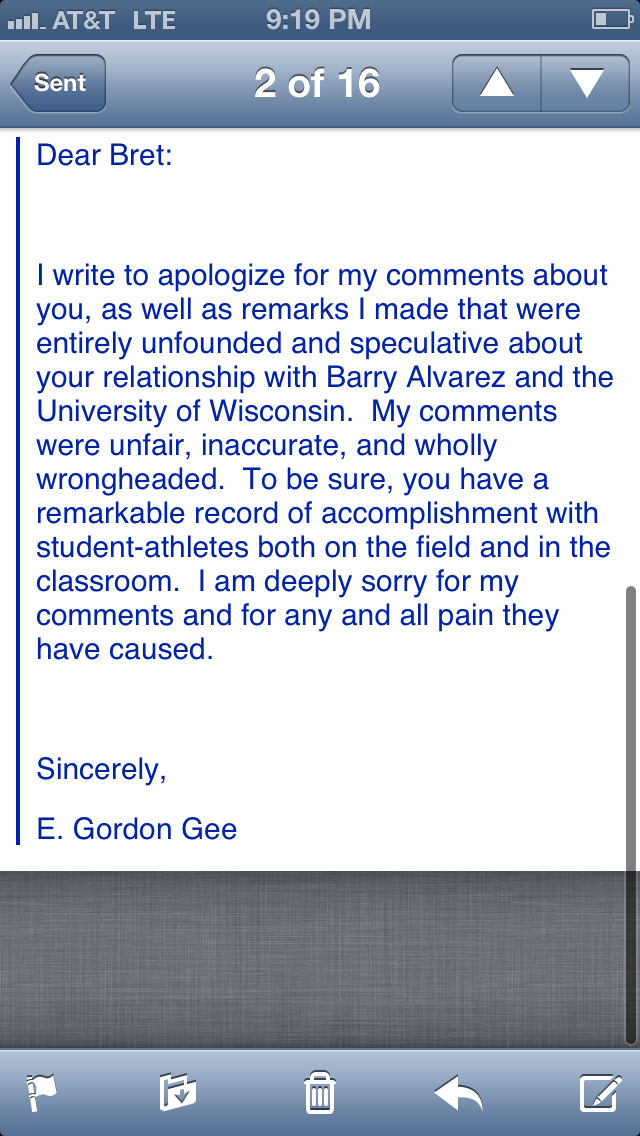 -----
  Nerlens Noel's name is still being tossed around as the probable #1 draft pick in just a few weeks.
Today Noel posted a picture from his rehab.
Keep up the good work, Nerlens.
-----
At the time it felt like a bit of a blow when Shabazz Muhammad chose UCLA and it's half-filled arena over Kentucky. During Kentucky's up and down season there were also plenty of moments when it was easy to second-guess and imagine what life might have been like with a scorer such as Muhammad on the roster. Could he have helped? Certainly. Could Kentucky have helped Muhammad? Absolutely.
A guy who was at one time tabbed as a near lock for the #1 pick in the 2013 NBA draft before starting his college career, a healthy debate has started about whether or not he will even be a lottery pick.
Some even speculate that he could fall late into the first round. Given Calipari's track record with top recruits, especially 5-stars, one would have to think that Muhammad wouldn't have slipped so far on the draft board had he become a Wildcat. With all of that said, the question marks surrounding Muhammad might have just been too much for the NCAA to stomach had he played at Kentucky. I still believe that he would have had to miss a significantly larger number of games had he picked Kentucky. As if his story needed any more troubling chapters,
today we found out that Muhammad's father was indicted on federal bank fraud and conspiracy charges.
-----
Our thoughts and best wishes go out to former NBA player Mookie Blaylock, who also happens to be the father of two members of Kentucky's football team
. Blaylock was in a car accident late Friday afternoon. Blaylock's Escalade crossed the median and struck another vehicle, injuring two others, according to the Atlanta Journal Constitution. Blaylock's twin sons, Zack and Daron, will both be sophomore safeties for Kentucky this upcoming season. In an earlier report, we had heard that Blaylock was on life support. According to an updated story, Blaylock's condition has improved slightly.
He is still in guarded and critical condition, but he has been removed from life support.
All of our best to Blaylock and his family. #BBN
-----
And the random picture of the day award goes to Rick Pitino and KSR's favorite, Louisville fan Big Black... The two apparently hung out together in Miami last night. Naturally. Some coaches hang out with Jay-Z. Some coaches hang out with Big Black.
(h/t TheCardinalConnect.com)
-----
  Last but not least... A BIG
good luck to future Kentucky football player and KSR's current all-star writer Drew Barker as he competes in the Elite 11 QB competition tomorrow
.