Multiple former Wildcats tabbed as top 50 NBA players for 2021-22 season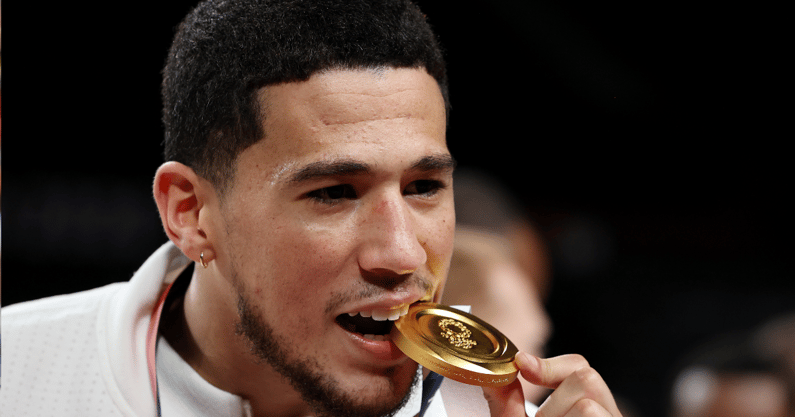 When I say it out loud, it doesn't sound real–the 2021-22 NBA season is under one month away from the opener. And why doesn't it sound real? Probably because the Milwaukee Bucks are barely three months removed from winning the 2021 Finals.
By the time the Brooklyn Nets and defending champion Bucks tipoff to start the new season on Oct. 19, pieces of three NBA seasons will have taken place over one calendar year. That's crazy, and surely the only time that has ever happened in the 75-year history of the league.
But I digress. With less than 30 days until the NBA is back, media outlets are slowly releasing their lists of the league's top 100 players. Sports Illustrated got the ball rolling on Monday with ESPN doing the same on Tuesday. We recently covered how ESPN ranked Houston Rockets point guard John Wall in the top 100 (an odd decision on its own) but now that the top 50 players are being announced, more and more former Wildcats are cluttering up the lists.
Sports Illustrated ranked seven one-time Kentucky players among the top 50-11 players heading into the 2021-22 season: Jamal Murray (who could miss the whole season due to an ACL injury), Julius Randle, De'Aaron Fox, Shai Gilgeous-Alexander, Karl-Anthony Towns, Bam Adebayo, and Devin Booker.
Sports Illustrated (Nos. 50-11)
49. Jamal Murray, Denver Nuggets (previous rank: 22)
Murray's ranking here reflects the concerns surrounding his availability and recovery after he tore his ACL on April 12, but leaves the door open for a return before season's end. He's one of the league's most dangerous scoring guards, particularly working in tandem with Nikola Jokić, and this rank will be far too conservative if he makes a full in-season recovery (for what it's worth, Murray rated 22nd on last year's Top 100). We'll hope for that, but we can't count on it just yet.

Jeremy Woo, Sports Illustrated
41. Julius Randle, New York Knicks (previous rank: NR)
32. De'Aaron Fox, Sacramento Kings (previous rank: 37)
30. Shai Gilgeous-Alexander, Oklahoma City Thunder (previous rank: 63)
Gilgeous-Alexander played in only 35 games in 2021 but shined bright enough to be No. 30 on this list. His offensive profile would make an analytics nerd blush: Over 50% from the field, over 40% from three, and over six free-throw attempts a game. Only entering his fourth season, if SGA builds on his 2021 numbers the Thunder should seriously consider speeding up their rebuild.

Rohan Nadkarni, Sports Illustrated
23. Karl-Anthony Towns, Minnesota Timberwolves (previous rank: 18)
22. Bam Adebayo, Miami Heat (previous rank: 20)
16. Devin Booker, Phoenix Suns (previous rank: 24)
Booker's supernova scoring talent finally coincided with winning in 2021, as he helped lead the Suns to the NBA Finals. Booker is a three-level scorer who makes up for his slightly less deadly three-point game with a killer bucket-getting prowess inside the arc. He's adept at using his body to create space in the lane before burying you with off-balance shots. And when his pull-up is working, he can easily go for 40, as he did back-to-back times in the Finals. Individual defense will always be a slight question mark for Booker, though he did prove during Phoenix's run to the championship round he can absolutely contribute to a great team defensive effort. Book definitely received a healthy bump on this list because of the team success he finally experienced for really the first time in his career. His next challenge will be to prove the Suns can sustain that level moving forward.

Rohan Nadkarni, Sports Illustrated
ESPN is saving its top 25 list for the rest of the week, but Randle, SGA, and Fox all made it into the top 50.
ESPN (Nos. 50-26)
42. Julius Randle, New York Knicks (previous rank: NR)
One big question: Last season, Randle was as big of a surprise individually as his Knicks were as a team, making him an easy choice for the league's Most Improved Player award and earning him a well-deserved contract extension. The question is whether he can replicate that success. If he even comes close, the Knicks will be quite pleased. — Bontemps

Why he rose from unranked: Randle had quietly hovered as one of the more productive big men in the league before putting it all together for a magical All-NBA campaign with the Knicks last season. Randle improved across the board, but his playmaking (career best 6.0 APG) and long-range shooting (career best 2.3 3s per game on 41.1% shooting) changed the magnitude of his impact and turned him into a legitimate franchise player on offense. — Snellings

Tim Bontemps and André Snelling, ESPN
36. Shai Gilgeous-Alexander, Oklahoma City Thunder (previous rank: 38)
34. De'Aaron Fox, Sacramento Kings (previous rank: 34)
Swing skill: Fox, arguably the fastest point guard in the league, made more strides in his fourth season, increasing his scoring average from 21.1 to a career-high 25.2 points while averaging 7.2 assists per game last season. Even though the Kings added another talented point guard in rookie Davion Mitchell, Fox shouldn't be affected by the crowded backcourt.

Ohm Youngmisuk, ESPN
Unless ESPN decides to pull off a surprise move, former Wildcat and current Los Angeles Lakers big man Anthony Davis will be included among the top 10 players in the entire league, as he has been for years now. Sports Illustrated will do the same, it's just going to be a matter of where in the top 10 Davis lands.
Sports Illustrated also did a brief list of the biggest "snubs" who didn't make the top 100. John Wall was one of those snubs mentioned, as was Los Angeles Clippers point guard and former teammate of Wall at Kentucky, Eric Bledsoe.
Stay tuned later this week to find out how high Davis is ranked.