Multiple Personalities: The Many Versions of The Cats
Yesterday during Cal's meeting with the media our beloved coach was quoted saying that "UK wasnt the best version of itself against Arkansas.". After getting outscored by ten in the second half and committing 18 turnovers I would say them not being in best form is a bit of an understatement.
This team has been nothing short of puzzling all year and its true you never know which version of the Cats is going to show up game to game.
The most important question going forward is which version is going to make an appearance against Georgia tonight in Athens? Who knows, but let's take a look at the possibilities.
The Fighters: As Seen in Games against Missouri, Ole Miss and Maryland.
This is the team everybody wants to see tonight night. The team that had all six guys ready to play with a fire that has been simply dormant for several games this year.
These were the big games that got this team ready to play with passion,
one to kick off the year and the other two were must win games for the tournament resume. None of these wins came with ease but somehow this group found a way to come together and bring home the victory. Tonight's game against Georgia is a must-not-lose game. The win doesn't help us too much but a loss would crush our tournament dreams.
That reason right there will hopefully be enough to get this group ready to fight like Wildcats.
The Solid Team: Witnessed against Auburn, Miss St., USC.
Then there were the games where Kentucky was supposed to win and did. Georgia is 8-8 in the SEC and have several bad losses when you look down the column. Kentucky should have no problem with the Bulldogs.
Unfortunately since Nerlens went down this group is going to struggle to play "solid".
I see them either coming out and showing fight or falling into one of the groups below for the rest of this year.
The Survive and Advance Squad: Demonstrated against Vandy, LSU, @A&M.
There's no shame in just squeaking out a victory. As they say a win is a win. In all of these games the Cats were heavily favored but just barely pulled it out. Against Vandy it took a shot clock beating goal and a big shot from Uncle Julius. Against A&M it took overtime. This group has played to their competition all year which has come back to bite them against teams like Alabama.
As long as we get a win tonight I'll be happy all that matters is moving one spot further inside the bubble.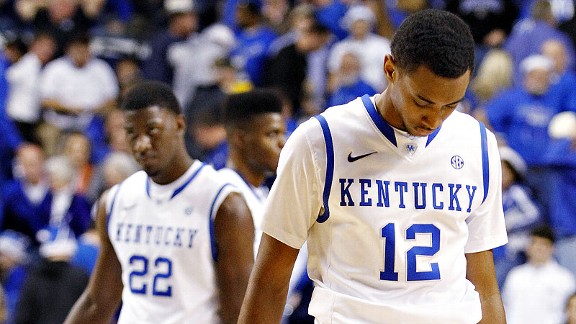 The Close But No Cigar: Came so close against Duke and Louisville.
What I really don't want to see happen is this team bring it and  still come up short. Those losses are especially hard to take because if the Cats could have won either of these games then there would be no NCAA tournament worries. I doubt the Cats come up short tonight but we could see this version of the team this Saturday against Florida.
The Deer In Headlights: As Seen @Tennessee, @Arkansas, @Notre Dame.
Finally we get to the team that has been labeled soft by many. The team that falls into a huge hole and shows no will to win or fight. This team can no longer afford to played scared. Hopefully this version stays away for the rest of the year. When these version takes the court its hard to see them taking down anybody.   Tonight Kentucky enters the first round of the post-season because if they lose this one every game from that point forward will be a must win.
Which version of the Cats do you think is going to show up tonight?
What other versions did I miss?
@ACassady_KSR