Music City Dreams.....Again?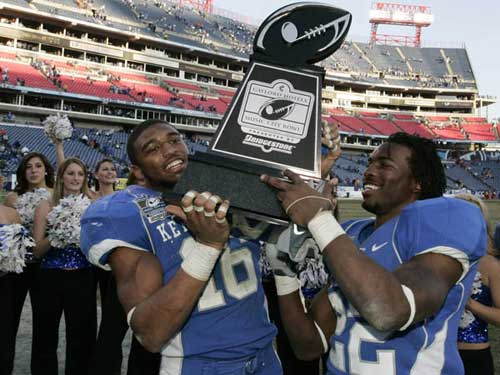 Well folks,
it could very well be Nashville again.
The exact scenario that needed to play out yesterday did, and now what was once remote (the possibility of Kentucky heading to Nashville again for the Music City Bowl), now could be likely. The only way that the Music City Bowl could be in play for the Cats was for three things to happen....UK had to lose to Vandy, Ole Miss had to beat LSU and Tennessee had to beat Vandy. Now all things are true. So the possibility of the Cats ending up in Nashville has now gone become a potential reality. Here is where we are: Ole Miss has 7 wins (and still has to play Mississippi State) LSU has 7 wins (and still has to play Arkansas) Kentucky and Vandy both have six wins The only way Kentucky ends up in Nashville is if
both Ole Miss and LSU end up with one more win than the Cats
, thus ensuring that UK falls into the "Liberty/Music City" slot in the bowls. The Music City folks have suggested they dont want Vandy (due to lack of hotel sells) and thus Vandy could end up in the Liberty, which would be excited to have them. The Music City isnt thrilled about the Cats again, but what is their choice....take hometown Vandy? They may choose to do so, or they could make the decision that third time for the Cats (potentially against Virginia Tech) is the way to go. How do we escape the Music City?
The Cats need to beat the Vols and hope for a LSU or Ole Miss loss.
If that happens, then the Cats tie Ole Miss or LSU, and the Chik-Fil-A Bowl, which picks an SEC East team over a West team in case of a tie, selects Kentucky over that team and Ole Miss or LSU falls to the Music City. So if you dont want Nashville, you start pulling for Miss State and Arkansas.....oh yeah and the Cats gotta find a way to beat the Vols as well....