Kentucky OL target Naquil Betrand delays decision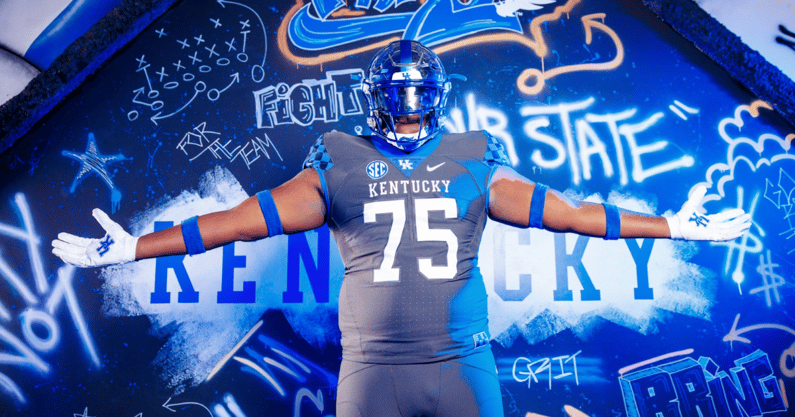 Three-star offensive tackle Naquil Betrand was set to make a decision on Saturday to put an end to his recruitment. That will no longer be the case.
The three-star prospect from the Mid-Atlantic has decided to delay his original announcement by just a week. We will be playing the waiting game just a little bit longer.
Naquil Betrand is the No. 917 ranked prospect in the class of 2023 according to the On3 Consensus, a complete and equally weighted industry-generated average that utilizes all four major recruiting media companies. On July 15, the line of scrimmage player narrowed his list down to six schools. The former Colorado commit is now down to Auburn, Kentucky, Penn State, Syracuse, and Texas A&M.
The three-star recruit took official visits to Auburn, Kentucky, and Syracuse in June. Betrand made an unofficial visit to Texas A&M in April. A tight battle is breaking out, and offensive line coach Zach Yenser is looking to record another win on the recruiting trail for the Big Blue.
So far, Kentucky has three commitments on the offensive line with center, guard, and tackle accounted for by Koby Keenum, Austin Ramsey, and Malachi Wood. However, tackle depth is always needed. At 6-foot-6 and 320 pounds, Betrand has more than enough size, and a basketball background helps give this recruit a strong athletic profile.
Can Kentucky record another Mid-Atlantic recruiting win over some prominent Power Five programs? We'll find out soon.