National Doughnut Day's Top 10
Ladies and gentlemen, boys and girls from all around the world, I'm happy to inform you that today you can splurge and indulge in doughy, iced deliciousness.  June 2 is National Doughnut Day in the United States, or so the internet tells me so.  The Internet era gives us a "National (insert random thing here) Day" seemingly once a week.  This one is the only one that matters.  A quick Mt. Rushmore of the best doughnuts you can find in Kentucky:
Hot original glazed Krispy Kremes
The french fry glazed doughnut at Nord's in Louisville
A traditional chocolate from Magee's in Lexington
The North Lime square doughnuts in Lexington (chocolate or glazed, you can't go wrong)
Now that we've covered the important things, here's sports:
The Lexington Regional Begins
The Kentucky baseball team will host a Regional for only the second time in program history, seeking the program's first Regional Title and a chance to knockout Louisville in the Super Regional.  The Cliff has added additional bleachers down third baseline and in the outfield to accommodate the Big Blue Nation when the Cats take the field today against Ohio at noon. [caption id="attachment_222599" align="aligncenter" width="678"]
Our friend @JoeMussatto got the best angle of the additions.[/caption] Show up early and be loud.  Tickets are still available at the door, but if you can't make it you can see the game on Watch ESPN and we'll have you covered on the website.
Mingione is Throwing the Ace
Nick Mingione will not change things up in the first game of the Lexington Regional.  SEC Pitcher of the Year Sean Hjelle will take the mound against the Bobcats.  At last week's SEC Tournament, he didn't get the first game because it was on a Thursday.  Friday is his normal day and Mingione wants to keep things normal. "Sean Hjelle has thrown the opening game all season," Mingione said.  "I didn't want to change that." Some believe it's a better idea to save him for the tougher Game Two opponent on Saturday night, but if you don't get a W to start the tournament, it's awfully hard to win four games in a row.
KD is the Absolute Worst
When Kevin Durant decided to take his talents to Golden State, I didn't mind.  "It's his life.  It's his career.  He should be able to do what he wants," I thought last offseason.  Well, I was an idiot. We had a perfectly good trilogy, setting up a
Return of the Jedi
scenario in the NBA Finals.  Instead of seeing the almighty duel between Luke and Vader, the Empire threw in Darth's brother, KD.  It's an unfair fight.  It was going to be an epic grudge match to see who was the best of the best in this clash of the titans.  But KD's addition has ruined it.  He was the best player on the floor last night and the rest of his Warriors looked like scrubs, needing to do nothing but knock down an occasional open three when KD didn't do it all by himself.  I was hoping for a seven games of fantastic basketball, but now the Cavs will be lucky to take it to six.  Thanks for ruining my 2017 NBA Finals, KD.
Tim Couch is on the Hall of Fame Ballot
The leader of the Air Raid and the best quarterback to ever play at Kentucky, not only did he break college football records, he changed the way the game is played.  Now Couch is on the College Football Hall of Fame for the first time.  If they do not call his name before the CFB National Championship there will be hell to pay.
New Additions to the Kentucky Athletic Hall of Fame
Usually these things come and go and I might have heard of some of the names.  This year, I personally know three of them and they are some of the most wonderful, deserving human beings in the world. WKYT's Rob Bromley is the best in the biz.  They say, "Don't meet your heroes."  Rob is an exception to the rule.  Some people at UofL are difficult to deal with; SID Kenny Klein is not one of them.  There is a runner in this class.  You wouldn't think a runner would be in the Kentucky Athletic Hall of Fame, but you don't know Swag.  Swag Hartel has been a Hall of Famer for the Louisville's South End community for decades, lacing up sneakers for runners, walkers and everyone in between, while also kicking ass in races.  The rest of the spectacular class includes:
Mike Battaglia, horse racing handicapper
Howard Beth, high school girls' basketball coach
Roger Bird, All-American football player at Corbin and UK
Dennis Lampley, longtime Trinity head football coach
Marion Miley, pioneering female golfer
[caption id="" align="alignnone" width="627"]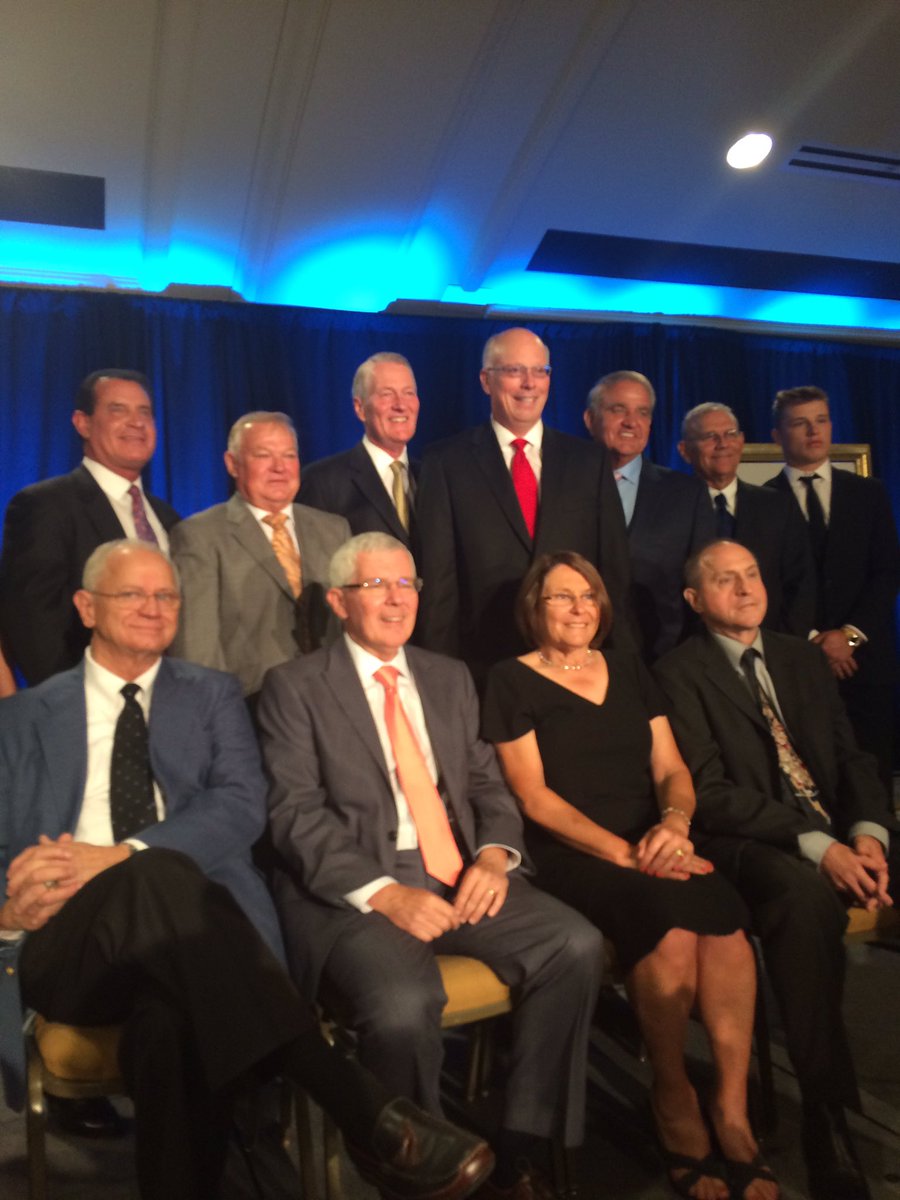 @MikeLacett[/caption]
UK's 2017-18 SEC Schedule Released
We're still waiting on dates and times, but here are the Cats conference opponents in 2017.
Indiana wants to be on the Schedule
After pressing pause on the rivalry after the 2012 season, IU athletic director Fred Glass believes the two teams can reach a deal within the next five years to resume the series. "I'm optimistic that we'll get it put back together, primarily because I think it's a very important series.  I'm willing to compromise on some of the principles that we had set out, in terms of gotta come back to campus and all that," he said.  "We're willing to work with Kentucky to do something that makes sense for them to get the series back on track." See all of his comments
here
.
Tom Crean actually isn't the Worst
Crean's face and his infatuation with cutting nets made me dislike him more than every college basketball coach not named Jim Boeheim, but my mind has been changed.  He sat down with the guys from
Pardon My Take
for an interesting 20-minutes interview that could change your perspective on the former IU head coach. If nothing else, it will prepare you for PMT's next appearance on KSR while Matt is on vacation this summer.
A New Depth Chart Podcast is on the Way
We're entering the studio in just a few short hours and once again, Freddie Maggard is bringing the heavy hitters.  The offseason edition of The Depth Chart Podcast will bring back a few familiar voices, and a legend from Kentucky football past.  You don't want to miss it.
KSR is on the Way
Before the KSR golf scramble begins, Matt and Ryan return to the radio to tell tales of Poke Sallett.  Don't go anywhere.