National experts break down Ugonna Kingsley Onyenso's game with KSR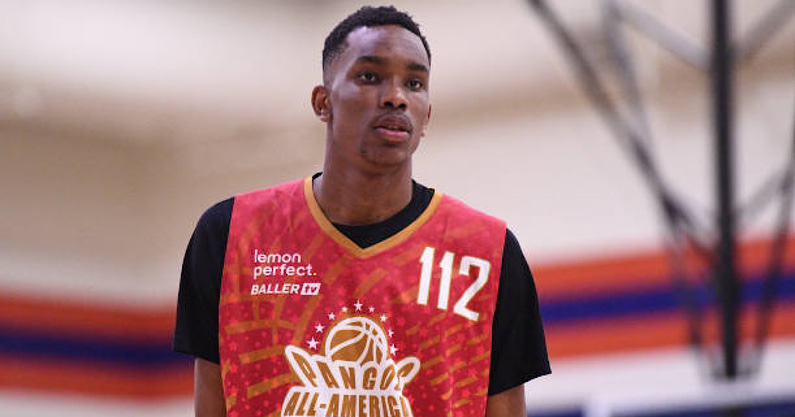 2022 five-star center Ugonna Kingsley Onyenso is a Kentucky Wildcat, announcing his commitment Monday afternoon. Ranked No. 18 overall and No. 3 among centers according to On3, the 7-foot, 230-pound prospect out of Nigeria becomes Kentucky's fourth commitment in 2022, joining Cason Wallace, Chris Livingston and Adou Thiero.
What is the Kentucky basketball program getting in Onyenso? Let the experts tell you.
KSR reached out to various national recruiting analysts to get their take on the five-star center's game and what his commitment means for the Wildcats. Take a look:
Travis Branham, 247Sports National Basketball Analyst
Ugonna Kingsley is a highly talented big man with lots of potential but is still fairly raw in this stage of development. He possesses great size, length, athleticism and a frame that has tremendous upside as it fills out. Kingsley will show flashes of what he can become whether defending and blocking a shot, rocking the rim with a putback dunk or even stepping out and knocking down an occasional jumper. The key factor for Kingsley will be time. Kingsley will need time to take those flashes and turn them into consistent production and to adjust to the speed of the high major game.
Travis Graf, Rivals National Basketball Recruiting Analyst
Ugonna Kingsley fits the mold of what John Calipari traditionally prefers in a big man prospect, which is rim protection, rim running, and being a lob threat at all times. Overall, Kingsley is raw offensively, but he can do those three things immediately. Going against returning NPOY Oscar Tshiebwe in practice on a day-to-day basis is only going to strengthen Kinglsey's repertoire at both ends (and Oscar's as well). In the end, he's a 7-foot big man with a developing offensive game and worlds of potential on defense, and Calipari's best teams have elite rim protection.
Jamie Shaw, On3 National Recruiting Analyst
You immediately see the size, length, and fluidity in how Ugonna Kingsley moves. The hips are loose, the feet are quick, and the leaping is explosive. On the defensive end, he is a natural. The timing is excellent at the rim and in the passing lanes. He can also fluidly move his feet when he switches onto a perimeter player. His defense is ahead of his offense at this point. At Putnam, they use him a lot from the high-post and elbows as a screener and ball-mover.
Kingsley has touch but will need to continue developing confidence in the shot. The ball skills and vision will have to continue to tighten, but he runs the floor very well, changing ends at the drop of a time. There is touch at the free throw line, and he shows more comfort finishing with his back to the basket. He has finished with double-figure blocks in multiple games we have live scouted this season. The defense is high level.
Pilgrim's Take
An elite shot-blocker with strong instincts, timing and a nose for the basketball, you won't find a better defender in high school basketball than Ugonna Kingsley Onyenso. College-ready at 7-foot, 230 pounds with a 7-foot-5 wingspan, he's got all of the physical tools necessary to be a special defender at the next level. He's also got a solid frame to add muscle, as well. Offensively, he's raw in terms of footwork and post moves, but thrives as an athletic rim-runner capable of finishing lobs and scoring on clean-up opportunities. He's also working to expand his jump shot, showing off some touch in the mid-range and even out to the perimeter.
Onyenso will need time to develop at Kentucky, and it won't hurt to have Oscar Tshiebwe there to serve as a mentor and on-court coach to work with in practice. The goal is to use his freshman year to find his footing in Lexington before anchoring the frontcourt in 2023-24.