Nation's leading shot-blocker, WKU's Jamarion Sharp, will give UK issues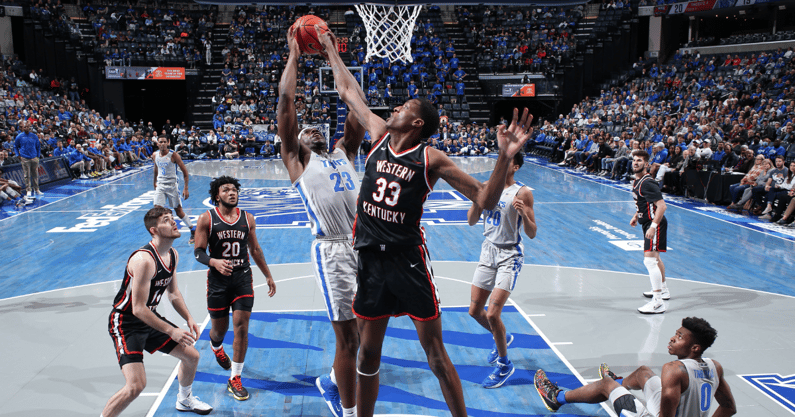 Kentucky's replacement opponent for Wednesday night's outing, which was originally scheduled as the Louisville Cardinals, will present a challenge that the rival Cards can't imitate.
Western Kentucky University will make the trip to Rupp Arena tomorrow in what was a last-second decision following COVID-19 issues within the UL program. WKU is actually coming off an impressive win against that same Louisville squad, winning 82-72 over the weekend in a game where the Hilltoppers never trailed. Western Kentucky isn't as big a name as Louisville, but as of right now, they are the better basketball team and will pose a larger immediate threat to UK.
A big reason why is because of the man protecting the paint for WKU: 7-foot-5 junior center and Hopkinsville native, Jamarion Sharp.
Sharp, who spent his first two college years at the JUCO level for John A. Logan College (IL), transferred down to Bowling Green ahead of the 2021-22 season. He was a solid, but not elite, prospect for Hopkinsville High School before taking the junior college route. After putting up 7.7 points, 7.3 rebounds, and 5.8 blocks per outing as a sophomore, Sharp was considered one of the top JUCO prospects available. He eventually landed with WKU, but didn't even start the first four games of the season for head coach Rick Stansbury.
It wasn't until an 88-62 drumming of Alabama A&M that Sharp made his first start at the Division I level. And what did he do in his 28 minutes of action? Just drop a triple-double of 10 points, 12 rebounds, and 10 blocks, the third-ever in program history. On the season, he's now averaging 8.2 points, 7.8 rebounds, and a nation-leading 4.8 blocks per game on 69.2 percent shooting. Since becoming a full-time starter on Nov. 24, those numbers jump to 11.7 points, 10.1 rebounds, and 6.8 blocks per outing. That stretch includes games against Eastern Kentucky, Buffalo, Ole Miss, and Louisville.
Kentucky has yet to face a player this season who replicates what Sharp brings on either end of the floor. While he's not the most physically imposing player at 235 pounds, he possesses a pure instinct for blocking shots and knows how to play team defense. WKU likes to drop back into a zone defense where all of the offensive action can be funneled directly toward Sharp. Even when a shooter gets off a look on him near the rim, it's rarely a clean one.
UK head coach John Calipari referred to Sharp as a friendly, ghostly figure who lurks in the paint at all times.
"Let me tell you, the games I've watched, he's like Casper. He's like the ghost that's in there when you start driving. He's in there," Calipari said during Tuesday's press conference. "They have a terrific team. This is going to be a hard game for us to win. I don't care that we're at home. They've got a 7-foot-5 guy and they got two guys that can really shoot the ball and they got their leading scorer who's an attack dog."
Sharp's matchup against Kentucky will start out with Oscar Tshiebwe and then likely move to one of Daimion Collins or Lance Ware. Considering Ware earned himself some minutes after his physical play against North Carolina, there's a good chance he draws that assignment if Tshiebwe were to hit the bench. The key to beating someone like Sharp, according to Ware, is to knock him off his block and make him lose his balance early and often.
"With a guy that's 7-5 you probably have to get into his body so that you can try to take away his shot-blocking ability," Ware said on Tuesday. "I feel like me and Oscar, if we can put a body on him and be able to create contact we might have a better job. But if we have him roam free, that's when he's at his best being able to block shots."
Kentucky guard Kellan Grady shared a similar gameplan.
"Obviously it's not something you're accustomed to in most opponents," Grady added on Tuesday. "We'll probably try to bring him away from the basket, get into his legs make him move a little bit. If we play into his hands then he'll have an advantage."
Kentucky will have to find ways to draw Sharp away from the rim. Whether that's through more fastbreak opportunities or spacing the floor, the 'Cats won't be able to have the same sort of inside success it did against North Carolina just by getting Sahvir Wheeler more good shots. UK will have to play even more aggressively than it did in the win over UNC.
If the 'Cats can make Sharp uncomfortable from the opening tip, the paint will open with it.