NBA Draft expert explains how Oscar Tshiebwe limited Kentucky's ceiling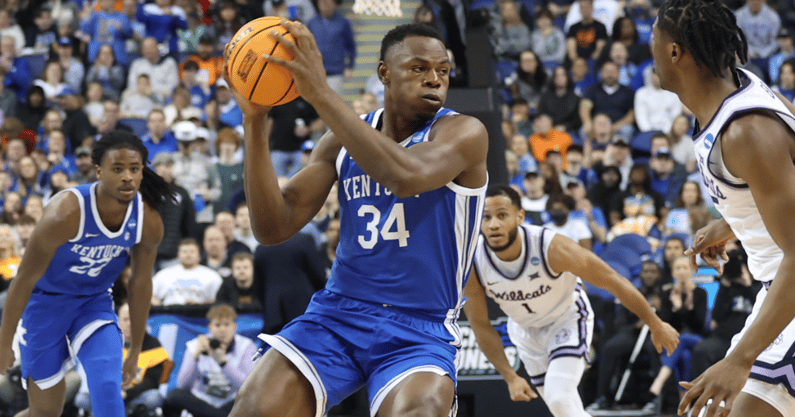 With Kentucky's season in the books, there is going to be plenty of time for introspection over the next several months. What went wrong? Could it have been prevented? How can it be fixed moving forward? After a third straight disappointing end to the season, it's becoming clear that something has to change. John Calipari getting back to bringing in top-ranked high school talent — which will be the case in 2023-24 — is certainly a good start.
But how could a program with the reigning National Player of the Year on the roster look so discombobulated despite a No. 4 preseason ranking, a pair of five-star freshmen, and plenty of veterans? According to at least one NBA Draft expert, it was because the best player in college basketball a season ago came back for another run.
The Athletic's Sam Vecenie, who has been critical of Calipari's offensive coaching style this season, gave his thoughts on where the 2022-23 season went wrong for Kentucky on the Game Theory Podcast earlier this week. In it, Vecenie points to Oscar Tshiebwe as the main cause — his defensive limitations and lack of floor-spacing abilities chief among them.
"The problem for Kentucky is that this roster is flawed to win a national title," Vecenie said. "This is a roster that can be successful in the regular season. This is not an NCAA Tournament title roster, and the reason for that is kinda Oscar Tshiebwe, in my opinion. And I respect what Oscar has done — National Player of the Year last year, I didn't vote for him but okay that's fine, no idea how he made an All-American team this year. I know he averaged 15 (points) and 15 (rebounds) or whatever but the guys like Oscar Tshiebwe, in any level of basketball at this point, are going by the wayside."
For starters, Tshiebwe was the clear-cut National Player of the Year last season — end of discussion. He broke 50-year-old rebounding records, dominated around the rim, and led Kentucky to a No. 2 seed in the NCAA Tournament. He was the most overpowering player in Division I basketball from start to finish. What happened against Saint Peter's should not be a reflection of what he accomplished as an individual that season. On that point, I disagree with Vecenie.
To pile on by saying he shouldn't have made an All-American Team this season is a bit more understandable (Tshiebwe was clearly not up to last season's standards), but making that argument by saying he "averaged 15 and 15 or whatever" is an odd way to frame it. Those are elite numbers for any college player. Vecenie also seems to penalize Tshiebwe for being an absurdly talented rebounder, which is another point I would disagree with. Those that watched the team all season know his rebounds weren't empty stats.
But Vecenie is 100 percent correct in recognizing that Tshiebwe's style of play is quickly getting left behind.
Vecenie mentions the likes of Hunter Dickinson (Michigan) and Armando Bacot (North Carolina) as prime examples, two of the nation's top big men that have limited offensive skills on teams that failed to make the NCAA Tournament. Zach Edey, the 7-foot-4 suspected National Player of the Year, was the centerpiece of a one-seeded Purdue squad that fell to a No. 16 seed in the first round.
Tshiebwe is in a similar boat; Kentucky is 1-2 in the NCAA Tournament the last two seasons where he's been the focus. Opposing teams pinpoint his deficiencies on defense, in particular with guarding ball screens — which happened plenty during the regular season and was a major talking point throughout. As much as he did on offense, he was a liability on the other end. Tshiebwe wasn't particularly tough to gameplan against.
"I don't think you can win a six-game NCAA Tournament, six games in a row, with Oscar Tshiebwe as your center," Vecenie added. "I respect everything that he has done. I do not think you can win six straight games against coaching staffs that are trying to exploit every single thing that you do poorly on a night-to-night basis."
It's hard to disagree with Vecenie on that point. It's happening everywhere else in college basketball where the team's best player is a non-shooting center. Kentucky has two early NCAA Tournament exits that back his argument. But at the same time, Tshiebwe can't help it when Antonio Reeves and Jacob Toppin combine to shoot 2-22 in the biggest game of the season, or when TyTy Washington and Kellan Grady go a combined 3-19 in the same setting.
Tshiebwe has been the lone reason Kentucky isn't 0-2 in the NCAA Tournament the last two seasons with multiple blowout losses. He averaged 21 points, 19.7 rebounds, and 2.3 steals across three NCAA Tournament games while shooting 59 percent from the floor. Tshiebwe can't help that late-season injuries decimated the roster down the stretch the last two years. Kentucky didn't lose to Kansas State because of Tshiebwe's poor defense — they lost because they missed open shots in the second half while Kansas State hit big ones in the closing minutes.
If anything, Kentucky's poor NCAA Tournament play has been a bigger indictment on the roster building, not just about Tshiebwe's limitations. Kentucky had plenty of talent, but not the right pieces. To Vecenie's credit, he points that out near the end of his rant.
"It's not a hate on a lot of these individual players, it's just the fit together does not work in a manner that helps you win basketball games at the highest level. And Cal needs someone to get in his ear and explain that to him I think. Kentucky fans are pissed and I think that they will continue to be pissed if that doesn't change."
In that regard, Kentucky fans would mostly agree. The formula as of late simply isn't working. That could easily change with so many five-star recruits coming to Lexington this summer, but there's a large portion of the fanbase that won't want to hear it until they see it work with their own eyes.
There are plenty of reasons why Kentucky has been unable to make a deep NCAA Tournament run the last few years, Tshiebwe being one of them. To say he's void of criticism would be objectively wrong — he certainly bares some responsibility for the team's flaws. But it's much deeper than that. There were holes in the roster all season long that Tshiebwe couldn't fill alone.