BBNBA: Good night for Randle, Bad history for Oklahoma City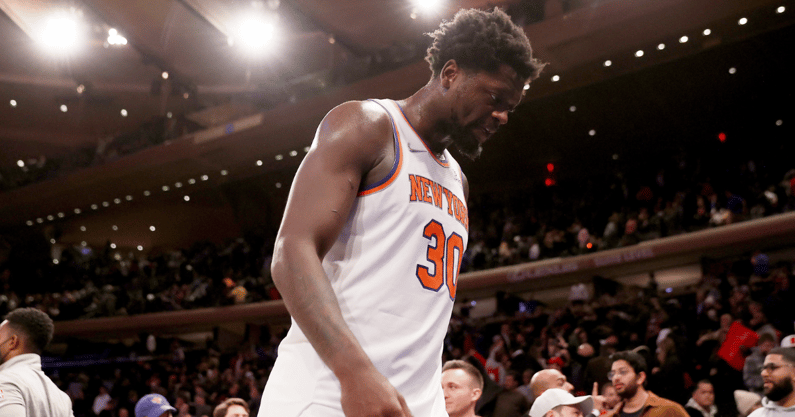 Well, it wasn't the most entertaining Thursday night of NBA hoops, but some dismal history was made in Memphis and the Kentucky Knicks showed out.
Randle and Quickley shine in Knicks loss
The New York Knicks are one of many NBA teams battling around the .500 mark. Last night they fell to an even 11-11 on the year with a loss to the Chicago Bulls.
Despite the team setback, Julius Randle and Immanuel Quickley turned in impressive performances. Randle had perhaps his most productive game of the season last night. He made two-thirds of his shots (14-21) to reach 30 points while adding 12 boards and six assists. Randle has struggled shooting the ball efficiently to start the season but he recorded his second-highest FG% of the season last night. He also flushed this no-look feed from Immanuel Quickley.
Speaking of Quickley, he got his first start of the NBA season and went to work in his new role. IQ mustered 15 points with a trio of three-pointers to help give the Knicks some second-half momentum in a comeback effort that ultimately fell short.
Thunder set NBA record with 73-point loss
Sheesh. I guess that's what happens to Oklahoma City when Shai Gilgeous-Alexander sits… Last night SGA sat out due to concussion protocol and witnessed the largest massacre in the history of professional basketball.
The Memphis Grizzlies didn't even have Ja Morant on the floor yet wiped out the Thunder by a record-setting score of 152-79. A 73-point win. In the NBA! Nine Grizzlies tallied double-digits, six of them off the bench, while no Thunder played scored more than 15.
I can't imagine what the Oklahoma City coach even says to the team after a display this pathetic. "Maybe if we had Shai we'd have only lost by 57!" Goodness gracious what an embarrassment.
Player
Result
Points
FG (3PA)
Rebounds
Assists
Steals
Blocks
TOs
Mins
+/-
Julius Randle (NYK)
119-115 L vs. CHI
30
14-21
(0-0)
12
6
0
2
7
39
-2
Immanuel Quickley (NYK)
119-115 L vs. CHI
15
6-17
(3-9)
3
3
2
0
1
38
-2
Keldon Johnson (SAS)
114-83 W @ POR
14
4-9
(2-4)
7
1
0
0
1
34
+30
Hamidou Diallo (DET)
114-103 L @ PHO
5
2-5
(1-1)
1
2
2
0
0
21
+2
Trey Lyles (DET)
114-103 L @ PHO
4
1-3
(0-1)
2
0
0
0
1
12
-8
Kevin Knox (NYK)
119-115 L vs. CHI
3
1-1
(1-1)
0
0
0
0
0
4
+2
Shai Gilgeous-Alexander (OKC)
152-79 L @ MEM
DNP – Concussion protocol
–
–
–
–
–
–
–
–
DeMarcus Cousins (MIL)
97-93 L @ TOR
DNP – Rest
–
–
–
–
–
–
–
–
Devin Booker (PHO)
114-103 W vs. DET
DNP – Hamstring
–
–
–
–
–
–
–
–
Nerlens Noel (NYK)
119-115 L vs. CHI
DNP – Knee
–
–
–
–
–
–
–
–
Tonight in the NBA
7:00: Heat (Adebayo – out, Herro@ Pacers
7:00: Cavaliers @ Wizards
7:30 (ESPN): 76ers (Maxey) @ Hawks
7:30: Timberwolves (Towns – questionable, Vanderbilt) @ Nets
8:00: Magic (Mulder) @ Rockets (Wall-out)
8:30: Pelicans @ Mavericks (Cauley-Stein – out)
9:00: Celtics (Kanter Freedom) @ Jazz
10:00 (ESPN): Suns (Booker – out) @ Warriors
10:00: Clippers (Bledsoe, Boston) @ Lakers (Davis, Monk, Rondo)