NBA investigates potential referee burner account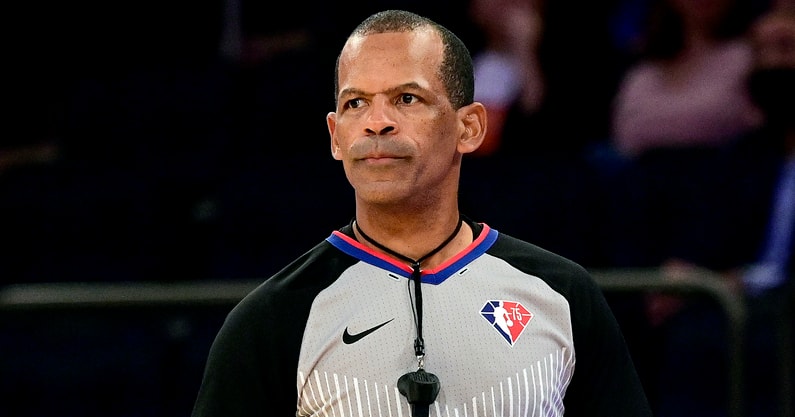 Have you ever wanted to know the true thoughts of a referee regarding the games they're officiating? Give @CuttliffBlair a look on Twitter.
The NBA has opened an investigation into veteran official Eric Lewis — more specifically, his association with a social media burner account going by the name of "Blair Cuttliff." It's a burner that has gone out of its way to defend Lewis, a 19-year official with over 1,100 career games and 82 playoff appearances, among other NBA officials.
NBA insider Marc Stein first broke the news, with ESPN later confirming the report.
A quick stroll down @CuttliffBlair's account is objectively hilarious, responding to fans criticizing specific calls and game outcomes entirely, mostly with Lewis on the call.
A recent favorite? A fan blaming the NBA for being rigged when Lewis and fellow veteran referee Tony Brothers were assigned as officials in Games 1 and 2 of the Western Conference Finals between the Denver Nuggets and Los Angeles Lakers. The burner's response?
"[Yeah] blame it on them. [Get the f*** out of here]. Man Denver flat out beat yall. Guess Lakers need the refs to give them [s***] to win. How about stop Joker and Murray. Lakers nation funny as [s***]."
The running assumption (specifically from Lakers fans) is that Lewis is a longtime Boston Celtics fan and hates Los Angeles. Probably doesn't help that just two weeks ago the account said "Lakeshow a joke" in response to a Lakers fan accusing Lewis of favoring the franchise's bitter rival.
Take a look at some of the responses below (a screen recording for when the account is inevitably erased forever):
Lewis last worked the Nuggets vs. Lakers game on May 16, a win for Denver — all four games in the series favored Denver, a sweep to send the Nuggets to the NBA Finals. He has officiated six Finals games since 2019.
According to ESPN, a league rule prevents referees from commenting on officiating publicly without authorization. Lewis could face discipline if it is found he is behind the account.
It's not the first time NBA representatives have been under fire for burner accounts on Twitter. Former Philadelphia 76ers GM Bryan Colangelo resigned when he and his wife were connected to a burner that openly criticized the franchise's players, while current Phoenix Suns star Kevin Durant has admitted he has used burners to respond to criticism directed toward him and his teams.
Discuss This Article
Comments have moved.
Join the conversation and talk about this article and all things Kentucky Sports in the new KSR Message Board.
KSBoard