BBNBA: Herro and Bam lead Heat blowout vs. Bucks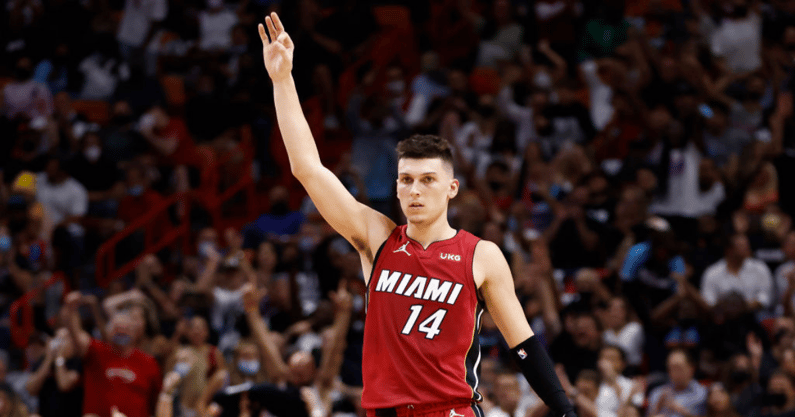 The third night of NBA action gave us just three games, but a lot to talk about, especially with the former Kentucky guys. Let's get into it.
RECAP
Herro and Adebayo combine for 48 in blowout win
I guess you could consider the Milwaukee Bucks and Miami Heat rivals now that they've beat each other up in each of the last two postseasons. Following the Bucks' big win over Brooklyn to open the season, Miami revealed their mortality in a 137-95 shellacking. The largest Bucks loss in Giannis Antetokounmpo's career.
Leading the charge from Miami was a Bucket off the bench. Tyler Herro sliced Milwaukee up for 27 points in just 24 minutes as a sub. His excellent preseason numbers don't appear to be a fluke so far. And he made some NBA history with his performance last night per Stat Muse:
His teammate, Bam Adebayo, didn't have a bad night either. Bam popped for 20 points on 9-13 shooting, making it a double-double with 13 boards. And his plus/minus was even higher than Herro's at +30. Just a beatdown from Miami to open their season.
Bledsoe shines in Clippers debut as Curry nets 45
We'll get to Eric Bledsoe in a second. But first, Steph Curry and his jump-shooting acrobatics must be addressed. The NBA's greatest three-point deadeye hit his first NINE shots last night, including five threes for a total of 25 points in just the first quarter.
To the Clippers credit, they hung in and made a game out of it and only lost by two in the end. In his debut following his reunion with the team that originally drafted him in 2010, Eric Bledsoe fit right in for LAC.
He scored 22 points on 10-16 shooting and gave the Clips the downhill driver and point-of-attack defender they've missed over the past few seasons. It's early, but as we mentioned in the preview, Bledsoe seems to be in a perfect spot for his talents at this stage of his NBA career.
Hawks bomb the Mav 113-87
66% of last night's games ended in lopsided scores. Willie Cauley-Stein and the Mavericks got run off the court in the second half against a loaded Atlanta team. WCS only played 13 minutes and grabbed 6 boards and made one bucket to finish with 2 points.
I really mentioned this game because I want to talk about the Hawks. Wish they had a UK guy so I could talk about them throughout the season because I love this team. Trae Young won me over this summer and they're so freakin fun to watch. I like their 44-1 odds to have the NBA's best record, for those of you who dabble in that sort of thing.
Here's the full stat sheet for our boys last night:
Player
Result
Points
FG (3PA)
Rebounds
Assists
Steals
Blocks
TOs
Mins
+/-
Tyler Herro (MIA)
137-95 W vs. MIL
27
10-18
(4-8)
6
5
0
0
2
24
+27
Eric Bledsoe (LAC)
115-113 L @ GSW
22
10-16
(1-4)
3
2
3
1
0
30
-13
Bam Adebayo (MIA)
137-95 W vs. MIL
20
9-13
(0-0)
13
1
1
0
3
23
+30
Willie Cauley-Stein (DAL)
113-87 L @ ATL
2
1-4
(0-0)
6
0
0
0
0
13
+5
Today in the NBA
7:00: Hornets (Washington, Richards) @ Cavaliers
7:00: Knicks (Randle, Quickley, Noel, Knox) @ Magic
7:00: Pacers (Jackson) @ Wizards
7:30: Nets @ 76ers (Maxey)
7:30: Raptors @ Celtics (Kanter)
8:00: Pelicans @ Bulls
8:00: Thunder (Gilgeous-Alexander) @ Rockets (Wall)
9:00: Spurs (Johnson) @ Nuggets
10:00: (ESPN) Suns (Booker) @ Lakers (Davis, Monk, Rondo)
10:00: Jazz @ Kings (Fox)