BBNBA: Tyler Herro goes for 30, KAT & T-Wolves are 2-0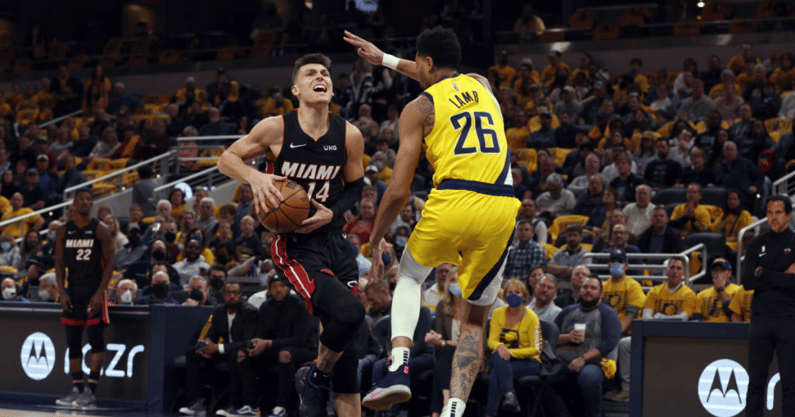 Saturdays are generally pretty quiet in the BBNBA, especially during college football season. But a few former 'Cats made some noise in their second game of the year on Saturday. Let's talk about it.
Tyler Herro carries Heat in overtime loss to Pacers
Tyler Herro is off to a heck of a start in his third NBA season. The Wisconsin native scored more than a point a minute in Miami's debut blowout win over Milwaukee with 27 in 24 minutes of play. And yesterday, off the bench, The Bucket lived up to his name.
Herro accounted for nearly a third of Miami's 91 total points, netting 30 off the bench for a team that otherwise struggled to muster much offense. He also grabbed 10 boards. No surprise there, Herro has always rebounded well for a guard.
His teammate Bam Adebayo is the model of consistency as an NBA player and was again on Saturday. Adebayo notched 17 points and collected 16 rebounds despite struggling to shoot the ball well. Still, he provided tough defense against a heavy Pacers front-court
KAT and the T-Wolves off to 2-0 start
On this website, we believe in Karl-Anthony Towns and the 2022 Minnesota Timberwolves. Towns cashed 10 of his 20 shots for 25 points, including a trio of made triples. Minnesota's three-headed scoring monster of KAT, Anthony Edwards and D'Angelo Russell combined for 56 and continue to win NBA basketball games when all three play.
Jarred Vanderbilt seems to have carved out a role for himself as an energizing rebounder and defender on an offense-driven unit. In just 12 minutes, J-Vando hauled in eight rebounds, scored a pair of buckets and had three steals to contribute to Minnesota's 96-89 victory over the Pelicans.
Booker & Bledsoe play well in losing efforts
The Clippers and Suns both accumulated their second loss of the season Saturday, but not due to their former 'Cats.
Devin Booker didn't have his greatest game, but a team-leading 21 points along with four rebounds and four assists is a solid stat-line for any NBA player, even if it's below average for D-Book. He didn't get much help from his team in a blowout loss to the Trail Blazers, though.
Eric Bledsoe followed up his 22 points in the season-opener with a stat-stuffing effort in the Clips second outing — a loss to Memphis. He scored 12 and added six rebounds, seven assists, two blocks and two steals. As predicted in the KSR BBNBA Preview, he looks revitalized in his old home.
You can find everyone else's stats below:
Player
Result
Points
FG (3PA)
Rebounds
Assists
Steals
Blocks
TOs
Mins
+/-
Tyler Herro (MIA)
102-91 L(OT) @ IND
30
12-28
(3-12)
10
0
0
0
3
41
-15
Karl-Anthony Towns (MIN)
96-89 W vs. NOP
25
10-20
(3-6)
4
2
0
3
5
29
+5
Devin Booker (PHO)
134-105 L @ POR
21
9-19
(2-5)
4
4
2
0
0
28
-15
Keldon Johnson (SAS)
121-111 L vs. MIL
20
9-18
(0-4)
2
3
1
0
2
29
-2
Bam Adebayo (MIA)
102-91 L(OT) @ IND
17
6-15
16
3
1
1
5
39
-7
Trey Lyles (DET)
97-82 L @ CHI
12
4-7
(3-5)
5
0
0
1
2
19
+1
Eric Bledsoe (LAC)
120-114 L vs. MEM
12
3-11
(1-2)
6
7
2
2
2
33
-13
Hamidou Diallo (DET)
97-82 L @ CHI
4
2-4
(0-1)
0
1
0
0
1
14
-9
Jarred Vanderbilt (MIN)
96-89 W vs. NOP
4
2-3
(0-0)
8
1
3
0
1
13
-7
Isaiah Jackson (IND)
102-91 W(OT) vs. MIA
1
0-0
(0-0)
0
0
0
0
0
2
+1
Willie Cauley-Stein (DAL)
103-95 W @ TOR
0
0-0
(0-0)
1
0
0
0
0
13
+2
Today in the NBA
4:00: Hornets (Washington, Richards) @ Nets
7:00: Magic @ Knicks. (Randle Noel, Quickley, Knox)
7:00 (NBA TV): Celtics (Kanter) @ Rockets (Wall)
7:00: 76ers (Maxey) @ Thunder (Gilgeous-Alexander)
9:00: Warriors @ Kings (Fox)
9:30: Grizzlies @ Lakers (Monk, Davis, Rondo)