Neal Brown will be retained during change of leadership at West Virginia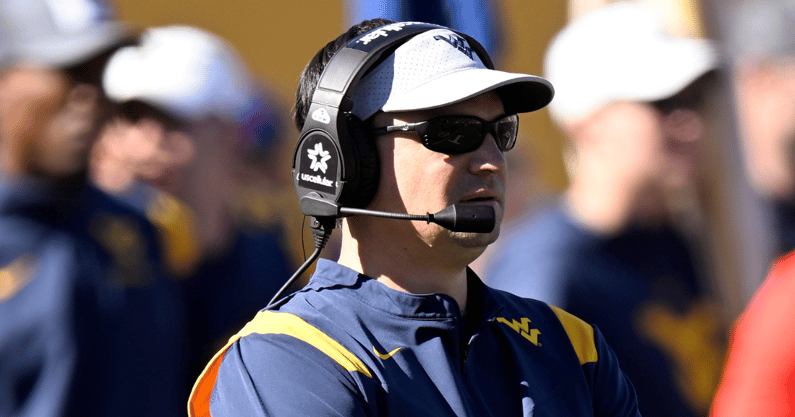 Neal Brown is not off the hot seat, but the Danville native and former Kentucky Wildcat appears to have a job at West Virginia for at least one more season.
Two weeks ago many across the college football world were shocked when West Virginia fired athletic director Shane Lyons. Occurring in the middle of a 5-win football season, it was an ominous omen for Neal Brown, who was hired by Lyons as the Mountaineers' head coach in 2019.
Today West Virginia hired former North Texas AD Wren Baker. Sports Illustrated's Ross Dellenger reports Baker will retain Brown, for now.
"Sources tell SI that the expectation is for him to remain as coach for the 2023 season, though a formal announcement hasn't been made," Dellenger writes. "While new AD Wren Baker will evaluate coach Neal Brown, the expectation is that evaluation will come over the next year instead of a matter of days."
Brown was Mark Stoops' offensive coordinator at Kentucky for two seasons and played for Hal Mumme in the late 90s. In four years at West Virginia Brown has compiled a 22-25 record. He has just one winning season, a 6-4 record during the COVID-plagued 2020 season. The Mountaineers lost a heartbreaker in the Backyard Brawl to open the 2022 season, yet finished strong with wins over Oklahoma and Oklahoma State over the final three weeks of the season.
Aside from some late-season competitiveness, Brown has one big thing working in his favor. He has a $20 million buyout that only drops to $16.7 million next season. It's too much, too soon for the new AD to make an immediate move, but Brown has an uphill climb. With nine Big 12 games, Pitt and Penn State on the schedule next year, finding enough wins to keep Mountaineer fans at bay will not be easy.