Need vs. Best Available: How UK Finishes 2018 Class
Mark Stoops and Vince Marrow locked up 20 signatures during December's early signing period. The Wildcats met a significant portion of its recruiting needs but there are still a few spots available. There are two methods of going about closing out a class. First is to sign the "Best Available" talent. This means that the player's position is not factored, just the best overall player that the staff has evaluated. The second is more specific in which Kentucky will target certain "Positions of Need." This category addresses specific needs based off depth chart holes or deficiencies that can be improved by signing additional players. Let's take a look back at December's riches and project forward to February 7th: [caption id="" align="alignnone" width="799"]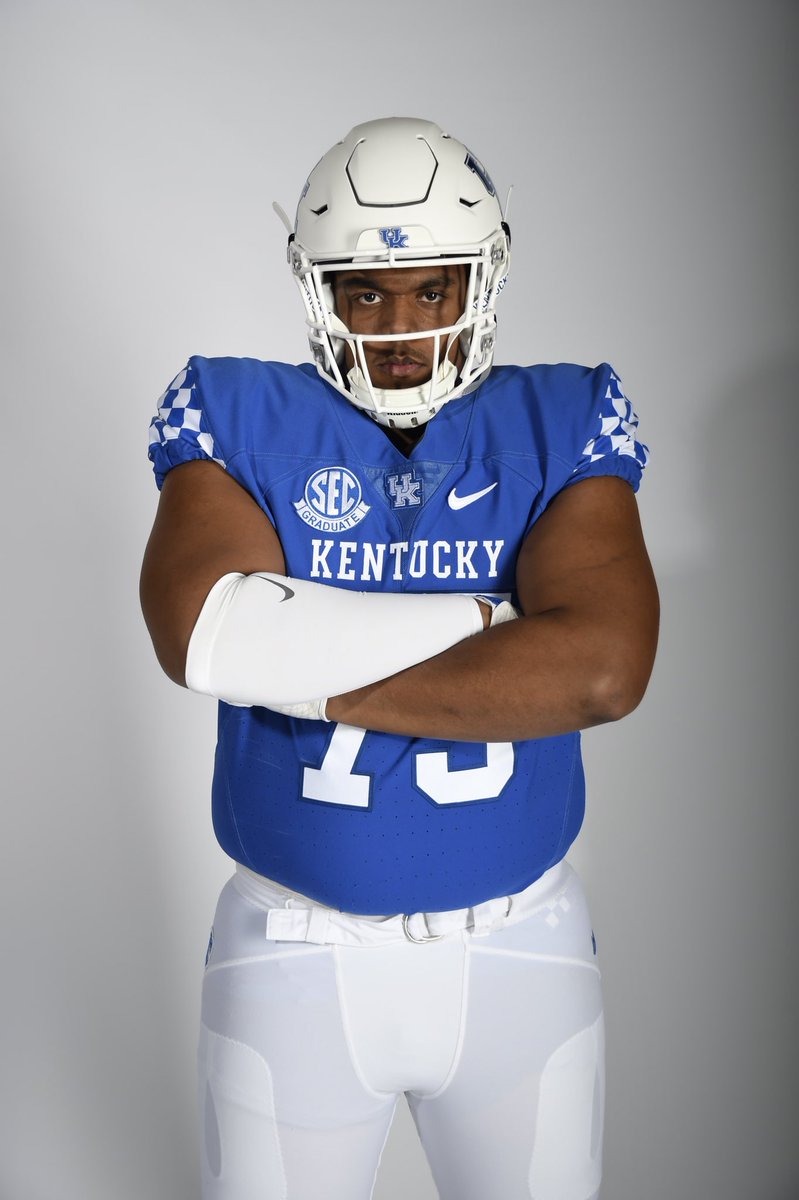 @q_wil42
[/caption]
OFFENSIVE SIGNEES
| | |
| --- | --- |
| Name | Position |
| Marvin Alexander | Receiver |
| Brenden Bates | Tight End |
| Akeem Hayes | Receiver |
| Kenneth Horsey | Offensive Line |
| Darian Kinnard | Offensive Line |
| Bryce Oliver | Receiver |
| Chris Rodriquez | Running Back |
| Keaton Upshaw | Tight End |
| Quintin Wilson | Offensive Line |
| Terry Wilson | Quarterback |
Offensive Line
I really like this group. John Schlarman has inked three to this point. This trio is the most college ready offensive line haul that Stoops has signed based off high school film. All three are technically sound as well as possessing preferred height/weight standards prior to reporting.
-- Quintin Wilson projects at center and was rated as high as 5th in the nation at that position. Wilson is extremely intelligent (4.0 GPA) and as mentioned earlier, technically sound.
-- Kenneth Horsey is the mauler of the bunch and another potential "steal" in this class. Both Horsey and Wilson project inside. Bunchy Stallings will be a senior. Logan Stenberg a junior. Inside line-of-scrimmage depth was highly important.
-- All American Darian Kinnard didn't waver from his commitment even though several other programs were pushing late. Kinnard is a prototypical right tackle. He was extremely well coached and developed at tradition rich St. Ignatius High School.
-- "Best Available" player could be added.
--  The Cats just landed the best available by flipping
6-9
offensive tackle Nick Lewis
from Washington State.
Running Back
Eddie Gran praised Chris Rodriguez's intensity and toughness in December. With Bryant Koback's unexpected departure, running back is a definite "Position of Need". Simply stated, the Cats badly need an additional capable-now running back.  Capable-now translated: A running back that is college ready and can compete for quality reps in 2018. Note that I didn't type "Quantity" reps. Eddie Gran already has Sihiem King and AJ Rose behind All SEC RB Benny Snell. Both have shown flashes but are facing an important offseason. The offense needs a ground-game threat that does not wear 26 on his jersey. This situation was noticeable throughout 2017 and highlighted in the second half of the Music City Bowl.
-- Chris Rodriguez registered 3 tackles for loss and 2 forced fumbles while playing defensive back. That should properly summarize his intensity level.  Rodriguez has comparable traits to Benny Snell. No, I didn't compare him to Snell; but the duo possess a similar running style.
-- An explosive play running back could be priority one for this staff. The Cats are heavily pursuing Wetumpka, Alabama's Kavosiey Smoke.
-- The running back position most definitely fills both categories: "Best Available" and "Position of Need."
Wide Receiver
Three signees in the Class of 2018. Starters Juice Johnson, Blake Bone, Charles Walker are all gone. Kayaune Ross can also be added to the departed. Dorian Baker returns for a 5th year after a season ending injury that occurred in preseason practice. Tavin Richardson is coming off a solid performance in the bowl game. However, it feels like a clean slate for the Wildcat pass catchers. There will be a new position coach which means that competition will be prevalent and pressured. This could, and needs to, lead this group to execute at a higher level.
-- Akeem Hayes and Marvin Alexander were teammates on Chaminade-Madonna Prep's state championship team.
-- Hayes is more of a slot receiver. Alexander projects outside to the "X" position and has the speed to take the top off opposing defenses. Alexander could press for playing time if he can consistently and quickly execute the post route.
-- Bryce Oliver was a December Signing Day surprise. 6'3, 200-pounds, Oliver could prove to be a Red-Zone threat.
-- Jeff Badet and Dorian Baker's unforeseen exits coupled with a beaten up quarterback somewhat limited the Kentucky passing game.
-- 2016 (2419) and 2017 (2446) had similar numbers in the passing yardage category. But, UK had 17 touchdowns through the air in 2016 compared to just 10 in 2017. Simply stated, the Cats need a homerun hitter that can loosen opposing defenses that will continue to stack the box until forced to do otherwise.
-- LiAllen Dailey committed to Kentucky on January 21st. Being named Alabama 6A,  1st Team All State and 23 TD receptions on a state championship team jump out of his bio. My contacts in Alabama are saying the Dailey could be the steal of the Class.
-- Receivers will be challenged in the offseason. This position group falls in the "Best Available" category.
Tight End
CJ Conrad should be ready to go come game day. Vince Marrow's meeting room got bigger and better in December when the ace recruiter signed 2 out of Ohio.
-- Greg Hart graduated which opens a slot on the depth chart. Justin Rigg returns with high expectations.
-- Brenden Bates is a bigger version of CJ Conrad coming out of high school. Keaton Upshaw is a bigger version of Brenden Bates.
-- Marrow crushed this TE haul. Both or at least one will play in 2018. This position group is solid and falls under the "Best Available" category.
Quarterback
Stoops and Marrow got their man. Terry Wilson was and remains to be a priority for the Kentucky Wildcats. Wilson will compete for immediate playing time. The job won't be easily handed over to the Oklahoma native. Likely, Gunnar Hoak has the current upper-hand due to his familiarity with the offense. The quarterback competition started immediately after Wilson's fax cleared the desk.
-- Exit Stephen Johnson and Drew Barker. Enter Terry Wilson. Wilson, originally signed with Oregon, was rated as the 5th overall junior college player by ESPN.
-- Wilson adds the RPO dimension but is also a capable pocket passer. Trust me: much more to come on this position. There'll be countless future posts highlighting the Wildcat quarterbacks. 
-- UK will not sign another quarterback.
DEFENSIVE SIGNEES
| | |
| --- | --- |
| Name | Position |
| Jamari Brown | Defensive Back |
| Stanley Garner | Defensive Back |
| Davoan Hawkins | Defensive Line |
| Qua Mahone | Defensive Line |
| Marquan McCall | Defensive Line |
| Ashtan Pierre | Linebacker |
| Deandre Square | Linebacker |
| Domonique Williams | Defensive Back |
Secondary
Kentucky improved its roster by signing 3 defensive backs. It also continued recent trend of recruiting taller cornerbacks to counter the plethora of future NFL receivers it will face in and out of the Southeastern Conference.  Both Jamari Brown and Stanley Garner can play all 5 secondary positions and are 6'2 or taller.
-- UK will sport senior starters at 4/5 secondary positions in 2018. Building depth and developing the next era of pass defenders were mandatory endeavors.
-- Brown and Garner are both highly skilled athletes. The incoming freshman are good enough to play; but need will dictate.
-- Dom Williams' path to Lexington included a stop at the junior college ranks and should provide direct depth. The secondary falls under "Best Available" category.
Defensive Line
The Cats needed an instant impact player at nose tackle. Mark Stoops signed one in Marquan McCall. McCall was considered one of the Midwest's top players and has the ability to play along the defensive line or at offensive guard. He plays immediately if he stays at nose tackle. He could play immediately regardless of position.
-- Davoan Hawkins is my guy in this class. Can't say enough good about his motor and extremely high ceiling level. He projects at defensive tackle, but could play defensive end if necessary. A redshirt year of strength and weight gains would significantly benefit both Hawkins and the program.
-- There's always one. Qua Mahone was an unnoticed, multi-sport defensive lineman from a small high school in Georgia. Sound familiar? Should, we were saying the same about UK's starting DE TJ Carter a couple years ago. Other programs followed after Kentucky offered, but Mahone inked in December. Most likely a redshirt in his future. I'll be fascinated to watch Qua's development.
-- The door is always open for defensive linemen. This position group differentiates the SEC's hierarchy. Defensive line falls in both categories from above: "Best Available" and "Position of Need".
Linebacker
We're projecting Asthan Pierre as a linebacker for the purposes of this post. Pierre played several positions in high school and is an elite athlete. Kentucky has signed 2 linebackers and has an emphasis on adding to this position group.
-- Four-star LB Deandre Square comes from a national powerhouse Cass Tech High School. Square was a two-way player and projects to linebacker. Much like Hawkins, Square's motor and ceiling are impressive. I'm fascinated to monitor weight and strength gains. Square's signature was significant on many levels.
-- Pierre chose UK over Oklahoma and a bunch of others. At 6'3, 200-pounds; a redshirt season with the strength and conditioning staff plus additional positional instruction would serve all parties well. Plus, he's athletic enough to play defensive back and will eventually star on special teams.
-- No secret about it. Vince Marrow is still chasing Xavier Peters (UK commit) and Chris Oats. Oats and Peters are both dynamic and fit with the categories of "Best Available" and "Position of Need."
SPECIAL TEAM SIGNEES
-- Special teams coordinator Dean Hood filled the needs of the program by signing two instant impact performers in Max Duffy and Chance Poore.
| | |
| --- | --- |
| Name | Postion |
| Max Duffy | Punter |
| Chance Poore | Kicker |
-- Duffy was rated the #1 punter in the Class by Ray Guy's ProKicker.com. Poore was also rated the #1 punter/kicker in the 2018 Class by ProKicker.com.
-- No additional needs.
Position of Need or Best Available? Now you can debate which position groups match these descriptions.
Football never ends.