New Numbers Revealed in Updated 2022 Kentucky Football Roster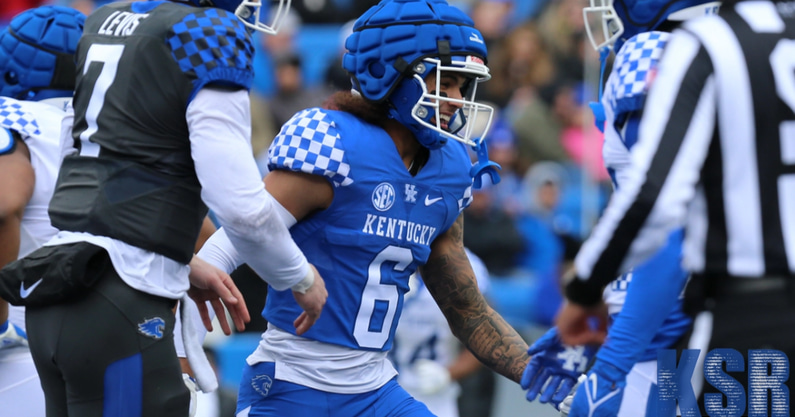 The Kentucky football roster is almost set. Although the roster has not been completely updated on UKAthletics.com, there is a PDF file featuring all of the new numbers for the Cats added to this year's roster. Aside from new numbers, there are a few noticeable takeaways from the late-June roster.
Quentel Jones is near the bottom of the page, wearing No. 97 for the Wildcats. Initially expected to enroll this spring, the freshman defensive lineman from Fort Valley, Ga. was arrested in early June on charges of domestic battery in connection to a murder investigation. Shortly after the news broke, UK spokesperson said, "we are aware and are monitoring the situation. We have no additional comment at this time." It's unclear what Jones' fate will be, but Kentucky is treating him as a part of the program.
Sam Houston State transfer Ramon Jefferson is not included on the roster, but Mark Stoops had this to say about the running back Wednesday night. "He is an excellent tailback, providing another quality player for us at that position. He was one of the top rushers in the FCS last season and he is a good fit for our scheme. He's tough, physical and durable and we are looking forward to developing him even further under our coaching staff." Jefferson wore No. 4 last fall for the Bearkats.
By KSR's count, the Wildcats have 84 scholarship players on the roster. That number is 85 if P Colin Goodfellow plays on scholarship this fall.
Newcomer Jersey Numbers
Number Changes
The freshmen don't get to have all of the fun. A few experienced Cats will be rocking new numbers this fall. In a shocking twist, DeAndre Square will keep No. 5 after changing his number every offseason in Lexington.
2022 Kentucky Football Roster