NFL Draft 2023 was Filled with Surprises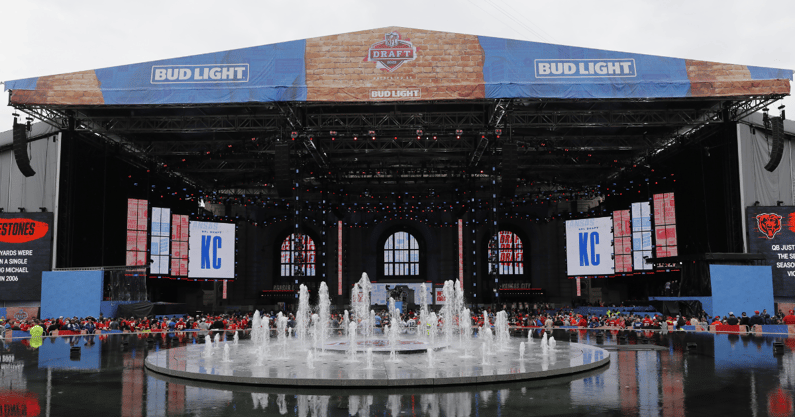 KSR spent two nights in Kansas City for the 2023 NFL Draft. As we were leaving the hotel, Adam Luckett shared a statement that accurately summarizes the quick trip to the Midwest. "You can't say this job is predictable."
The NFL Draft is always filled with surprises, yet this one was even more unpredictable. Once Bryce Young was taken with the first overall pick, things got crazy in Kansas City.
A Sea of Patrick Mahomes Jerseys
After calling New York City home for years, the NFL Draft has been a traveling road show for the last decade. The professional football job fair has transformed into an NFL fan convention. When KSR was in Nashville for Josh Allen's selection at No. 7 overall in 2019, it was a pure plurality of fans. No matter which team you were looking for, it did not take long to find that colored jersey.
This year Patrick Mahomes threw a wrench into that surprising fun. Thanks to the Chiefs' Super Bowl victory, local fans accounted for about 70% of the 120,000 that gathered at Union Station Thursday night. It seemingly served as an extended celebration of their Super Bowl triumph. It took away some of the fun, but KSR was still able to talk to some of the craziest NFL fans in the world that made the pilgrimage to Kansas City.
Subscribe to the KSR YouTube Channel for press conferences, interviews, original shows, fan features, and exclusive content.
The First Big Surprise at No. 3
Entering the NFL Draft the Arizona Cardinals were actively shopping the No. 3 pick. Even the most casual fan knew the Cardinals would not be making that selection. The surprise was happened when we learned who moved into that spot.
After taking CJ Stroud at No. 2, the Houston Texans moved up to No. 3 to select Will Anderson. Shock filled the air as 120,000 people simultaneously responded with exasperation. That astonished feeling is rarely experienced among such a large audience. It's a surprising feeling that's impossible to replicate.
The Lions had a Bizarre NFL Draft
The Detroit Lions were praised for an exceptional NFL Draft performance in 2022. They surprised plenty of onlookers by exceeding expectations with one of the NFL's best offenses in Dan Campbell's second year on the job. With two picks in the first round of this year's NFL Draft, they traded down, presumably to find more value and add a defensive player. Instead, they picked a running back, Jahmyr Gibbs. It got even weirder when they used their second first round pick on Iowa LB Jack Campbell.
Running back and off-ball linebacker are two positions that rarely get picked in the first round. They just aren't valued the same way they were 25 years ago. The Lions look like they over-drafted for that spot, but some experts still believe they picked up quality players on the first two days of the NFL Draft.
KSR Fans are Everywhere
Ahead of Kentucky football games it's not unusual to hear someone holler, "Roush!" or "Roll Call!" Those are our people. I did not expect to hear "KSR!" as we pushed our way through thousands of fans hours before the first NFL Draft pick was made. High Fives were exchanged and it was a thrill to meet some of our biggest fans out and about. You people are crazy.
Watching Will Levis Slide in the NFL Draft
There weren't a ton of Will Levis fans in the NFL Draft crowd. Sadly, most of it was based on Tik Tok videos he made a year ago, "I don't want my quarterback eating unpeeled bananas."
Before each potential suitor selected, we asked fans of the respective teams which player they wanted, hoping to capture moments of sadness when Levis was taken over Anthony Richardson. Instead, we were the sad ones. Levis was maybe their second or third choice, but never the most coveted player available by fans from the Colts, Titans, Raiders, or Vikings.
There was always a potential scenario for Levis to slide if the Colts did not take him at No. 4 overall. We never dreamed in a million years that scenario would make us wait until night two. Thanks to the hometown crowd, the Chiefs did not entertain a trade, giving fans who waited all night a pick to celebrate at No. 31 overall.
As Levis waited in the green room, it started to feel like we were in his shoes too. Of course, the consequences weren't as impactful for a couple of bloggers, but it was tough to shake the disappointment after spending four hours standing on the pavement with a bunch of inebriated NFL hooligans. Will Levis ended up where he was "meant to be," but not until after we scrambled to drive eight hours home with just a few minutes to spare before his selection to the Tennessee Titans. It was a surprising, chaotic and at times, cringeworthy NFL Draft in Kansas City.
Discuss This Article
Comments have moved.
Join the conversation and talk about this article and all things Kentucky Sports in the new KSR Message Board.
KSBoard