Notes from Day Two of the Peach Jam
The Lay of the Land for Point Guards
It starts and ends with Trae Young.  This kid is so good.  He doesn't have the physical traits that jump off the page, but he does things that I can only describe as "Steph Curry-like."  Once he did a crossover, spin-move, fade away three with  hand in his face from 23-feet away.  He knocked down threes in transition and hit a dagger from at least 25-feet away with a hand in his face.  I can't recall a point guard in recent memory with the range Young has. After Young, there's two in play that are difficult to differentiate.  They're both small point guards, they both command the game well and maintain their composure down the stretch.  
Quade Green
 might be better near the basket where
Tremont Water
s probably has deeper range.  You can go wrong with either of them.
In an ideal world, UK lands Young and either Green or Waters
.  If it's down to just Waters and Green, you can be satisfied with either.
Diallo's Dunk Session
The first set of games tonight was pretty boring and uneventful...until garbage time.  With John Calipari, Tony Barbee and Jim Boeheim in the first row beneath his basket, Hamidou Diallo used his fourth quarter to show them he could dunk it hard, he could dunk it often and he could dunk it in a variety of ways. The first might have been the most impressive.  Running ahead of the break, he received a poor lob pass from one of his teammates.  Most wouldn't have even attempted to catch it.  He caught it with his left hand, behind his head and finished with a roar for the coaches. That was followed by a casual two-hand slam.  He started to get cocky after that, rimming one attempt out, only to make up for it by catching an oop off the backboard.  The exclamation point was contested.  Driving toward the baseline, he went airborne, was confronted, then double-pumped to go up and under for the two-hand slam.  Diallo may not be able to shoot, but he sure can dunk the **** out of the ball.
John Petty is 🔥 🔥🔥
The Alabama swingman was on a roll in front of Coach Cal and Bradley "B-Roll" McKee.
UK target @jpetty2324 is on fire.

The "NBA Jam" type of on fire. #BBN #NikeEYB pic.twitter.com/ofKFs328BG – KSTV (@KSTV_Sports) July 8, 2016
I'll have more on Petty tomorrow.
Take Two Names to Take Off Your List
As Drew informed you earlier, Wendell Carter hasn't spoke to Kentucky in a long, long time.  The Cats' courtship of Carter could be considered officially over, likely leading Carter to Duke. Another top prospect that was once torn between Kentucky and Duke is leaning away from UK.  The offer still stands, but consider UK and small forward Gary Trent Jr. finished.
One Name You Might Add to Your List
If you listened to the podcast I dropped earlier today you heard me drop the name
Brandon Randolph
.  The 6'6" shooting guard is the #48 prospect in America.  Teammates with Mohamed Bamba and Quade Green, the sharpshooter could be the guy they need to stick around for more than a year, but there's a catch. Louisville is pulling out everything they got for Randolph, the perceived leader in his recruitment.  
The Cards brought four coaches to watch him tonight
.  Cal hasn't been involved....yet.  He was on the sideline and Randolph showed more than enough to earn Calipari's attention. Hopefully this recruitment produced some fireworks between the two.  Besides, is Cal really going to lose to a pair of Yeezys?  Which brings me to my next point...
Return of the Yeezys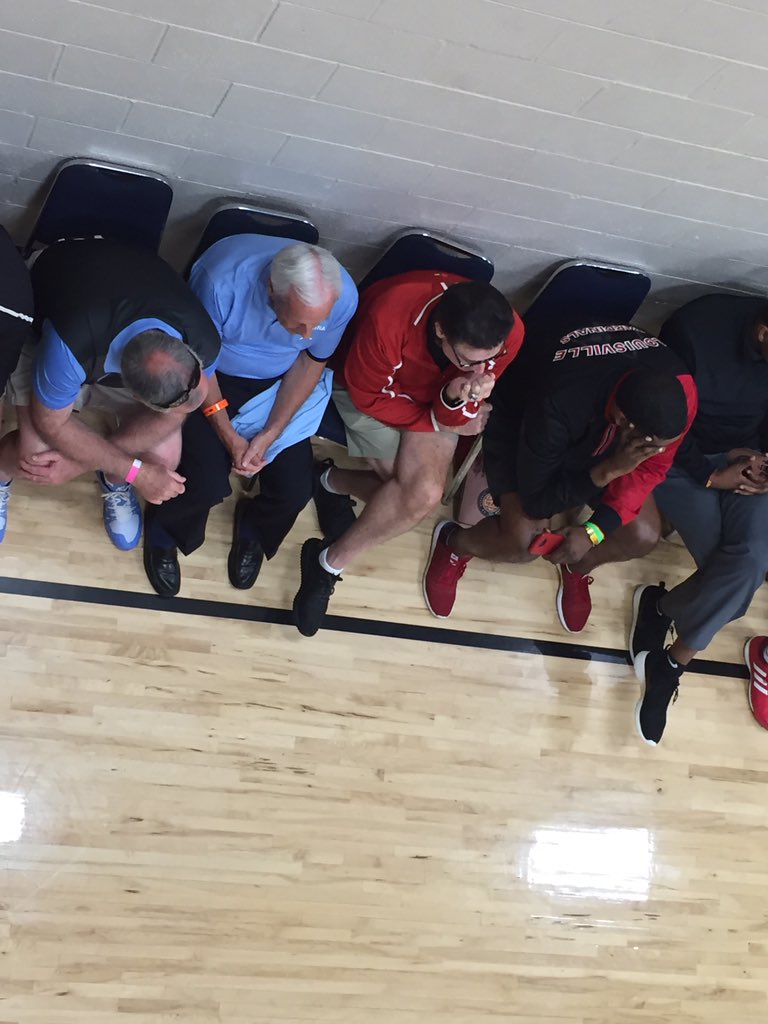 Cats are still in it for Ayton
DeAndre Ayton said earlier today that
Kentucky is once again recruiting him
.  Many temporarily backed off the #1 player in America because of eligibility concerns.  That still may be the case, but he's so good, it would be silly to completely stay away.