NIU QB Ricky Lombardi's status remains uncertain going into Kentucky game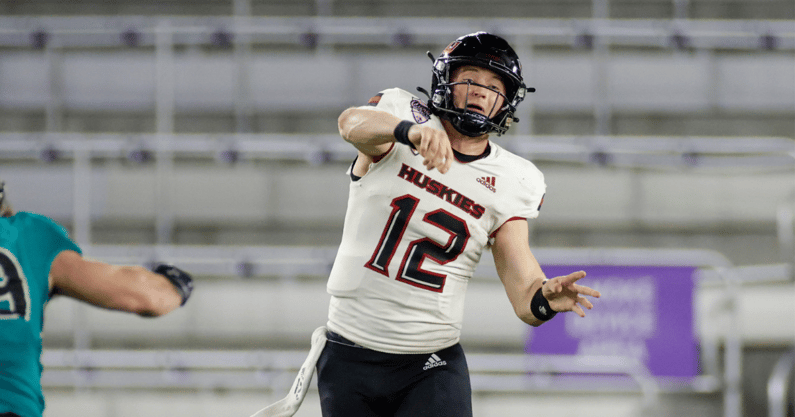 Northern Illinois coach Thomas Hammock isn't certain yet if starting quarterback Rocky Lombardi will be available when the Huskies take on the Kentucky Wildcats in Lexington this weekend.
Lombardi, a 5,000-yard quarterback with five years of experience, went down with an undisclosed leg injury in NIU's 38-28 loss vs. Vanderbilt. The program received positive news on the veteran gunslinger's status after the game, but the head coach is in no position to make an official determination on his availability at this point.
"We got better news than we anticipated, so we feel good about where he's at and the progress that he's going to be able to make," Hammock said Tuesday. "We've got the rest of the week to figure that out. I can't answer that question on Tuesday, but we've got the rest of the week to figure out how he progresses."
Lombardi started the game 7/7 passing for 79 yards and a touchdown before going down with the injury midway through the second quarter. At the time of the injury, the Huskies were tied with the Commodores 14-14.
From there, redshirt freshman quarterback Ethan Hampton stepped in and put two scores on the board to put NIU up 28-14 to open the second half. Vanderbilt would then storm back to win 38-28, scoring 24 unanswered points to pull off the late comeback.
Hampton would finish the day 12/19 passing for 124 yards, two touchdowns and one interception.
"I thought Ethan came in and operated the offense at a (solid) level," Hammock said. "We were able to move, no procedure penalties or anything like that. He got us in and out of the plays. Obviously, in practice, he's continuing to work like he's worked all year. He works it like a starter and I've been proud of his maturation as a player."
One way or another, Kentucky head coach Mark Stoops believes Northern Illinois will roll out a quarterback on Saturday capable of making plays. Lombardi is the big name — he transferred from Michigan State in 2021 — but Hampton gave the Huskies a chance against Vanderbilt, as well.
"(Lombardi) is a really good player," Stoops said Monday. "Looks like he slid and something happened to an ankle or knee or leg, or something, I am not sure. But he came out right after that and then (Ethan) Hampton went in and he went on to throw two touchdowns and keep them in the game and gave them a good chance. So I am not sure (who we will see), but Lombardi is a really good player with some good experience and he is kind of a crafty guy.
"You could see his comfort level in that pocket early in that game just by the way he was directing things. Even a simple little out pass, waiting, buying time and creating space for his wideout. Then another one later where he bought time and kind of directed a broken play for a touchdown – or to the one (yard line), I think it was – but he is a really good player."
The real concern for Stoops, though, is his own team. He wants Kentucky to come out and play disciplined football, something the Wildcats did not do this past weekend against Youngstown State.
"Again, you hear me say it every week no matter who we are playing, what concerns me is us," Stoops said. "That doesn't ever change. It is about us and being more disciplined and being more efficient and having a good practice and having a great intensity about us. I am not saying it was a whole team, but it doesn't matter. You don't know what any one player or any one play is going to affect the outcome of a game. I didn't feel like we were as consistent as we needed to be on Saturday."
Time to change that up against Northern Illinois.