No. 1 football recruit Lebbeus Overton to visit Kentucky, per report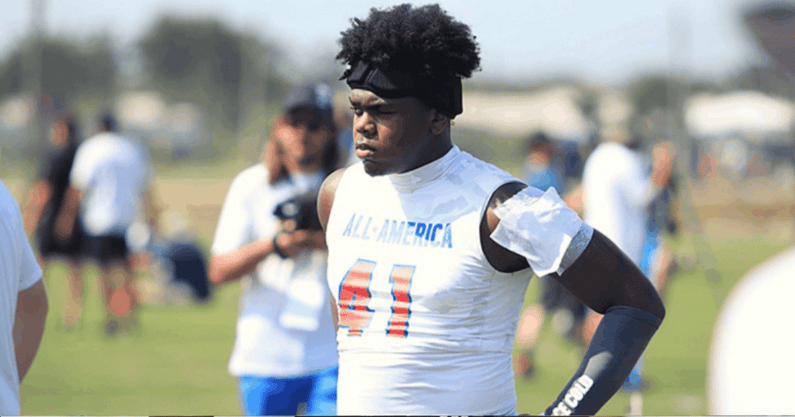 Kentucky is going up against the goliaths of college football for Lebbeus Overton, but the Wildcat coaching staff is putting up a good fight so far.
According to Steve Wiltfong of 247 Sports, Overton, a class of 2023 defensive end who is ranked as the No. 1 overall recruit in the country, will be in Lexington next weekend for Kentucky's home matchup against UT-Chattanooga. The 6-foot-4, 265-pound prospect playing for Georgia powerhouse Milton High School included UK in his top 12 back in late August.
Overton will make it to campus on Friday, Sept. 17, and stay through Sunday.
Lebbeus Overton's mother, Eunice Thomas, was a star volleyball player at Kentucky during the early 1990s. Overton is also close with former Wildcat Donte Rumph (2010-13), who is now a football skills trainer in the Alpharetta area and trains with Overton.
Kentucky offered in early August and is competing against a loaded top 12 list that includes Ohio State, Southern California, Florida, Georgia, Oklahoma, Alabama, Clemson, LSU, Texas A&M, Tennessee, and North Carolina.
Over the summer, Overton took visits to Georgia, Alabama, Oklahoma, Texas A&M, Ohio State, and Clemson before attending the Georgia-Clemson game last weekend in Charlotte, NC.
Overton is a two-sport athlete who plays both football and basketball. He lined up at defensive end, defensive tackle, and tight end as a sophomore at Milton, helping lead his squad to an 11-1 record and a quarterfinal berth in the Georgia AAAAAA state tournament. His junior season is set to begin this weekend.