No. 8 Kentucky VB sweeps weekend series against Auburn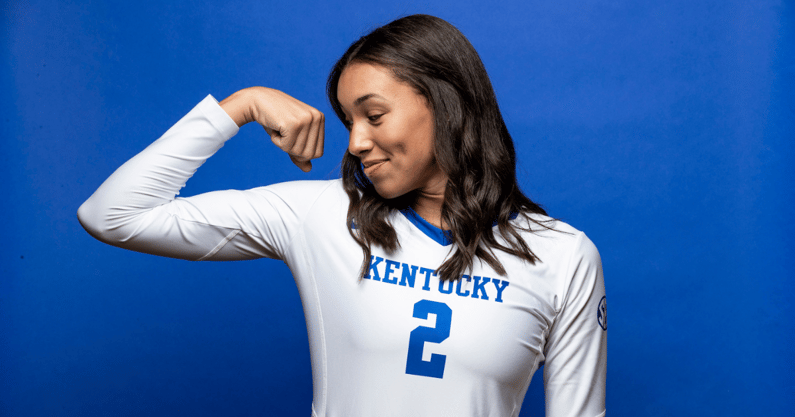 The defending champion No. 8 Kentucky Volleyball Team hasn't dropped a set since Nov. 4. The Wildcats lost a shocker to South Carolina (which is currently 14-13 on the season) on that day; apparently vowing to never let it happen again.
Since that defeat to the Gamecocks, UK has won 18 consecutive sets, sweeping six straight conference opponents. Kentucky was down in Auburn this weekend for a two-game series against the lowly Tigers. The final results were never in doubt for the 'Cats.
Kentucky swept Auburn 3-0 on Saturday and then did the same again on Sunday afternoon. The series victory moves UK to 22-4 overall on the season and 15-1 during SEC play. The 'Cats have just one more series left on the schedule against No. 20 Florida. The Gators will come to Lexington for that matchup, which is scheduled for Nov. 26-27.
Now let's quickly recap what happened this weekend in Auburn.
Game 1: Kentucky 3, Auburn 0
Recap courtesy of UK Athletics
Behind 14 kills, eight digs and a pair of blocks from senior outside hitter Alli Stumler, the No. 8 Kentucky Volleyball team swept Auburn 3-0 (25-13, 25-10, 25-20) on Saturday afternoon to win its fifth-straight match.
Kentucky came out strong, winning the first two sets by holding the Tigers to 13 and 10 points with the Wildcats hitting above .330 in both of the opening frames. The Wildcats held Auburn to .000 hitting in the first set, marking the third-straight set that Kentucky had held its opponents to .000 or below on the season.
UK improves to 21-4 on the season with Saturday's result and retains its one-match lead in the Southeastern Conference with a 14-1 league record. Auburn falls to 13-12 overall and is 5-10 in SEC play this season.
Sophomore outside Madi Skinner had 10 kills on 20 swings for Kentucky, with junior middle blocker Azhani Tealer registering seven kills on just 16 swings and five digs with a pair of blocks.
RS-Sophomore Bella Bell had a match-high five blocks on the afternoon with two kills on four offensive swings to go with her defensive stops. Bell held the Tigers to .028 hitting in the match.
Emma Grome led the UK offense to a .324 percentage, above .200 in all three sets, and registered 33 assists on 45 Kentucky kills in the match. Grome also had a pair of stuffs and 10 digs, marking another double-double for one of the best freshman setters in the nation.
Game 2: Kentucky 3, Auburn 0
Recap courtesy of UK Athletics
Super sophomore Madi Skinner had 17 kills, hit .614 and had four blocks as the No. 8 Kentucky Volleyball team swept the Auburn Tigers 3-0 (25-21, 25-8, 25-12) on Sunday afternoon inside Auburn Arena.
Kentucky hit .506 in the match, marking the first time all season that UK has hit .500 or above in a single match and the first time since 2019 when UK swept Alabama in Tuscaloosa.
Skinner had 17 kills on just 26 swings Sunday with only one error, four digs and four blocks to show for in the match. Her 17 kills led all players in the match. Her .615 hitting percentage in Sunday's matinee in a new SEC-season high number, besting her .419 percentage set earlier this season.
With the two wins this weekend, Kentucky improves to 22-4 overall on the season and 15-1 in Southeastern Conference play with two matches remaining in the regular season. UK will host Florida (14-2 SEC) for a two-match series that will decide the 2021 SEC Championship on Friday and Saturday afternoon at 1 p.m. ET. Tickets are available at UKathletics.com for both matches. Mississippi State is also in the equation, sitting at 14-2 on the year and three matches more to play, but UK has the head-to-head over MSU thanks to its 3-1 win back in October.
Kentucky's defense has held its opponents to a .000 or below hitting percentage in six of the last nine sets it has played dating back to Nov. 13.