Non-Conference Road Trip Pros & Cons: Part 3- North Carolina
Like many KSR bloggers who begin writing a series of posts, Aaron Flener couldn't finish what he started with this road trip series. Luckily, I am his best friend and I'm on duty this weekend, while he attends a bachelor party in Atlanta. So, I'm taking the reins for this last edition. I'm a really good best friend.
  Before the ball drops on 2013 and we move into the new year filled with double digit SEC wins and general awesomeness, our Kentucky Wildcats will leave the friendly confines of the Commonwealth three times. They will travel to Chicago to face Michigan State in the Champions Classic on November 12th followed by a December 6th road trip to Texas Stadium in Dallas to face Baylor and a December 14th contest in Chapel Hill against the Tarheels of North Carolina   Some of you will go to all three, no questions asked. Some of you are like me, though, and need to pick one due to work obligations and wanting to keep a positive balance in your bank account.  In this 3 part series, let's look at the pros and cons of each trip and at the end I'll let you know which one I'm planning on taking.   (I realize we play Providence in Brooklyn, but we just went to Brooklyn last year and that game is on Thanksgiving weekend the day after we play Tennessee at home in football. I doubt many people are considering making that trip.)   If you missed 
Part 1: Michigan State
, or
Part 2: Baylor
, check them out.  
Part 3: Kentucky at North Carolina- December 14th, 2013 @ the Dean Smith Center in Chapel Hill, NC
It's the return of the rivalry. After a year's hiatus, the Wildcats will travel to Chapel Hill to face North Carolina, ranked #8 in CBS's pre-season Top 25. Their last meeting, you may recall, was at Rupp Arena and featured The Block Heard Round The World:  
Never forget.
  That 73-72 win in 2011 was the Cats 13th win against UNC all time; the Tarheels have bested us 22 times. However, the Cats own the advantage in NCAA Championships 8-5. I prefer that, anyway. Let's hit the pros and cons.  
Pros
1.
Rivalry game.
Especially after a one year apart, the Kentucky and North Carolina rivalry is one for the ages, a battle of the blue bloods that always produces a memorable game. You'll want to be there for it. 2.
Gorgeous campus.
If you're taking a road trip, you might as well see something pretty along the way. And UNC-Chapel Hill is one of the prettiest campuses in the nation, even in December.  
3.
Heckle Kennedy Meeks.
As we learned in the McDonald's All-American game,
Kennedy Meeks is a funny guy
- but he's a little on the hefty side. Some UK fan is going to make a sign comparing him to Fat Albert. Might as well be you!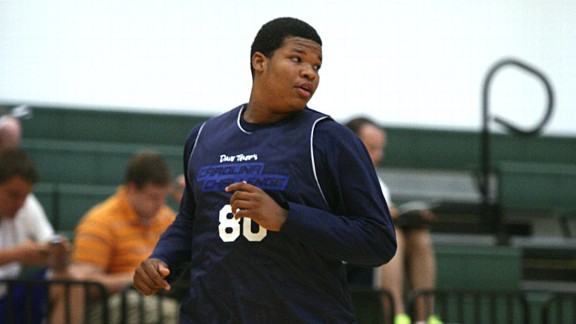 4. A
7.5 hour drive (from Lexington)
is completely doable, especially for a Saturday game. 5. Even without the storied UNC-UK rivalry,
both teams will be ranked in the Top 10- hey, maybe even Top 5- by the time they play.
All of college basketball will be watching, and who knows? Maybe this will be a preview of things to come in March. 6. (Possibly) 
Flaunt Andrew Wiggins in UNC's face.
It's gonna feel good.  
Cons
1. It's a
true road game.
Our fans are going to be badly outnumbered. 2.
Tickets are going to be rare and expensive.
Not very student-friendly, unfortunately. 3. We could easily lose. A young team on the road facing a top team in a traditionally hostile atmosphere? Could be a recipe for disaster. 4.
(Possibly) Get Wiggins flaunted in our face.
It would hurt. Badly.   So there you have it- three marquee road games, each with their own list of pros and cons. If you're lucky, wealthy, or both, you can attend all three (and please, take me with you).
Aaron and I, meanwhile, will be attending the MSU game in Chicago-
me because I live there and my mom is going to come up for her birthday and wants to buy lower level tickets (shoutout to Patti Geil), Aaron because his best friend (me) lives there. Where are you thinking of traveling this fall, BBN?  
@KristenGeilKSR