5 Things To Know About North Florida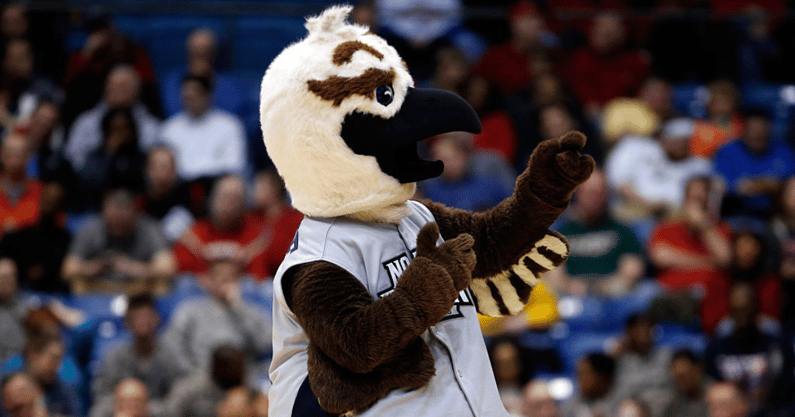 This afternoon at 4 p.m., Kentucky (3-2) will look to get back in the win column vs. North Florida (1-3). What do we need to know about the Ospreys from the Atlantic Sun Conference? Brandon Ramsey published a detailed scouting report earlier, but if you're busy preparing food for tomorrow, here are five quick things to know about the game.
1. This is the final game of the Tribute Classic
In case you weren't aware, this is the finale of the Tribute Classic, a multi-team event featuring Kentucky, Duquesne, South Carolina State, and North Florida. There's not really a description of the event on the internet — other than it's sponsored by Kentucky Tourism — but based on promotional materials, it seems to be a tribute to former Cats. Kentucky's social media graphics have featured Joe B. Hall, new UK Athletics Hall of Fame inductee Jim Andrew, and Mike Pratt.
Kentucky is 2-0 in the Tribute Classic. North Florida is 1-1, beating SC State by six and losing to Duquesne by one. Here are all of the results thus far:
Kentucky 77, Duquesne 52
Duquesne 96, South Carolina State 71
Kentucky 106, South Carolina State 63
North Florida 72, South Carolina State 66
Duquesne 83, North Florida 82
Wed., Nov. 23: Kentucky vs. North Florida
Will the Cats make it a clean sweep??? I can't wait to find out.
2. North Florida's mascot is the Osprey
Also known as a sea hawk, an osprey is a large, fish-eating bird of prey that is found year-round in Florida. It is light gray in color, with brown wings. If you are a fish, it is downright terrifying.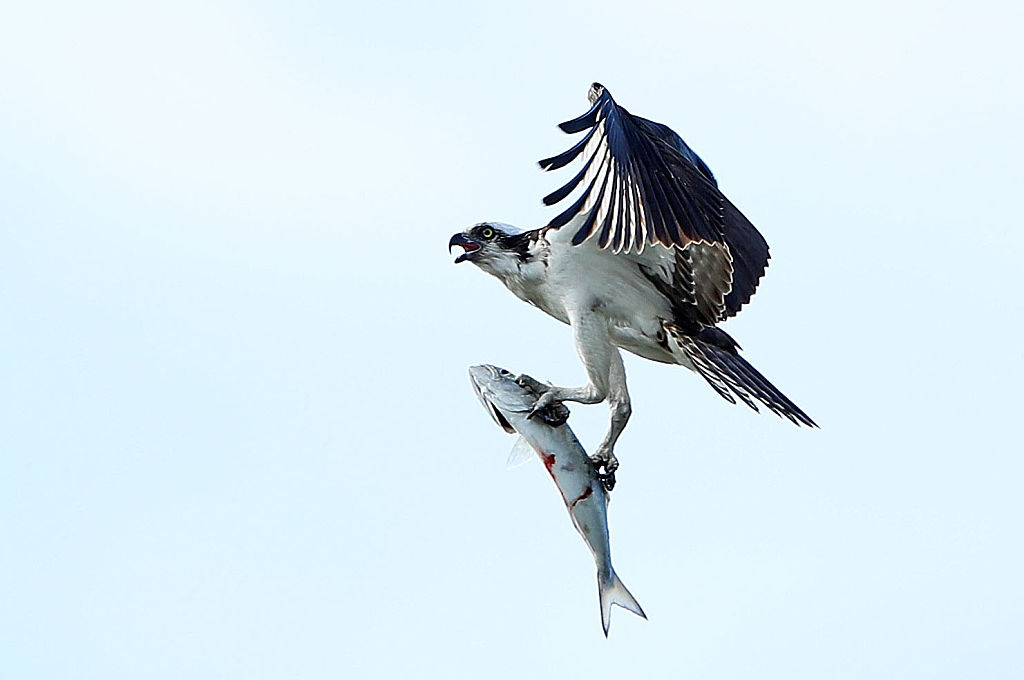 The North Florida version, Ozzie the Osprey, is a little friendlier: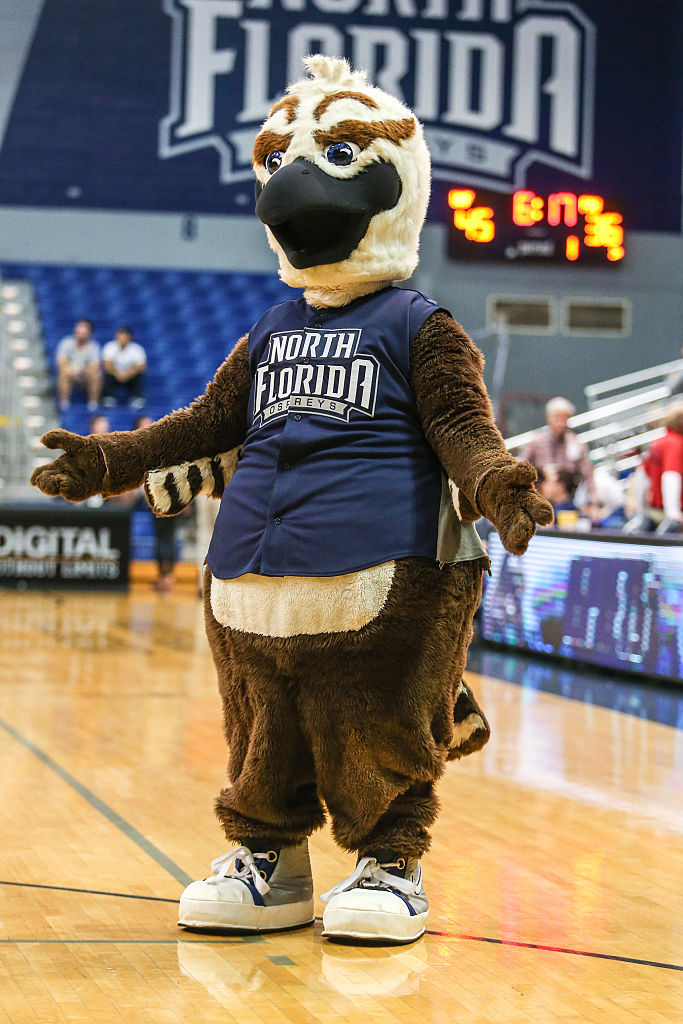 3. They've also played Gonzaga
In addition to the Tribute Classic, North Florida has played Gonzaga and Washington. The Ospreys lost to Gonzaga 104-63 in The Kennel and Washington 75-67 in Seattle. North Florida actually took a 10-8 lead vs. Gonzaga, but hopes of an upset were quickly snuffed as the Bulldogs went on a 26-0 run and forced eight Osprey turnovers. At halftime, the score was 53-23.
North Florida has three players averaging in double figures scoring. Jarius Hicklen leads the way with 15.3 points per game, followed by Carter Hendricksen with 14.5 and Jose Placer with 12.0. Hendricksen is the leading rebounder with 6.2 rebounds per game. The Ospreys average 71.0 points per game on 40.7% shooting, 30.3% from three-point range.
4. They've got a Kentucky boy on the roster
Fifth-year senior Carter Hendricksen is a native of Mount Sterling, Kentucky, and attended Lexington Christian Academy. As mentioned, the 6'7″ 217 lbs. wing is North Florida's second-leading scorer and top rebounder. His percentages aren't great — 33.3% FG, 28.0% 3PT — but he's not afraid to shoot it, making 7-25 threes thus far this season. If you're looking for "random kid that lights Kentucky up in Rupp," Hicklen and Placer are the likeliest candidates, but Hendricksen has added motivation in his return to Lexington. He scored eight points in North Florida's game vs. Kentucky last season.
Speaking of three-pointers, North Florida has made one in 783 consecutive games. They're so proud of the streak they call themselves "Birds of Trey." Get it?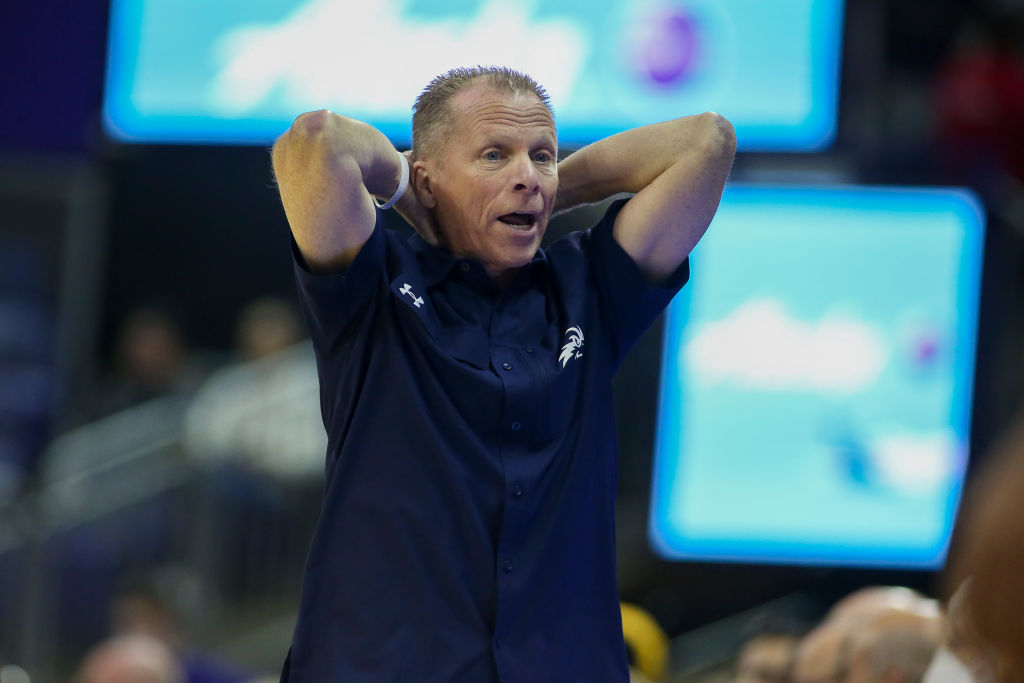 5. Their coach quoted Jay-Z in his game preview
Matthew Driscoll is the winningest coach in North Florida Basketball history, with 204 wins to 217 losses in 14 seasons. The native of Pittsburgh, Pennsylvania attended Slippery Rock University and before becoming a head coach, was an assistant at Baylor, Valparaiso, Clemson, and Wyoming. The 57-year-old quoted Jay-Z while previewing today's game, a move that I'll admit I didn't see coming.
"As Jay-Z says, 'it's on to the next one,' and in this case, it's No. 15 Kentucky tomorrow. We'll wash up quickly from Monday's game, prepare today and play tomorrow, a sequence our guys are very accustomed to. Ironically, we played the Wildcats almost one year ago to the day. Our growth and resilience will once again be at the forefront of our minds leading into this early 4 p.m. tip-off."
Last year, No. 10 Kentucky beat North Florida 86-52 with a limited roster due to illness and injury. I expect the result to be even more lopsided today, but shoutout to Driscoll for spicing up the coach-speak.