Northern Illinois Relishes Opportunity to Play Top 10 Kentucky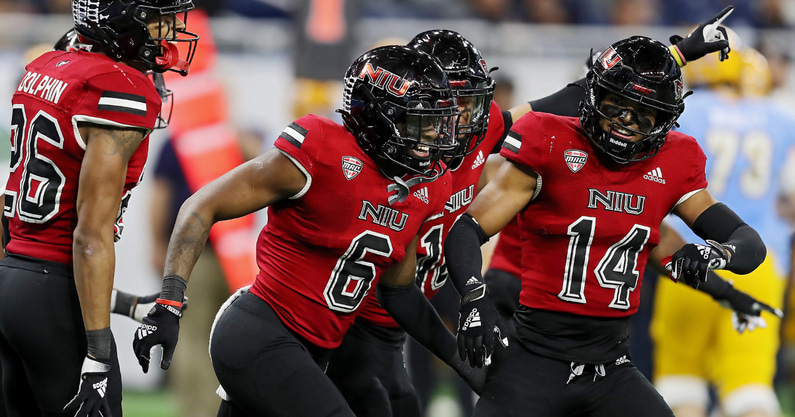 Still licking its wounds from a 38-28 loss to Vanderbilt, Northern Illinois is anxious to hit the road to face a Top 10 Kentucky football team.
"They're a good football team. They're ranked in the Top 10 for a reason," said fourth-year Northern Illinois head coach Thomas Hammock. "As a competitor and as a player, these are the moments you want. These are the moments you live for. Go out there, embrace it and have fun."
The Huskies ended last week's game without starting quarterback Rocky Lombardi. The Michigan State transfer's status for Saturday night remains uncertain. The loss to the Commodores dropped NIU to 1-5 against Power Five foes since Hammock returned to his alma mater in 2019. The one win was a 22-21 victory at Georgia Tech, kicking off a 2021 MAC Championship campaign where NIU went 7-2 in one-score games.
Respect for Stoops, Kentucky
Northern Illinois head coach Thomas Hammock is not an acquaintance with Mark Stoops, but he respects the way the Wildcats' head coach has built the football program in Lexington.
"Very good opponent, top 10 opponent with a strong football team strong football foundation," Hammock described Kentucky. "I have a lot of respect for Coach Stoops just watching him from afar, how he's been able to build his team, how he's been able to develop his program. You know what type of players he has in the program, the way that they play, the style that they play. You can obviously see his fingerprints all over the program."
Kentucky's pro-style offenses presents challenges to Northern Illinois. Will Levis is averaging 9.7 yards per attempt, ranking fourth in the SEC. Rich Scangarello's offense isn't the only thing that jumps out to Hammock.
"Defensively is really where you see they hang their hat on," Hammock said at his weekly news conference. "This is a strong defensive football team with their front seven and on the back end, their ability to affect the game by taking the ball away. And on special teams they play really, really good on special teams. No. 9 (Tayvion Robinson) is the punt returner who's very dynamic and explosive."
Pressure on Levis a Priority
Northern Illinois does not have the Jimmys and Joes to match Kentucky's SEC athletes. They have to find an advantage elsewhere by creating momentum-swinging plays.
"To go win a game like this you have to have the turnover margin be in your favor. So we have to figure out a way to affect the quarterback where we can have a chance to create some turnovers," said Hammock.
Even though Levis has thrown four interceptions in three games, that's easier said than done.
"This quarterback is very dynamic. I mean, his ability to throw the ball in the windows that he's throwing it, and down the field throws that he makes is something that — I can't think of very many quarterbacks I've seen since I've been a head coach that is similar to this to this young man. He has great confidence in himself, he has great confidence in his offensive line and he has great confidence in his playmakers at wide receiver.
"We got to play team defense and try to affect him and the rest of this offense as best as possible."
How Northern Illinois Approaches the Kentucky Game
On paper it's a mismatch. In the locker room, Northern Illinois relishes the chance to go on the road to play a Top 10 Kentucky football team.
"What a great, opporuntity," said the Northern Illinois head coach. "You don't get these opportunities as a football team very often. And when you get it you get an opportunity to go play in a hostile environment on national TV and show what you're made of and show how you stack up; our team will be excited play and go out there and play."
Thomas Hammock had plenty of nice things to say about Mark Stoops' program. Behind closed doors, he's reminding the Huskies that the Wildcats aren't so different.
"When you play these type of opponents, they're gonna have big athletes that can play. But the one thing about college football is everybody puts puts their pants on the same way and everybody puts their jersey on the same way. You just never know what may happen. But you got to go out there with the mindset and the belief that you can get it done. And that's how we have to approach this game."