Notes From Monday's Two-A-Days
[caption id="" align="alignnone" width="1200"]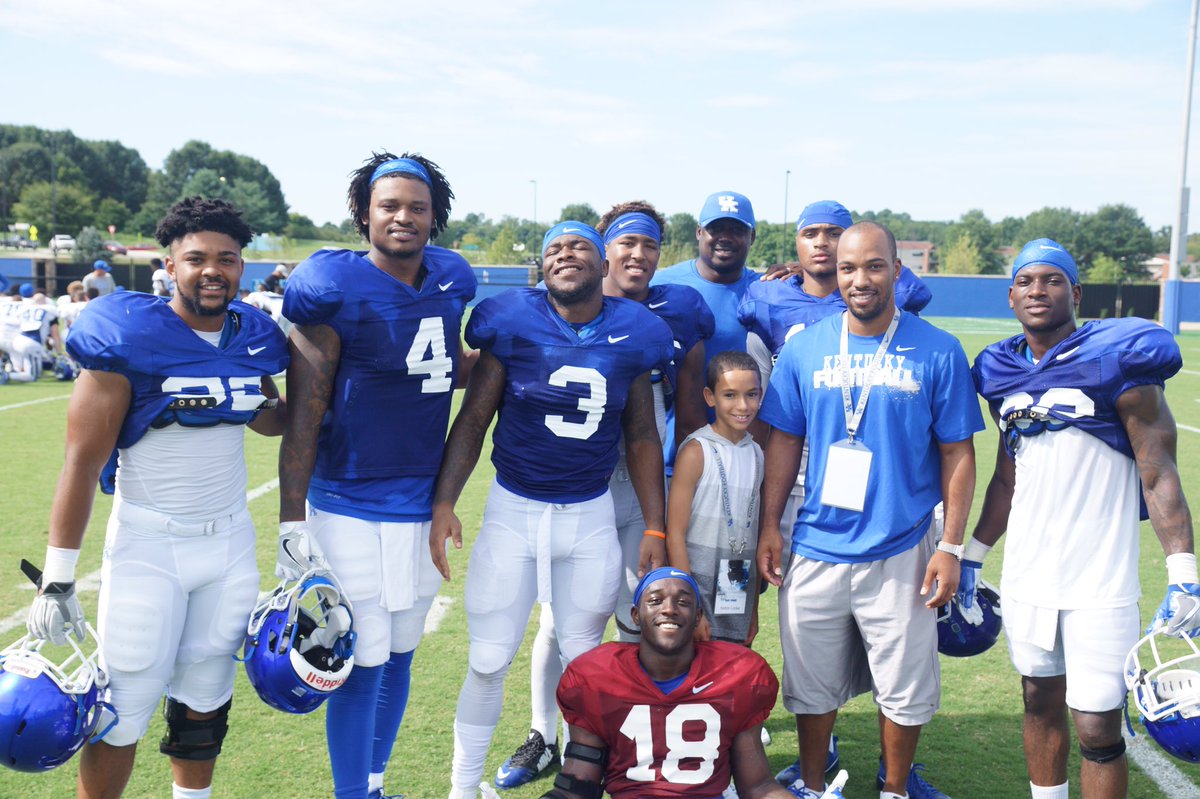 Former RB Derrick Locke returned to campus with his son Kelton to watch his successors, via @UKStoopsTroops.[/caption] Beginning this morning, the Kentucky football team will practice five times between now and Wednesday.  An important part of the preseason, Stoops wants to see productive intensity throughout this stretch.  But before looking ahead, he looked back on Saturday's scrimmage. --  
The offense took care of the ball
.  Mark Stoops commended his quarterbacks' efficiency.  They took care of the ball with exceptional decision-making.  If the offense was faced with a 2nd and long, they got enough yards to make it 3rd and manageable. Defensively, Stoops was glad they limited the offense from explosive plays.  The one big play they did allow was a turnover opportunity but, "Juice ended up making a very difficult catch and made a big play out of it." --
 The linebackers struggled
.  It wasn't just that they struggled to wrap up.  Simply put, there were too many mental mistakes. "We were not real disciplined in our drops," Stoops said.  "We were not real disciplined in our fits and weren't around the football enough." He said nobody needs more live reps than the inexperienced linebackers.  He stole Eddie Gran's catch-word "bullets," because they must learn how to appropriately react in difficult game-like situations. --
 Filling the hole left by Regie Meant
.  Stopping the run will be this team's Kryptonite.  Luckily, Adrian Middleton is doing an exceptional job filling the run gaps on first and second down.  Now they need Alvonte Bell to step up to provide more help in third down passing situations. --  
Mikel Horton is already back
.  Mark Stoops' immediate prognosis for Horton's injured ankle wasn't good, but he was already back on the field today.  "Amazing what happens when you got a lot of depth," Stoops said. There are a lot of benefits to intense competition.  This one is overlooked by many.  Needing reps to stay in the hunt for snaps, players are fighting through bumps and bruises to make sure they don't miss any opportunities. --  
The benefits from Eli Brown's redshirt
.  Each year there are stories about players who benefitted from their redshirt season.  It gets a little overblown, but in Brown's case, it's different. Brown came to Kentucky with an injured knee.  As soon as he arrived, he was in rehab.  Normally at this point in the year he has tendinitis and is required to constantly ice it, but now it is no longer a worry. More importantly, his redshirt year was different than most.
 Instead of a heavy lifting schedule and scout team assignment, he was a standby redshirt
.  He received reps with the first and second string, putting him ahead for this season. "It helped me learn plays because I was learning the defense," Brown said.  "Coming into this year I already knew what the coach was talking about because I knew the base defense; I knew what the coach was talking about.  I felt like I was ahead, so I got to come in right away and battle for a spot without having to take a step back." --  
Charles Walker was ecstatic after receiving his scholarship
.  When Walker received the news Friday night, he admitted to tearing up a little bit.  He simply couldn't contain his excitement, "My heart was jumping out of my chest." Unfortunately, he had to keep it cool for a couple of hours.  The news was announced before two hours of meetings.  When he finally told his parents, the timing was excellent.  They were out to dinner, celebrating his sister's engagement.  He told his sister, "Now you have some more money for the wedding."