Notes from the fake KSR/HBO taping with Karl Towns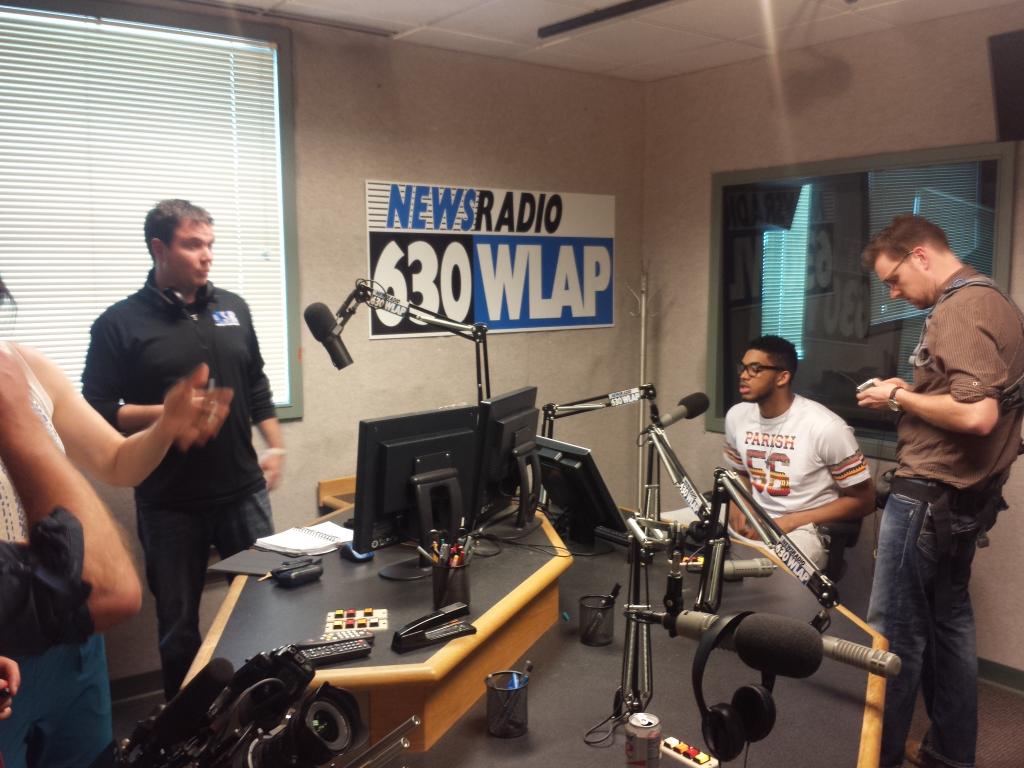 Today's Karl Towns-hosted edition of Kentucky Sports Radio did not go as planned, to say the least. Towns arrived at the studio with two minutes left in the show (not his fault) and was only able to say a few things before KSR went off the air. Not a huge deal, whatever. Things happen. But for the HBO cameras that were at the studio to record Karl's radio appearance, it was a big deal. They had hoped to get footage for an upcoming project and the two minutes of air time didn't cut it. So Matt did the only thing he knew to do: fake an episode of Kentucky Sports Radio with Karl Towns for HBO. The problem with that was, Big Blue Nation couldn't hear it. Matt and Ryan
streamed the interview live over a new app called Periscope
, but only 750 people tuned in to watch it. I've tried like hell to embed the six-minute clip here on the website, but Periscope is pretty good about keeping it all on the iPhone app. Sorry, people. I did my best. If you're one of the many people who were left in the dark, here is
a rundown of Karl's comments to Matt on today's Fake KSR
. There's a lot of randomness, but it's a side of Karl not many people know. Enjoy... *****
He thought he would be a baseball star.
Around the age of 14, Karl Towns had ambitions to be a star on the baseball diamond, not the hardwood. Karl had no idea he would one day be a contender for the No. 1 NBA draft pick. He compared his story to Willie Cauley-Stein's dreams of playing football. Did you know Willie played football? (Another fun sports fact: He plays golf with XXL clubs.)
He's a boxing fan.
For those of you disappointed in Mayweather-Pacquaio, Karl encourages you to look up Gennady Golovkin in the Middleweight division. Golovkin is 32-0 with 29 knockouts, a fact Karl shared with us on the show. Only a true boxing fan knows Gennady Golovkin and his record.
He did not watch the Kentucky Derby.
Because he was taking his niece and nephew to the park back in New Jersey. "I just wanted to enjoy some family time while this circus in my life is going on."
He doesn't plan to change his name.
Karl found out about Willie's name change through a friend, who received a notification from a sports app on his phone. Karl immediately sent Willie a text to find out if the rumor was true. "He's the OG," Karl said of Willie's new Trill middle name. "I don't know how to do that. I can't change my name. He's Willie."
He will think about the Wisconsin game on his death bed.
"I will regret that for the rest of my life." Karl said he went straight to the gym when the team got back from the Final Four because it's the only way he knew how to cope.
He wants to see a 30-second shot clock in college basketball.
He also likes the international goaltending rules. If it's on the rim, knock it off.
Random sports favorites:
Favorite baseball player: Albert Pujols Favorite golfer: Tiger Woods Favorite football player: Terrell Owens and Odell Beckham Jr.
If he could have dinner with any three people, dead or alive...
For a silly dinner, he would pick Shaq, Charles Barkley and Kevin Hart. For intellect, he would enjoy a nice conversation with Bill Gates, Steve Jobs and Warren Buffett. But if we're going way back, he would like to dine with Homer, Aristotle and Achilles. Achilles is his favorite mythological character. And that, my friends, is why Karl Towns is the best. He wants to have dinner with Homer, Aristotle and Achilles.