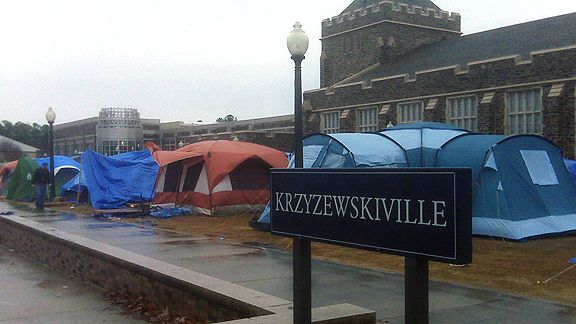 This is actually by BEISNER but I cant get logged out of Matt's computer
After an extremely late night in the Raleigh-Durham area, we're getting set to hit the road for the alma mater of Billy Ray Cyrus, Chuck Woolery and Phil Simms, Morehead State University. Before we do, here are a couple of late thoughts on the Carolina experience.
1. The Carolina crowd was pathetic
- I cannot explain to you how terrible the crowd was last night. Hardly anyone showed, the ones that did pretty much just sat there and watched. To make it worse, the ones who did get loud were some good ole country boys who let their home team have it. Add the fact that Florida State brought two of the Blue Man Group looking guys to sit right behind the bench and it wasn't a winning night for the Tar Heels in the stands.
2. The losing is getting to everyone
- Outside of the lady who heard about Bojangles getting shut down in the media room and gave me a bag of chips, the Carolina fans were generally an unfriendly fan base. We were confronted by an extremely aggresive elderly usher after moving from a completely empty section to seats in another completely empty section (that were actually worse). A UNC student grabbed Matt on his shoulder and told him if he wrote an unflattering piece on UNC, he'd "never be welcomed here again". And, to make it worse, some girl smacked Drew and gave him a bloody lip. Ok, that's not true. But it could have happened.
3. Durham, home of the best burrito ever
- If you're in Durham, go to Cosmic Cantina....if you can find it. You will not regret it.
4. Late night trip to Duke
- After the UNC game and spending about 12 hours hanging out at Cosmic Cantina, we made a late-night trip to Cameron Indoor and Krzyzewskiville. As a first time visitor, I'll issue the usual end of the night BTI date line, "I can't believe it's so small". Secondly, while it's pretty cool to see all the tents lined up, don't believe the hype. I'm pretty sure that no one was even sleeping in them. We spent some time there trying to find people to talk to, annoy or, at the very least, wake up and went 0 for the night. Not what I expected.
5. The truth
- Matt snores and I think there's something dead living inside of him. Should be a fun car ride today.
6. Revenge is on the agenda in Lexington
- Last, but certainly not least, Kentucky finally gets another shot at Cat killer Devan Downey tonight at Rupp. I don't think anyone really expects South Carolina to have a real shot at winning two games against Kentucky in the same season, but you better believe Cat fans are fired up about tonight's game. I have a feeling it's going to be a blood bath and that's not a bad thing. Go Cats. See you in Morehead.