Notes from the Toughest Part of Camp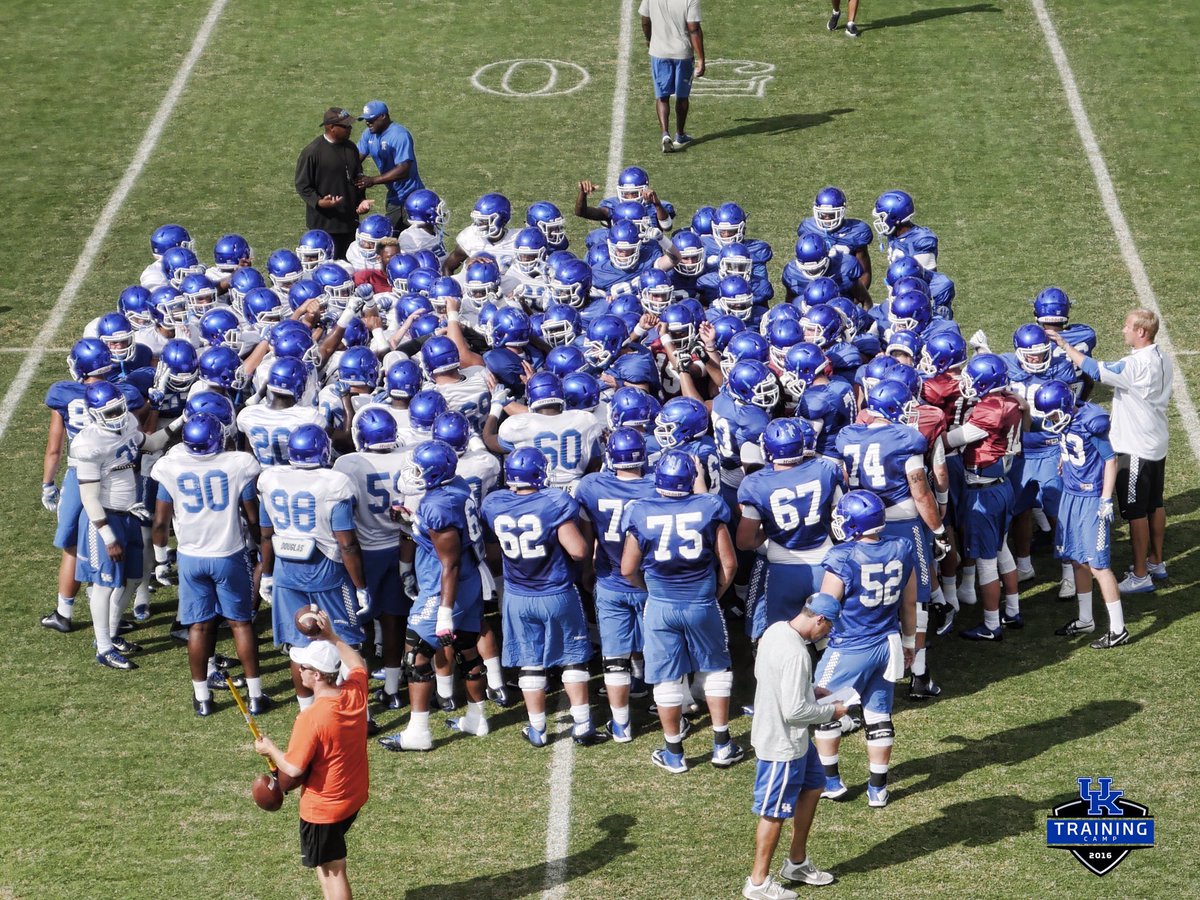 After three practices in 36 hours, Eddie Gran said they've never seen more guys on the ground.  With a two-a-day tomorrow, the Cats are in the midst of their toughest test of the preseason.
Failing to Convert Third and Short 
Last year the Cats weren't good on third and short.  They averaged 5.7 yards per carry, but through the air only completed 35% of their passes, leading to conversions 31% of the time (Thanks, BTI).  Eddie Gran was disappointed to see similar outcomes during Saturday's scrimmage. "We can't not get a 3rd and 1.  
That's ridiculous
.  We have to be 100%. "  However, he did see a silver lining, "But we were 5/6 on fourth down."
Sihiem King is Back
At the beginning of camp, there was some uncertainty surrounding Sihiem King when reporters asked coaches about his situation.  Today, things became clearer. Like Boom Williams, King was dealt with a death in the family.  After missing a few days, he returned sluggish.  He's since shaken that off. "He is now back to where he was in the spring.  He is really looked good the last three practices.  I was a little nervous at the beginning," Gran said.  "He didn't like where he was at, but I like where he's at right now."
QBs Watch Film of the NFL's Best
When the quarterbacks gather in the meeting room, they don't always watch their own film.  Often times they're watching the NFL's best.  From the now-retired Peyton Manning, to Aaron Rodgers and
Tom Brady, who Drew Barker believes is the best at his craft
.  "He knows exactly where he's going with the ball every single play." Darin Hinshaw has his players watching the QB's pre-snap calls at the offensive line and the QB's footwork, noting they rarely take sacks.  I'll have much more on Barker's progression with his feet later tonight.
O-Line Update
The line as a whole has greatly improved since the spring.  The tackles have improved against the speed rush, with Big George moving out from time-to-time to provide depth.  Gran's working to develop a third tackle.  Landon Young, Big George and Tate Leavitt are in contention. "That group is really smart.  I like 'em.  
You can tell them one thing and they get it fixed.
 You don't have to keep correcting them," Gran said. Arriving near the midpoint of camp, the players are being pushed to the limit.  Mentally and physically, they are beginning to break down.  It's important to see how they respond.  One person they never have to worry about is Jon Toth.  No matter how hard he is pushed, he is never fazed.
Kayaune Ross is Starting to Figure Things Out 
Gran said it's taken time for the JUCO transfer to pick up the offense, but over the last two days things have started to click.  In Saturday's scrimmage, he made two big catches, including a jump ball opportunity in the end zone for a touchdown.
Dorian Baker's Improved Attitude
Dorian Baker is physically better than he's ever been.  From a production standpoint, he made another fantastic catch today, all with the inconsistencies that have plagued him throughout his career, but now he's reacting differently.
"I like where Dorian's head's at,"
Drew Barker said. "If he drops a ball or makes a bad play, he forgets it.  He's on to the next one.  He'll make a touchdown catch the next play." QB1 believes Dorian understands his role much better this season, playing more selfless than ever before, finishing blocks and running to the ball until the whistle is blown.  Gran echoed a similar sentiment, now he just wants to see him finish strong.