Now or Never: Six Players Who Must Rise to the Occassion in 2017
This year's Kentucky football team has star-power unlike we've ever seen under Mark Stoops.  There's a proven winner under center, a record-breaking running back, two dynamic pass rushers and the two top returning tacklers in the SEC.  Star-power is great, but you need 11 trustworthy players on the field at all times to win in the SEC. The following six players have the potential to be stars, but they don't need to be.  They just need to consistently do their job.  If they can't, a younger player with less experience and comparable talent will surpass them and they'll get lost in the wash.
Matt Elam
Just by reading the title you knew you'd see his name, so I won't bury the lede.  By now you know his story: five-star recruit turns down Alabama to stay home, has fleeting moments of greatness but fails to be consistent on and off the field.  The senior nose tackle was called out by Greg McElroy during SEC Media Days, but another SEC Network analyst knows the five-star potential is still there. https://twitter.com/colecubelic/status/871894405761904640 Should you be hopeful that we'll see more of the player in the video above, or the out of shape, overweight player who's relegated to the sidelines?  That's a question only Matt can answer.  I can tell you this, the coaches have not given up on Elam.  Derrick LeBlanc was constantly coaching him up during spring practice, using positive reinforcement to get the most out of Elam. If Elam can rise to the occasion and split reps with Naquez Pringle, UK's rush defense will dramatically improve.  If he cannot, Mr. Pringle will be stuck on an island, with the only help coming from a true freshman.
Sihiem King
The Colquitt County, Georgia product was forced to start his UK career in the shadow of another small, extremely fast Georgia running back, Boom Williams.  Now a junior, King has an opportunity to be Eddie Gran's second running back as the 'scat back' to complement to Benny Snell. Every time King has had an opportunity in his career, he's taken advantage of it.  Inserted into the lineup while trailing to Tennessee, he turned 6 carries into 75 yards and a touchdown.  In this year's spring game, he stole the spotlight from Benny Snell (limited snaps) and A.J. Rose (injury).  Arguably the best offensive player on the field, King had 107 yards and 2 touchdowns. https://www.youtube.com/watch?v=EcQwSC_ytaU
(Mute the NSFW language when watching this highlight.)
https://youtu.be/yFcNDGOw-F4?t=5s Those two instances make me confident he can win out the No. 2 running back spot, but it will not be easy.  Rose is extremely talented; we thought he'd be the running back to play as a true freshman, not Snell.  Whoever is the most consistent performer in practice will earn the reps from Eddie Gran.
Kengera Daniel
Arguably the best athlete on the defensive line, the former early enrollee has not shown much of it on the football field.  Most of it can be attributed to off the field issues.  Now a junior, he has no more time to waste with off the field matters. Built like an outside linebacker, Daniel could play an important role as a pass rusher with his hand in the dirt.  He's currently listed as a No. 2 on the depth chart at defensive end behind true sophomore T.J. Carter.  If Daniel doesn't show LeBlanc something in training camp, the sophomore will surpass him for good.
Eli Brown
A former four-star recruit, the Army All-American from Warren East High School was the highest ranked player in the class of 2015.  Set back by injuries before arriving in Lexington, he redshirted his first year.  Now he's playing behind another member of the 2015 recruiting class, the SEC's leading returning tackler, Jordan Jones. Brown has never been put into a position to succeed.  His best opportunity came last year against Tennessee when an injury forced Jones to the sideline.  It could not have happened at a worse time.  Earlier that week Brown was dealing with family issues and missed significant practice time, preventing him from completely understanding that week's specific Tennessee scheme.  The coaches did not hold it against him, they just wished he could've had an opportunity to show the world the improvements he made throughout the season. [caption id="" align="alignnone" width="620"]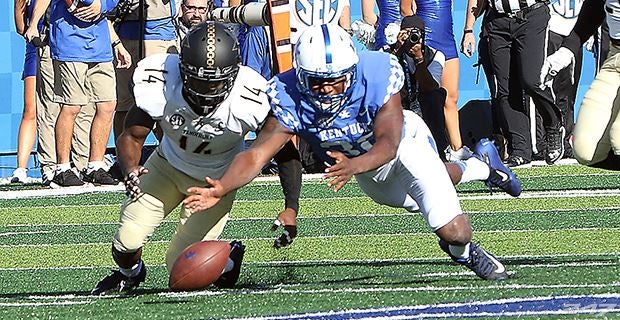 247
[/caption]   Unlike most on this list, I'm confident Brown will not get sucked into the roster wash.  There's no bad blood between Jones and Brown, but Brown is determined to take his spot. "I'm not here to be a two. I'm trying to be a one," he said this spring.  You'd think it'd create tension between the two, but Jones encourages Brown to beat him every single day.  It probably will not happen, but I expect Brown to rise to the occasion to make impact plays this fall in some capacity.
Grant McKinnis
The Kentucky punter was forced to play as a true freshman and McKinnis looked like a true freshman on the field last year.  It doesn't take a statistical wizard like Freddie Maggard to know the punts gotta be better.  His leg is unquestionably there; that's not the problem.  The problem is in-between his ears.  If Dean Hood can't help McKinnis fix what's wrong upstairs, he'll have to go with the rugby-style Aussie, Matt Panton.  The Cats can't afford another lackluster year from the punter position.
Blake Bone
The outspoken and outlandish 6'5" receiver from South Carolina has always fit the role of class clown. It makes my job fun, but it probably doesn't help his game.  Entering last year Bone had 34 catches for 404 yards and 3 touchdowns.  Last year under Lamar Thomas he caught just 5 passes for 82 yards. To his credit, Bone fought throughout the year to get back onto the field after his reps were taken away to start the season.  If he wants to beat out Tavin Richardson and the talented freshman JaVonte Richardson (Bone is currently No. 2 on the depth chart), Bone must do two things:
1. Separate from the defender to provide a window for the QB. 2. Stop jumping to catch every pass.
"Get open" and "run after you catch the pass instead of fall down" sounds simple, but it's the two things Bone must be serious about in his final season at UK or his career will end quietly.