Numbers Behind Kentucky's Win At Vanderbilt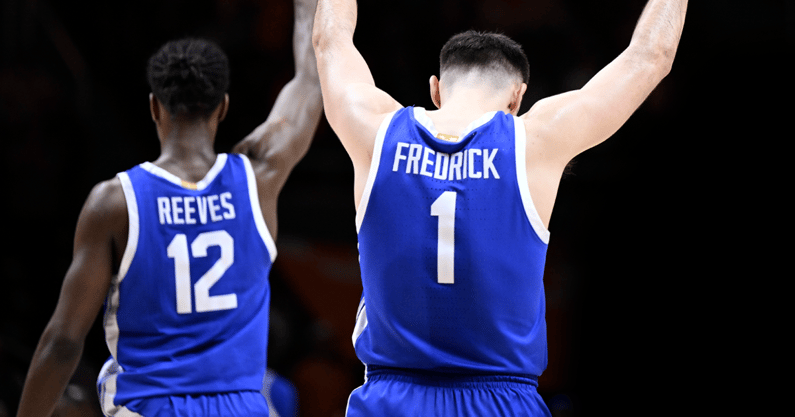 While we dissect Kentucky Basketball's win at Vanderbilt, a look at some of the numbers that tell the story of the game and some bigger picture stories for the Wildcats. Here are 10 numbers that jump off the page followed by the actual page at the bottom.
2: Free throw attempts in the entire game for Kentucky. Oscar Tshiebwe hit one of two attempts during one trip to the line in the first half. Vanderbilt committed five fouls the entire game.
2-for-5: Cason Wallace, CJ Fredrick, and Antonio Reeves each went 2-for-5 on 3-point tries, a collective 40 percent (6-for-15) from outside. Sahvir Wheeler took and missed the team's only other outside shot.
2-for-12: Vanderbilt relies on the 3-ball and every Commodore not named Malik Dia combined for two made 3s in the game. Dia made four by himself, one shy of his total on the season heading into the game. Big guy was feeling it.
10: Rebounds for Jacob Toppin, his second double-double in the last three games. Toppin averages more than eight rebounds per game during Kentucky's four-game win streak.
11: After much had been made about his plus/minus versus others in recent games, Sahvir Wheeler was a +11 while in the game for Kentucky. If nothing else, it's a confidence boost for Wheeler that the team can still be productive when he is on the court, no matter his role.
16.25: Antonio Reeves' points-per-game average during the last four games. He is 10-of-24 from 3 in that span.
20: Kentucky's largest lead in the game. In fact, it's Kentucky's largest lead in conference play this season. Felt good to be up big again, right?
40: With 15 points and 13 rebounds, Oscar Tshiebwe recorded his 40th double-double as a Wildcat. And in 52 games played!
56.4: Kentucky's field goal percentage in Nashville. The Wildcats made 31 of 55 shots in the game; 25 of 39 two-pointers. Corey Price notes it is the second-best shooting percentage in a true road game during the Calipari era.
69: Kentucky scored 69 points in the school's 69th trip to Vanderbilt's Memorial Gym. Nice.
Read all of the numbers: