Ochai Agbaji is Bill Self's latest All-American guard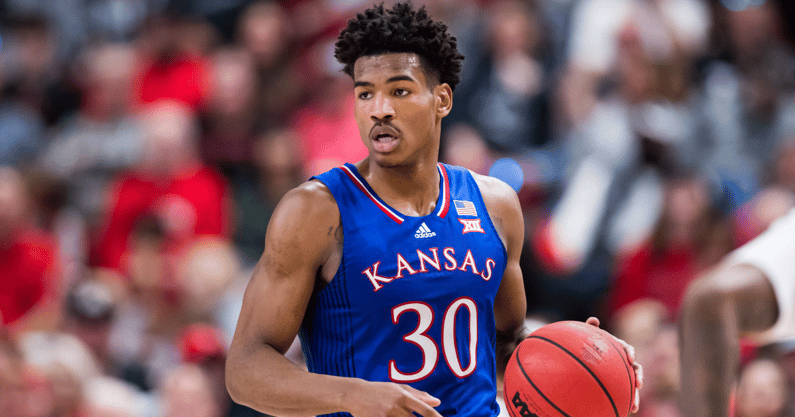 Let's start with a pronunciation guide for Ochai Agbaji.
There you have it. Ochai Agbaji: Och-eye A-ba-gee. Now let's talk about his talents on the basketball court.
John Calipari teams are often led and defined by their five-star freshman point guards. John Wall, Brandon Knight, Andrew Harrison, De'Aaron Fox, Shai Gilgeous-Alexander, and so on. It's an elite list of guys.
At Kansas, Bill Self's preferred mold of star player is experienced combo guards — guys who often aren't five-star freshman phenoms, but instead, worked their way up the ladder to become All-American upperclassmen. 2022's elite, experienced Jayhawk guard is Ochai Agbaji. He follows an esteemed lineage. See below.
| Player | Year | Points | Rebounds | Assists | Shooting(FG/3P) |
| --- | --- | --- | --- | --- | --- |
| Frank Mason III (SR) | 2017 | 20.9 | 4.2 | 5.2 | 49% / 47.1% |
| Devonte' Graham (SR) | 2018 | 17.3 | 4.0 | 7.2 | 40% / 39.2% |
| Devon Dotson (SO) | 2020 | 18.1 | 4.1 | 4.0 | 46.8% / 30.9% |
| Ochai Agbaji (SR) | 2022 | 21.3 | 5.0 | 1.4 | 52.7% / 47% |
That's three consensus All-Americans and a fourth on the way in Agbaji. Statistically, he may be the best of the bunch.
He's listed as a 6-foot-5 guard, but he spent the majority of his time playing the four in his previous two seasons. Agbaji ground out defensive possessions against much larger players while helping Bill Self's small-ball lineups space the court and eviscerate teams with speed and shooting on offense. He put in his time playing a role outside of the spotlight before stepping directly into it as a senior.
Ochai has blossomed into a prolific scorer and flamethrower from 3. On the above chart with the other great guards of the Self era, Agbaji is by far the largest and most athletic, and certainly the only one to spent time at forward. Yet he's the best three-point shooter given his percentage and volume of attempts.
Agbaji is shooting even better than Kellan Grady, despite drawing attention as the focal point from opposing defenses.
Still, he scores most of his points inside the arc; just an absolute gem of an offensive weapon. The rare three-phase scorer that often dominates the NCAA Tournament, not to mention his ridiculous athleticism and brick-house frame.
Along with Oscar Tshiebwe, Wisconsin's Johnny Davis and one or two others, Agbagi is a leader for the Wooden Player of the Year Award. Football players often have a "Heisman" moment, but I'll say Agbaji had his "Wooden" moment the other night vs. Texas Tech with a deep three to send the game to double-OT.
Kentucky is matching up against one of the best players in the country, who is also one of the best players to ever wear a Kansas uniform.