Oddsmakers have Mark Stoops as a candidate for LSU head coaching vacancy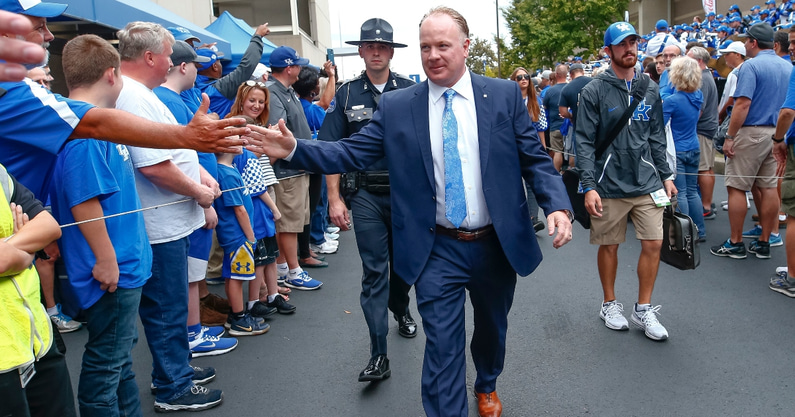 LSU is the second high-profile college football program to fire its coach in the middle of the 2021 season. Weeks after USC parted with Clay Helton, LSU athletic director Scott Woodward and Ed Orgeron agreed to part ways at the end of the season. Now some believe Mark Stoops could fill Coach O's shoes.
BetOnline.ag is the first book to release odds for the conclusion of the LSU coaching search. Only four coaches have lower odds than Mark Stoops at +850. He's even ahead of his older brother, Bob.
Lane Kiffin 5/2
Luke Fickell 11/2
Billy Napier 7/1
Jimbo Fisher 15/2
Bill O'Brien 17/2
Mark Stoops 17/2
Bob Stoops 9/1
James Franklin 19/2
Joe Brady 10/1
Mel Tucker 12/1
Dave Aranda 14/1
Urban Meyer 14/1
Jon Gruden 100/1
Why Stoops will stay away from LSU
Mark Stoops does not need to be LSU's head coach to get top-flight LSU players. He can simply make a stop in the transfer portal. He saw that program's problems firsthand two weeks ago. I doubt he's yearning to move from the SEC East to the SEC West.
Set Stoops' potential interest to the side and consider what LSU wants from its next head coach. Since Woodward hired Jimbo Fisher at Texas A&M, the athletic director has been pegged as the guy who prefers to make a "big splash" when searching for coaches. Mark Stoops is not a "big splash" guy.
Even if the Tigers went a different route with a more sensible candidate, it's not Stoops, it's Billy Napier. The Ragin' Cajuns' head coach could have filled an SEC position previously, but waited patiently for the right one, most likely this spot in Baton Rouge.
One Coaching Job to Watch
When USC and LSU fill their head coaching positions, there will be a wide-ranging ripple effect. It may not reach the Big Ten West, but there's one position that could inject more chaos into the coaching carousel.
Iowa has had two football coaches since 1979, Hayden Fry and Kirk Ferentz. Stoops' alma mater could be looking for a third after Ferentz, who turned 66 in August, concludes his 23rd season in Iowa City.
There were rumblings that Ferentz would hang up his whistle after 13 players brought forth a lawsuit last summer, alleging "targeted discriminatory behavior" by Ferentz and his long-time strength coach, Chris Doyle. As those rumors grew louder, Steven Godfrey quickly threw Stoops' name into the mix as a potential replacement for the Hawkeyes. Even as Iowa surged to No. 2 in the polls this season, Godfrey has not quieted his Stoops to Iowa speculation.
This is certainly a case where one is counting their chicks before they hatch, however, Stoops has spoken fondly of his time in Iowa City this year. There's no doubt that program holds a near a dear place in the hearts of the entire Stoops family. You may not need to worry about Stoops hopping on the coaching carousel for now, but the situation in Iowa is certainly worth monitoring.